Mary Jane Thomas, Hank Williams Jr.'s Wife, Died After Undergoing Elective Surgery
What is Mary Jane Thomas's cause of death? Hank Williams Jr.'s wife passed away on March 22, 2022. She was 58. Read on for the details on the tragedy.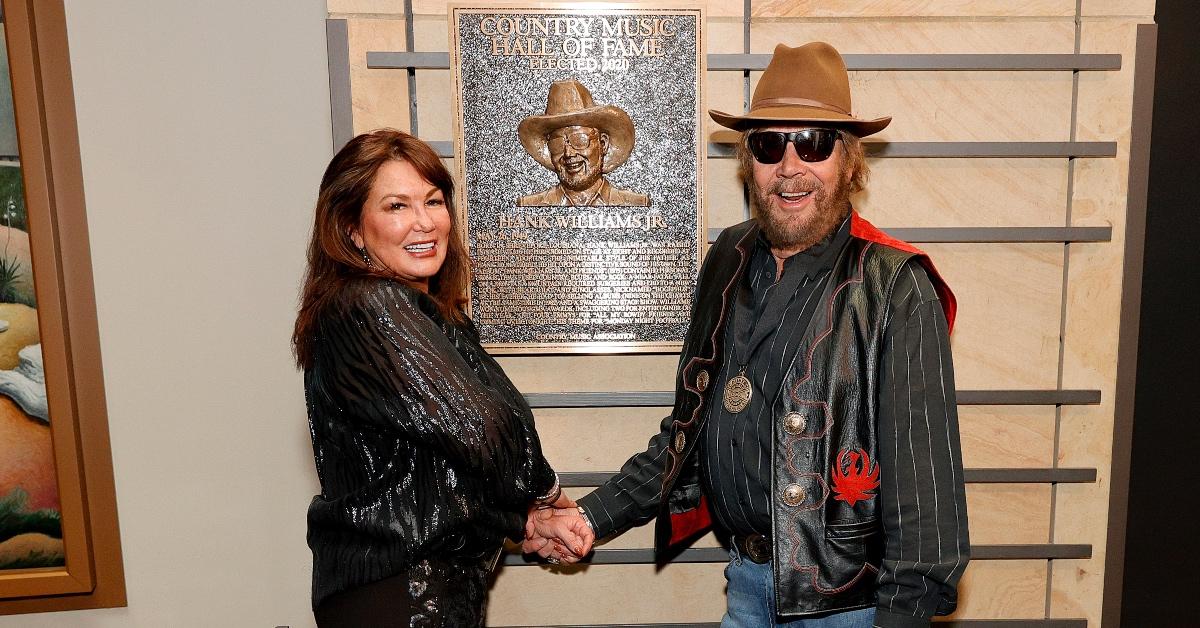 "Family Tradition" singer Hank Williams Jr. has lost Mary Jane Thomas, his wife of 32 years.
Hank and Mary first met at a concert in 1985. They tied the knot on July 1, 1990. They welcomed two kids, Katherine Williams-Dunning and Sam Williams. What happened to Mary Jane? Here's what you should know.
Article continues below advertisement
Hank Williams Jr.'s wife, Mary Jane Thomas, has died at age 58. What's her cause of death?
Mary Jane passed away on Tuesday, March 22, 2022, at the Jupiter Medical Center in Jupiter, Fla. She was transported to the hospital from the Jupiter Beach Resort & Spa, according to Fox News.
Mary Jane's cause of death was announced on Tuesday, July 26, 2022. She died from a collapsed lung after surgery. Per USA Today, she underwent liposuction and a breast implant removal with a breast lift, was sent to a resort to recover, and then became unresponsive the next day. She was rushed to the hospital, where she was pronounced dead.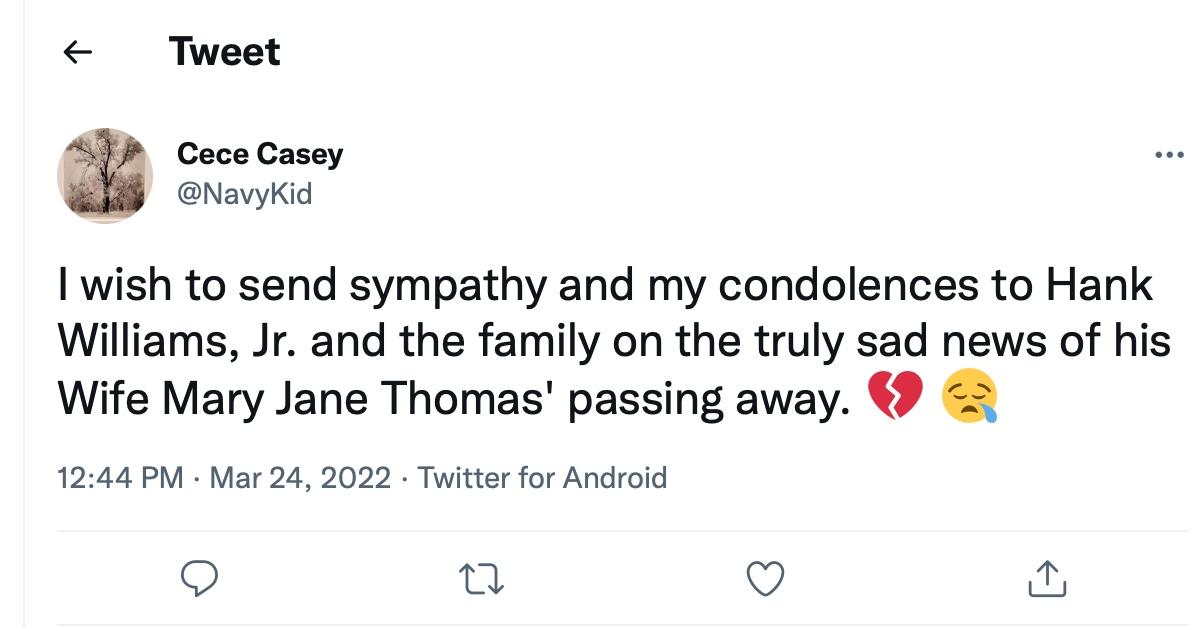 Article continues below advertisement
Mary Jane was a successful model who appeared in campaigns for brands like Hawaiian Tropic. She was Hank Williams Jr.'s third wife. She and Hank lost their daughter, Katherine, in June 2020, following a car accident — which marked a grave tragedy for the whole of the family.
"My dear Mama Mary Jane was a beautiful soul who forever affected everyone who knew her," Sam wrote in a statement shared with People. "She had a smile and presence that lit up every room and she never met a stranger she didn't befriend. Her spirit was gentle and giving. She could take down a 10-point buck and fix dinner for her grandchildren at the same time! Now she gets to radiate from above with my sister Katherine Diana right by her side."
Article continues below advertisement
"She grew up competing in baton and cheerleading and was one of Hawaiian Tropic's top models. My father fell in love with the Daytona Beach beauty the minute he set eyes on her in the early '80s," Sam added. "They went on to live the most powerful love story of travel and hunting and raising a family."
Article continues below advertisement
"She is survived by my father, her two parents Ramona and Bill, her brother Andy, her sister Angela, myself, and her three grandchildren: Beau Weston, Tennyson Hiram, and Audrey Jane," he added. "Rest in peace Mama, I will always be the son of Mary Jane."
Article continues below advertisement
Many fans took to Twitter to send their thoughts and prayers to the family.
"I wish to send sympathy and my condolences to Hank Williams, Jr. and the family on the truly sad news of his Wife Mary Jane Thomas passing away," tweeted @NavyKid.
Mary Jane and Hank's son, Sam, followed in his father's footsteps, building a career as a country artist. He released his debut album, "Glasshouse Children," in August 2021. The record, which features 10 tracks, has immediately garnered critical acclaim.
Hank Williams III, Hank's 49-year-old son with his first, wife, Gwen Yeargain, Hilary, Hank's 43-year-old daughter with Becky White, and Holly, Hank's 41-year-old daughter with Becky, have all forged careers in the music industry.
Our condolences go out to Mary Jane's loved ones at this time.