Anti-Maskers Forced to Dig Graves for COVID-19 Victims in Indonesia
Some think the punishment doesn't fit the crime; others think this policy should be adopted in the United States and elsewhere.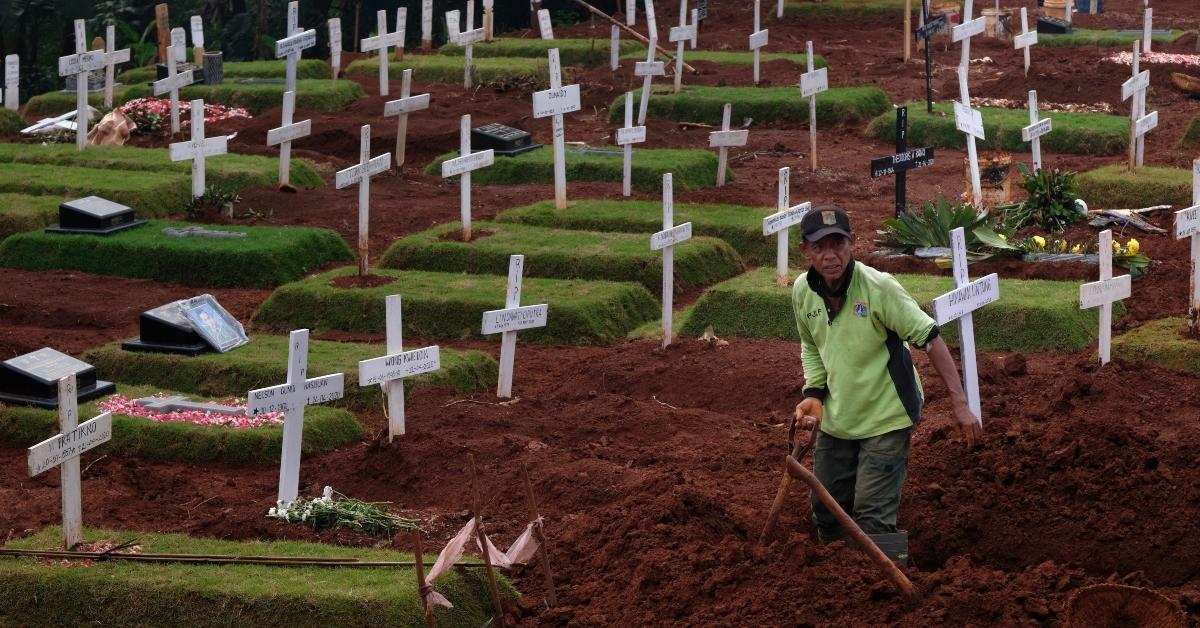 In a strange policy that has gone viral all over the world for its very, um, straightforward approach, local authorities in Indonesia have ordered eight people who wouldn't wear masks to dig the graves of those who have lost their lives due to COVID-19.
Article continues below advertisement
The Jakarta Post reports that this occurred in the Gresik regency in East Java. The eight people were punished for violating the mask-wearing law by being forced to dig graves at a public cemetery in Ngabetan village.
Article continues below advertisement
Local politician Suyono said, "There are only three available gravediggers at the moment, so I though I might as well put these people to work with them." He also said that these people were not handling the bodies or doing anything else that violated health protocols. They also did not participate in the burials themselves.
Suyono assigned two people to each grave. One person dug while the other lays wooden boards on the inside. Suyono hoped that this punishment would work to deter others from breaking the law by not wearing a mask when out in public.
Article continues below advertisement
"Hopefully this can create a deterrent effect against violations," he said. In the area, COVID-19 cases continue to rise, so safety protocols and policies have been bolstered recently.
The New York Post reports that Indonesia has had more than 221,000 cases of COVID-19 and at least 8,841 deaths, and cases have been on the rise.
Article continues below advertisement
Those who don't follow the laws are subject to punishment, including fines or community service. In this case, the community service punishment just so happened to neatly fit the crime.
Article continues below advertisement
Some think this is a great idea, a policy that should be implemented in the United States and in other countries around the world. "Honestly, all the 'it's just a cold or flu' people here could use a little dose of this reality," wrote one person. "Brilliant strategy if you ask me."
Others view the punishment as way too harsh, something that doesn't fit the crime. "Involuntary servitude for those that don't capitulate. Right on man," one person wrote. "For the record, I wear a mask and I think we all should but this ain't it."
Article continues below advertisement
As cases continue to rise in Indonesia and elsewhere, authorities have had issues trying to relay and enforce safety policies of all kinds. In places like the U.S., confusion arose from mixed messages and leaders who fought to reopen early even though there was no comprehensive safety plan.
Article continues below advertisement
In Indonesia, Bored Panda writes, "social, economic, religious, cultural, and academic activities have all been restricted." There are only 11 "essential sectors" that have been allowed to continue to operate, including food, construction, and banking.
And those industries must adhere to strict health and safety protocols, like reduced staffing and limited services. We are far from the end of the pandemic. All over the world, communities are struggling to keep their people safe. We might have different ways of doing it (...or not doing it), but the goal is the same.