TikToker Calls Out Guy Who Matched with Her Only to Ask if Her Friend Was Single
A woman in a viral TikTok went after a common trend: people matching with folks on dating apps only to ask about their friend in a photo.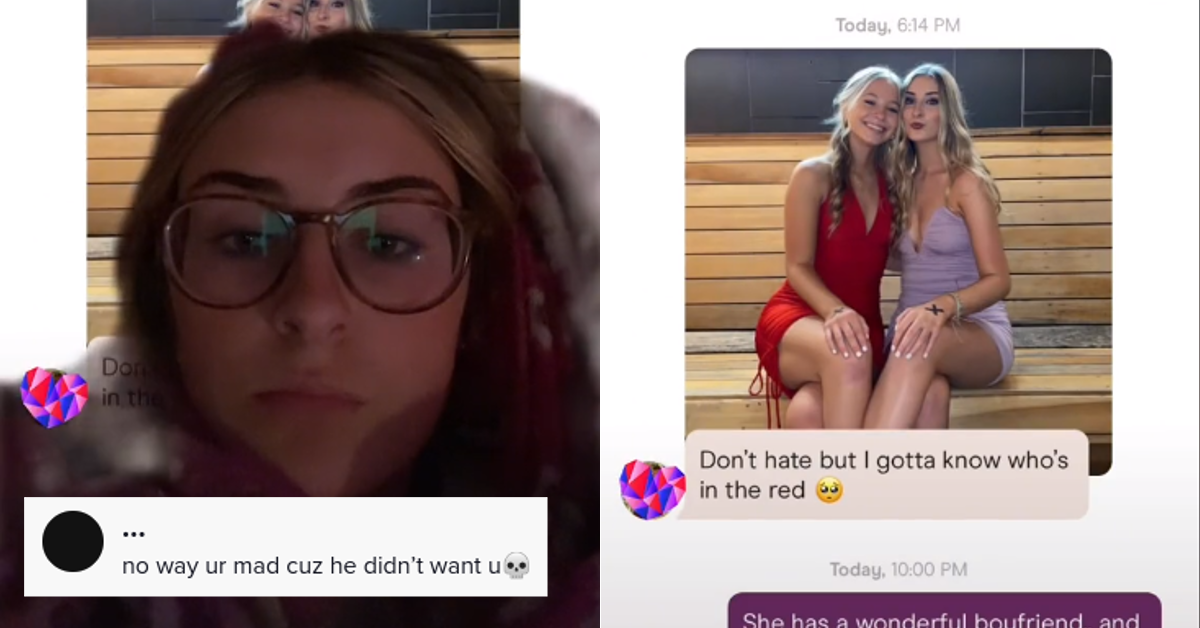 Matters of the heart can be tricky, especially with a litany of online dating applications that reduce the pursuit of love to a single photo swipe. Even if you aren't looking for "the one," but just someone to help temporarily curb your loneliness, you're going to want to find a short-term dating partner that ticks all of those necessary emotional boxes for you that'll give you the best shot at happiness.
Article continues below advertisement
This can result in some pretty brutal scenarios, especially if someone is really excited about the prospect of pursuing a romantic relationship with someone who really just isn't feeling it.
When it comes to apps like Tinder and Bumble there's a benefit to not knowing whether or not someone has decided to "pass" on meeting up with you.
If they get to your photo before you do, then you'll never know if they've swiped left, and it removes the need of being rejected IRL. While many would argue that this removes the scary, human element out of dating entirely, if you think about the sheer number of users who've created profiles on popular apps, the number of unsolicited messages folks would have to sift through would get pretty nuts after a while.
Article continues below advertisement
But what happens if you match with someone, only to find out immediately that they weren't interested in dating you in the first place, but instead, wanted to ask about your friend?
That's what TikToker @abbyrose331 experienced shortly after matching with a guy on an online dating app.
Article continues below advertisement

In a now-viral clip she uploaded to the popular video-sharing platform, Abby shared a screenshot of a short conversation she had with a match.
Article continues below advertisement

He references a picture of Abby sitting next to a friend of hers and says, "Don't hate but I gotta know who's in the red" followed by a wide-eyes emoji.
Article continues below advertisement

Abby replies with: "She has a wonderful boyfriend...and pro tip...don't do this," followed by an "eek" emoji of her own. She captioned the video with: "If men have one thing it's the audacity," and ends the video with her sticking up a middle finger, presumably to the man she matched with on the dating site.
Article continues below advertisement

Some people thought it was pretty grimy of the man to do this and that matching with someone just to ask about someone else means that he was trying to speak with her on false pretenses.
Article continues below advertisement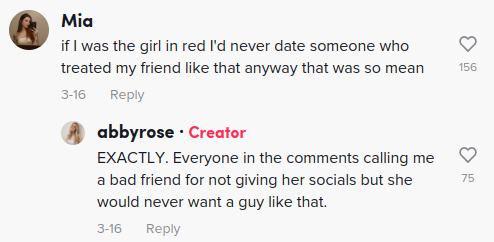 However, there were some women who said that they did the exact same thing on dating sites and that this wasn't a practice exclusive to "men." Others mentioned that they thought Abby was just salty because the man was more attracted to her friend, while others think that it's silly of her to get all up in arms as the two had zero relationships beforehand.
Article continues below advertisement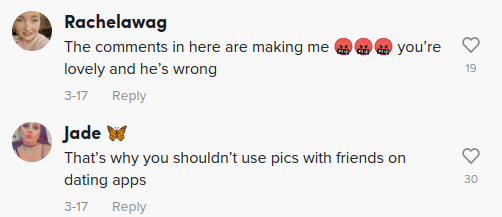 What do you think? Is all fair in love and war as they say and the man wasn't in the wrong for asking about Abby's friend? Or is there a certain protocol to online dating and that he should've curbed his "audacity" before sending that message to the TikToker?