Woman Gets "Accidental" Mean Text from Guy Before First Date, Discovers a Tinder Villain
Sam was shocked after receiving an "accidental" text message commenting on her weight from a dude on a dating site, but got a case of deja vu.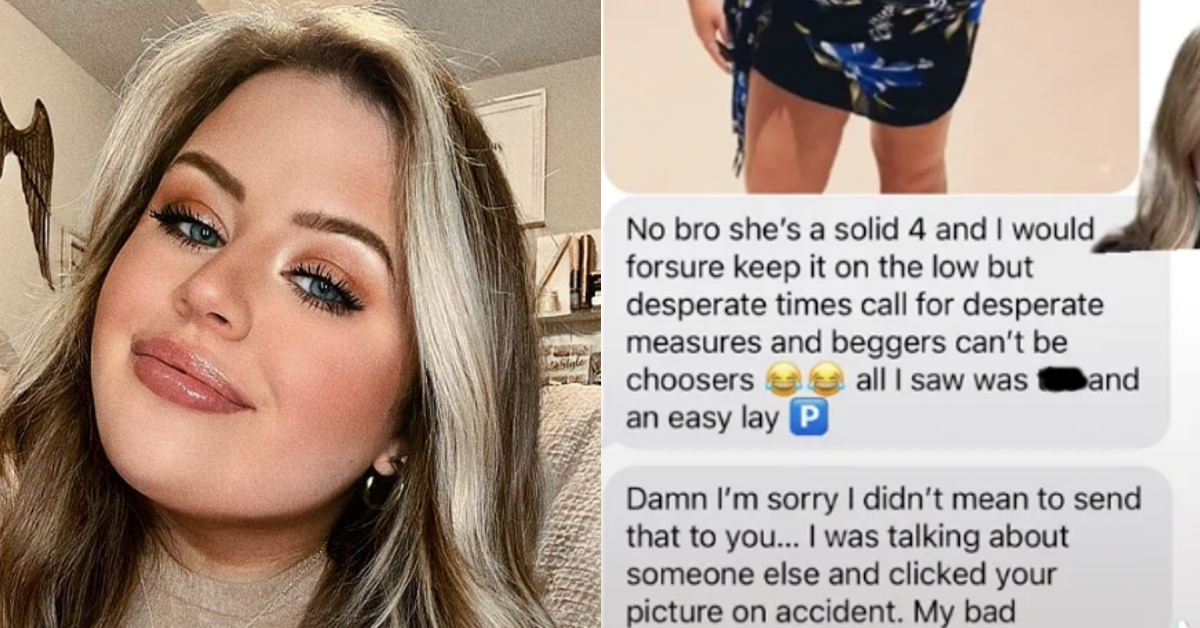 Diving into the world of modern dating can often feel like you're wading through a cesspool. It's a well-documented fact that human beings often suck and possess a multitude of toxic traits. While no one is perfect and you'd be kind of insane to expect anyone is, we do expect and hope that folks would at least be cognizant of their own situations and exhibit humanity and sensitivity in dealing with them in any given situation.
Article continues below advertisement
This is especially true of the "courting" process. And when you're making the dating rounds and happen to find folks who aren't blaming all of their problems on others and are self-aware and are actively trying to make situations better, that doesn't necessarily mean the two of you will have chemistry.
Which makes it all the more depressing/infuriating/hurtful when a potential romantic love interest treats you with brutality and nastiness. Something that a 25-year-old health administration employee and foster parent by the name of Sam.
She was playing the field on Bumble and had a few negative encounters with some folks on there. Like one guy who ultimately ended up dumping her because he found her too heavy set.
Article continues below advertisement
After that experience, she wasn't really ecstatic to get back on the application, but due to the exhortations of her friends, she decided to give it another go and ended up matching with a dude by the name of Jake.
He asked Sam out to dinner, which she agreed to, but about an hour before they were supposed to meet up, she received an "accidental" text message calling her an "easy lay."
Article continues below advertisement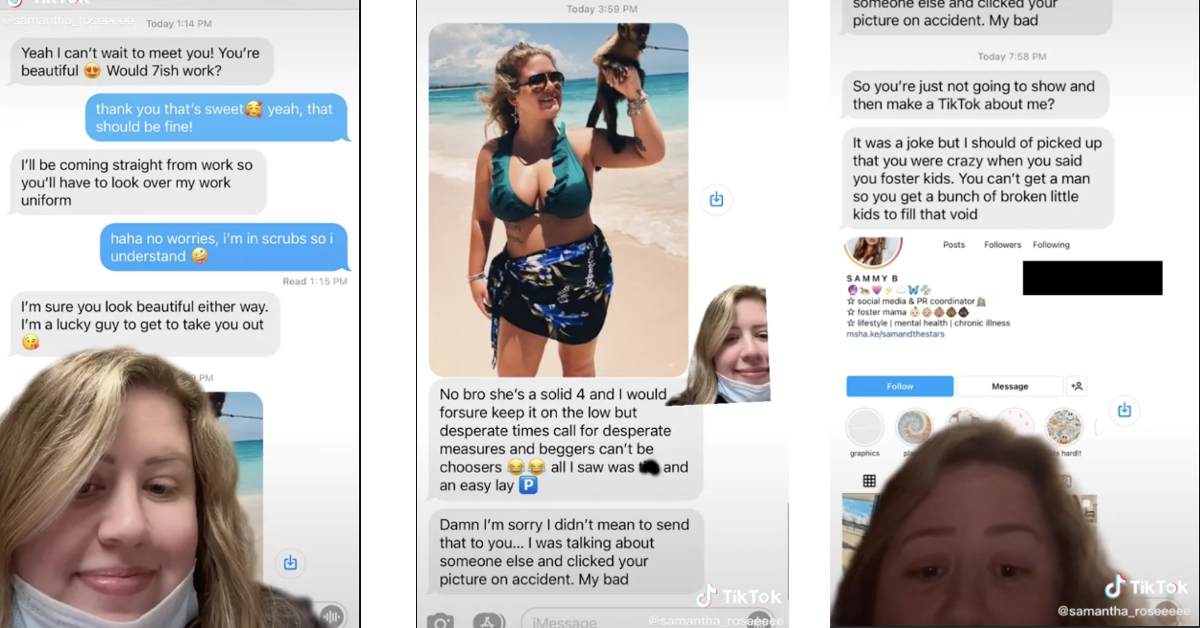 The way the message was framed made it seem like it was meant for someone else and even included a picture of her. "No bro she's a solid 4 and I would for sure keep it on the low but desperate times call for desperate measures and beggars can't be choosers. All I saw was t**s and an easy lay."
He followed the message up with: "Damn I'm sorry I didn't mean to send that to you... I was talking about someone else and clicked your picture on accident. My bad."
Article continues below advertisement

In an interview with Buzzfeed, sam said, "When I read the message, I was completely stunned. I remember I had seen a TikTok months ago about a guy doing something similar and genuinely thought it was fake and that there was no way men our age actually do this. I had to reread it a couple of times to process it."
Article continues below advertisement

Sam ignored the message and ultimately didn't go out to dinner with Jake afterward, which apparently made him very upset. She made a TikTok about his message, which he referenced in his other texts: "So you're just not going to show and then make a TikTok about me? It was a joke I should of picked up that you were crazy when you said you foster kids. You can't get a man so you get a bunch of broken little kids to fill that void."
Article continues below advertisement

Sam posted the texts she received from Jake online and after reading through the supportive comments section of her video, began noticing a trend: "As I got more texts from 'Jake' and comments/DMs from women trying to help me, I started to piece together some things. There was a guy I had matched with a couple of days prior named Cody. He insisted we had talked before, though there was no evidence that we had. When I showed I wasn't interested, he quickly became irate and jumped to calling me 'fat' and attacking me."
Article continues below advertisement

She continued, "I started to compare the mannerisms, the way they both jumped to attacking me, the similarities in grammatical errors, and it seemed likely that it was the same person, but I wasn't sure."
After speaking with other women on TikTok who used dating sites, it turned out that this Cody individual had been hitting up tons of different women and pulling the same negging game.
Article continues below advertisement

For whatever reason, it appears that this dude gets a kick out of messaging women, sending them abusive texts, and treating them like garbage in the process.
Now Jake may or may not be the Cody that Sam and other folks on social media interacted with, which is an even scarier thought. There's just an army of mean people out there looking to drag down people who are honestly looking for some type of human connection.