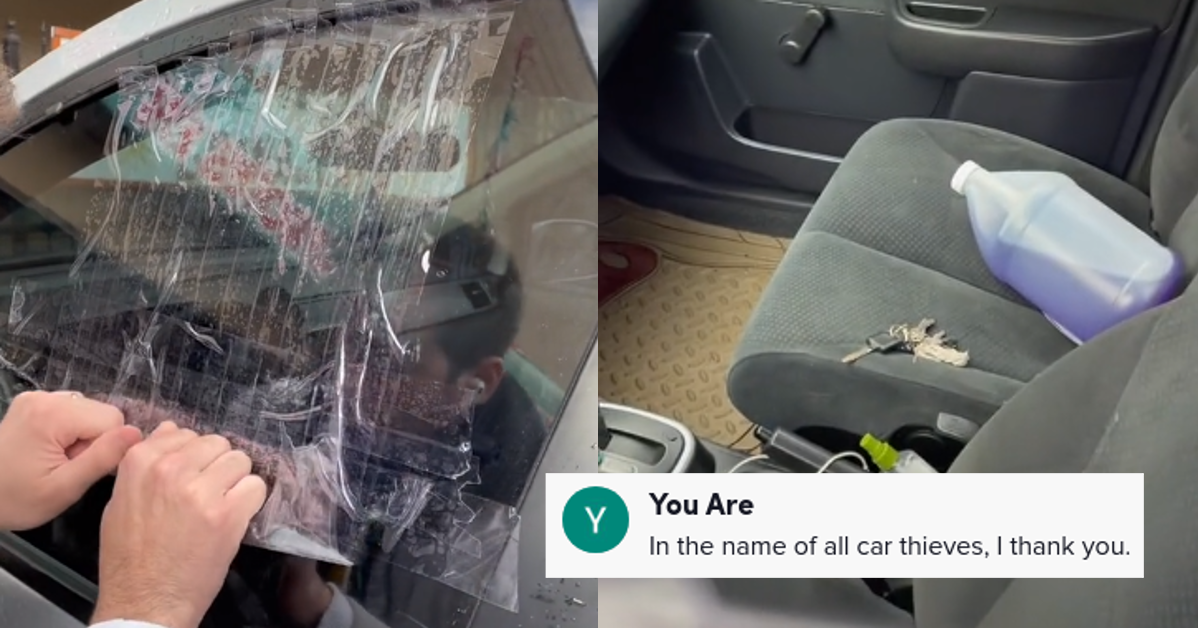 TikToker's Car Tape Hack Shows How to Get into a Locked Car Without Damaging the Window
It's the middle of a busy day. You've managed to squeeze some errands in during your work lunch break and you've planned out everything perfectly. You almost can't believe how smoothly everything is running. You smile and nod at people walking down the street, heck, maybe even you come across a cute dog who's owned by someone who isn't a curmudgeon and/or psychopath and you get to pet the pupper.
Article continues below advertisement
Life is good and you've got a little pep in your step as you amble on over to your vehicle and put your hand in your pocket in order to extricate your keys so you can be on your merry way and get down to business.
Whoops, OK, so your keys aren't in your pocket that you always leave them in, no biggie, they're probably in your other pocket.
Strange, hunh, they're not there either, but no matter, you definitely just slipped them into your jacket pockets...well OK they must've fallen out on the ground. It's not like you walked far. You start checking your surroundings when a dark possibility crosses your mind: did you leave them in the car?
You almost don't want to look into the window to see if they're inside. But sure enough, they are. Right on the passenger's car seat.
Article continues below advertisement
The first step is to obviously blame anyone and anything that could've caused this momentary lapse in judgment. Maybe you want to ream out your mom for calling you right as you parked before you headed into the store. Or maybe your significant other who had a last-minute request despite the fact you asked them several times before hitting the road if they needed anything.
Article continues below advertisement
So now your whole day is ruined and there goes your "efficiency" timeline. You start to think of ways you can extricate them. Sure, you could call a locksmith and wait for them to show up and crack open the door, or a local mechanic, or you could get a slide tool/wire hanger yourself to try and press the unlock door button on your vehicle.
But then you run the risk of potentially damaging your window, and no one wants that.
Which is probably why so many people are digging this "tape hack" trick that's going viral on TikTok.

Article continues below advertisement
In the video we see a man grab several strips of clear packing tape and line them up vertically on the entire length of the driver's side window.
He then puts up two strips horizontally across the bottom end of these strips, leaving a little room to unpeel and grab the vertical strips at the bottom.

Article continues below advertisement
These "grab" strips act as a lever of sorts that he then uses to manually pull down the window. Shockingly, it works and he is then able to unlock the car, go inside, and retrieve his keys, all without damaging his window in the process.

Article continues below advertisement
Many TikTokers were baffled that this approach worked, but there were also several who "thanked" the TikToker for basically showing the entire world how to break into a car.

Article continues below advertisement
Some were skeptical of this approach however and remarked that it probably doesn't work on newer car models or luxury brand cars, while other TikTokers pointed out that this individual was driving a car with manual windows. Then there were those who expressed that this may damage the window sliding mechanism of a vehicle.

Article continues below advertisement
3GuysLockSmiths has confirmed that the method works, however, cautions against using it unless absolutely necessary, as manually dragging the window down to retrieve keys will likely break one's car door mechanism that allows windows to be rolled up/down.

"Tape multiple strips covering most of the window and leaving the bottom untaped, then tape those parts to a lever, this can be a stick or just about anything that will hold the pressure, then pull down. Again, this will probably damage the door mechanism and should only be attempted in dire circumstances."
Have you ever tried this method before? Are you worried that car thieves and burglars might use this method for nefarious purposes?