Matthew Stafford's Wife Underwent Major Brain Surgery and Almost Lost Her Hearing
Los Angeles Rams quarterback Matthew Stafford is currently married to Kelly Stafford. Here's everything we know about their relationship.
Los Angeles Rams quarterback Matthew Stafford has faced a handful of injuries during his NFL career. Each time, he recovers more gracefully than the last. In fact, his wife Kelly Stafford has coined the hashtag #staffordstrong in her Instagram bio. It's a phrase that she came up with when the family was living in Michigan while Matthew played for the Detroit Lions between 2009 and 2020. The phrase not only applies to her husband, but to her as well.
Article continues below advertisement
The Stafford family is full of fighters. Keep scrolling to learn everything we know about Matthew Stafford's wife, Kelly Stafford, who has had her own fair share of medical obstacles to overcome.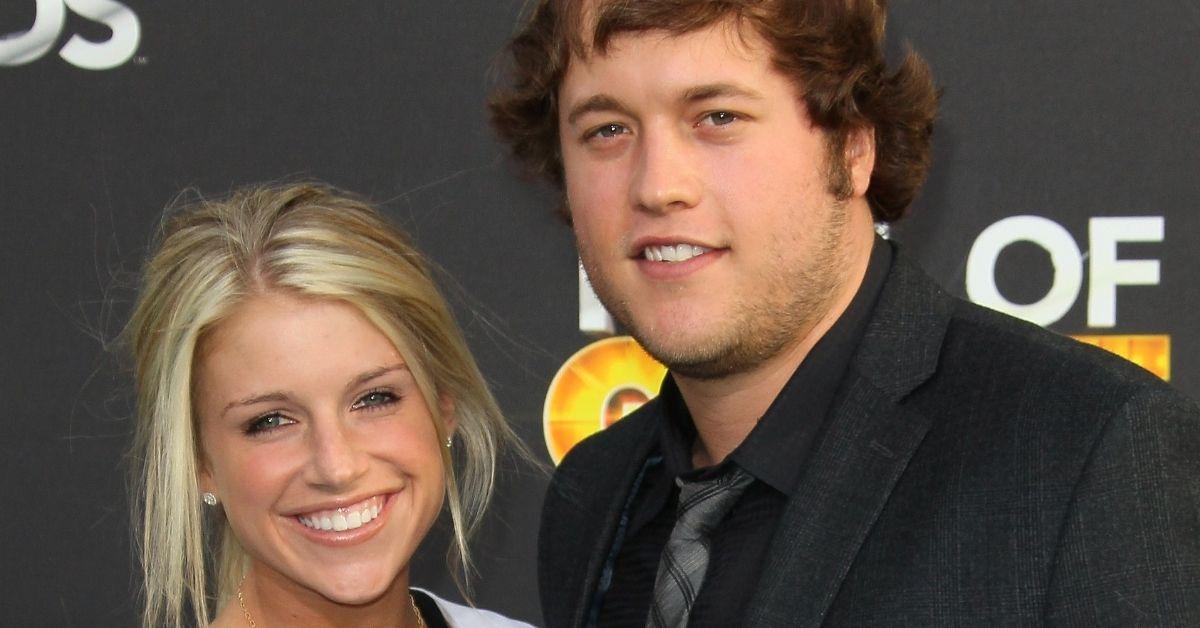 Article continues below advertisement
Matthew Stafford currently has four children with wife Kelly Stafford.
Matthew Stafford has been married to Kelly Stafford since Apr. 2015, according to FanBuzz. The pair met while both studying at the University of Georgia in 2009. At the time, Matthew was the star quarterback for the Bulldogs and Kelly was a cheerleader.
Matthew and Kelly currently have four young daughters together: twins Sawyer and Chandler, Hunter, and Tyler.
Article continues below advertisement
Kelly Stafford had to undergo brain surgery in 2019.
In October of 2019, Kelly Stafford penned an essay for ESPN in which she detailed her scary health journey from first experiencing dizziness, to finding out she had a brain tumor, to the surgery she underwent, as well as her healing process. "As a mom, you're always on the run. You're chasing after your kids or worrying about your family. You tend to put yourself on the back burner. So I didn't feel the urgency to go to the doctor," she wrote, regarding the first few times she started feeling "off."
Article continues below advertisement
But after experiencing a vertigo spell, Matthew took her to the ER. She was given medicine which proved to be ineffective. Two weeks later, an MRI revealed she had a tumor sitting on her cranial nerves and she would need surgery to remove it. Kelly explained that she was terrified, as there was a 50 percent chance she could lose her hearing. There was also a chance that she'd lose all function of her face.
Article continues below advertisement
She began sharing her story on social media. "I was feeling really vulnerable, and felt like I needed a bunch of people on my team at that point. I prefaced it in a way that I wanted prayers, more than anything," she wrote. Fortunately, the team had both her and Matthew's side.
"I'll say this: Detroit and Michigan really showed up. The Lions were incredible. They told Matthew to take all of the time and space he needed. And then, there were the fans. The amount of letters that poured into the facility — so many prayers, a lot of holy water — it was remarkable. Matthew joked that our house looked like a bootleg flower shop," she wrote.
Article continues below advertisement
After undergoing 12-hour brain surgery to remove the tumor, Kelly woke up in stable condition and still had her ability to hear. While her recovery was brutal, she began attending Matthew's games and cheering on the sidelines within a few months. She was able to make an almost full recovery.
Article continues below advertisement
Want more on the mom-of-four? Kelly currently hosts her own podcast dubbed The Morning After where she discusses mom life as well as the experiences she's had as the wife of an NFL quarterback.