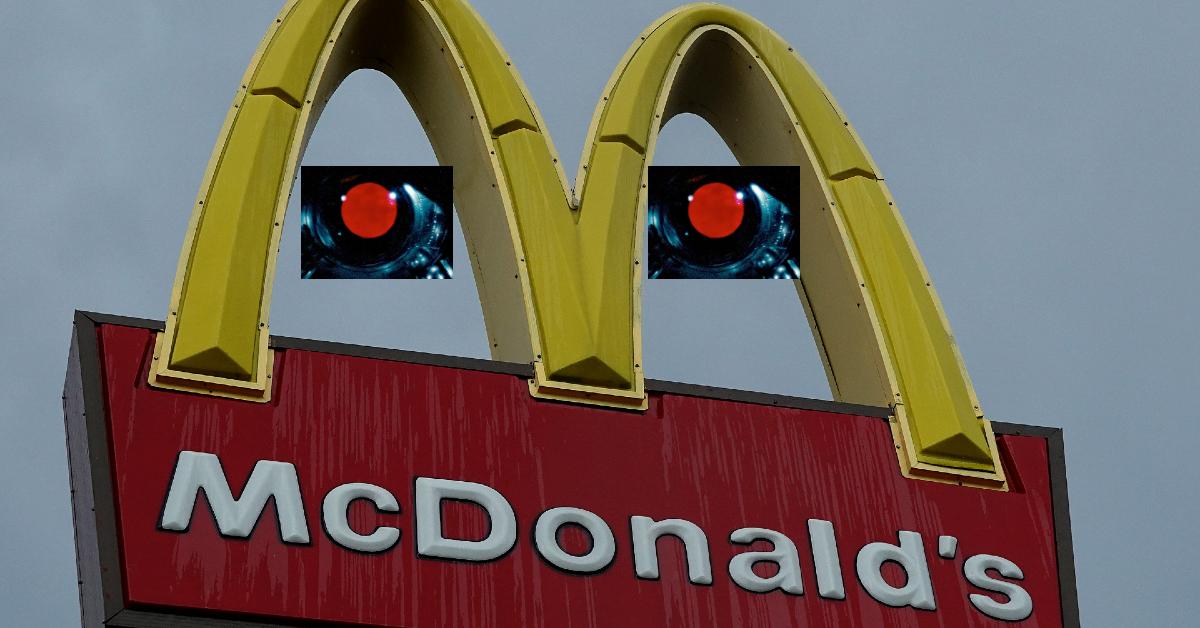 McDonald's A.I. Drive-Thru Automatically Adds 9 Sweet Teas to Customer's Order in Viral TikTok
A TikToker's post about their faulty A.I.-assisted McDonald's drive-thru experience is going viral. In the video, Ren Adams (@resinbiren) states that the popular burger chain's artificial intelligence was summarily flummoxed by another customer's order, adding items they wanted to Ren's own order.
Article continues below advertisement
On top of that, Ren says that for seemingly no reason whatsoever, the A.I. assistant (what she refers to as a "robot") decided to turn her singular Sweet Tea request into a 9-item order.
Article continues below advertisement
Ren says in the clip: "So y'all know how it's 2023 and robots are like taking over the world so anyway this morning I tried to go to McDonald's and get my daily dose of caffeine and some breakfast I was gonna get a hash brown a sweet tea and a coke. So I order, and I'm at the first drive-thru line, and as I order, and they're giving me my total, a car pulls up to the second drive-thru line."

Article continues below advertisement
Ren continues and discusses how the way the McDonald's drive-thru system is structured contributed to the order mix-up. "Mind you at this McDonald's it's all robot. Like we're talking to a robot, like there's no person on this speaker, it's just a robot taking your order so she adds the diet coke from the next line to my screen."

Article continues below advertisement
The ordering woes don't end there, "So tell me why when I tell her, this robot, that I have no diet coke for some reason she took the diet coke off and made it nine sweet teas. Nine! I did not ask for this. I saw this s**t and I pulled out of the drive-thru and drove away I said f**k that."

Article continues below advertisement
While it's understandable why there would be some audio cross-contamination at the drive-thru with someone else's order encroaching on another customer's A.I. generated one, it's difficult to come up with a reason as to why computer software would get the quantity of another item so horribly wrong.

Article continues below advertisement
Mickey D's isn't the only fast food chain that's debuted an artificial customer service representative, Carl's Jr. recently debuted Tori, a voice-assistant similar to Amazon's Alexa or Apple's Siri that's been making the rounds on social media.

Article continues below advertisement
It's not hard to imagine that corporations' decisions to put computers behind the ordering kiosks at its drive-thrus in lieu of human begins were influenced by a combination of the persistent labor shortage that occurred in the food service industry during the COVID-19 pandemic.

Article continues below advertisement
Increased hourly wages for food service employees could also be a factor. It's no secret that businesses are always looking for ways to cut costs. If management spends a few thousand dollars on an "evergreen" ordering solution that doesn't require breaks, insurance, or sick days, aside from the occasional system maintenance, it's not difficult to imagine they would much rather prefer that to a living, breathing employee.

Article continues below advertisement
TikTokers who saw the clip said that this is a clear-cut example as to why artificial intelligence can't be used in a face-to-face customer service setting.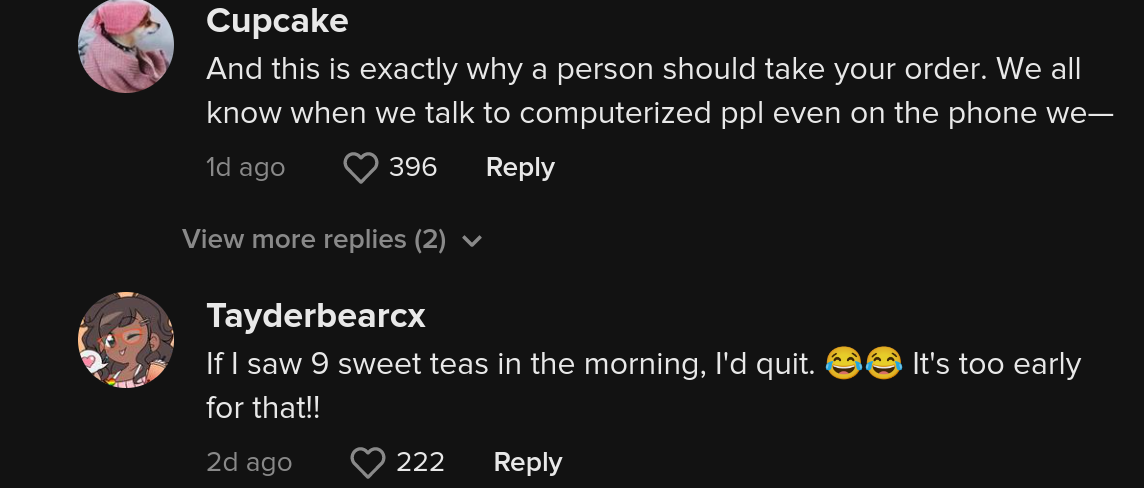 What do you think of A.I.-assisted drive-thrus? Would you want to place an order through one of them? Or do you think that even if these A.I. orders only misfire some of the time, if you get caught having to explain why your order is wrong to a robot it defeats the purpose of going through the drive-thru to get your food in the first place because you're probably in a hurry to begin with?