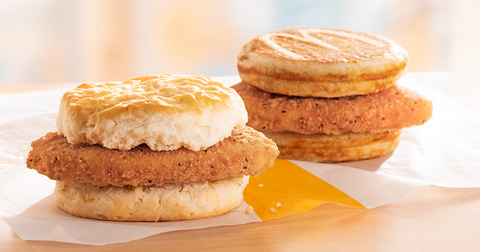 McDonald's Chicken Sandwiches Are Now on the Breakfast Menu — and Fans Are Lovin' It
By Lizzy Rosenberg

Jan. 28 2020, Published 2:25 p.m. ET
Article continues below advertisement
Seriously — if you weren't quite ready to try the new breakfast sammies when they went through testing earlier last year, there's no doubt in my mind these Twitter reactions to McDonald's new chicken sandwiches will convince you otherwise.
Now you can order these sandwiches at the crack of dawn: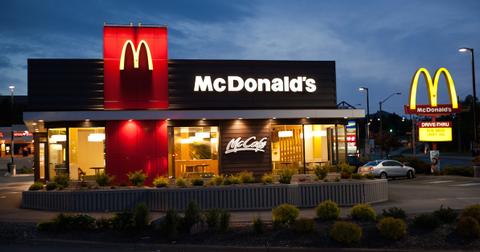 Article continues below advertisement
Before getting started, let's delve into McDonald's newest brekky options.
First, there's the McChicken Biscuit Sandwich — according to an official blogpost from McDonald's, it features a crispy chicken filet that's sandwiched between two flaky buttermilk biscuits. Customers can choose between spicy or plain, and it kind of goes without saying I'll be opting for spicy.
The second sandwich is none other than The Chicken McGriddle. It features a McChicken filet (spicy or non-spicy), and it's sandwiched between two warm "griddle cakes," which — if you haven't already tried them — are basically maple-flavored pancakes. Check out what you can expect from your order below.
Article continues below advertisement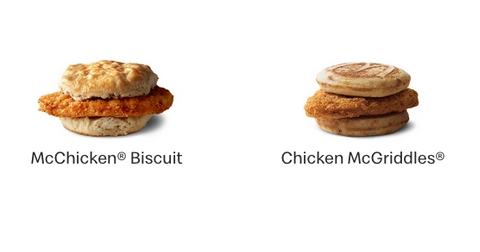 Almost everyone on Twitter is psyched to try the new offerings.
Crispy chicken? Good. Biscuits? Good. McGriddles? Good. A large portion of Twitter is going full ~Joey Tribbiani~ right now, because really, what's not to like about these babies? McDonald's latest and greatest offerings are completely revolutionizing fast food breakfast menus everywhere — this is most definitely an early morning offering for the books.
Article continues below advertisement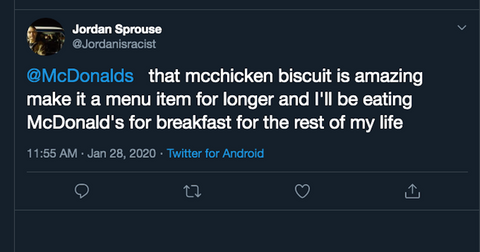 Article continues below advertisement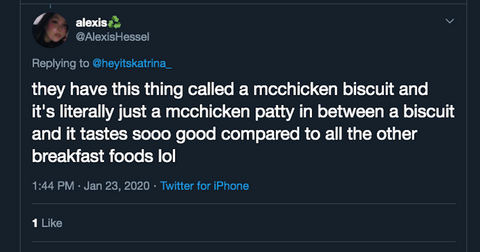 Article continues below advertisement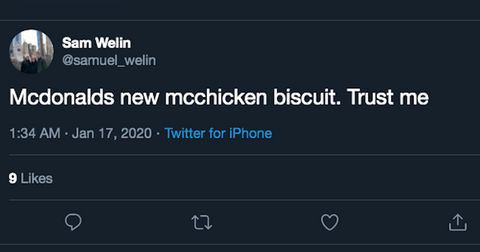 Unsurprisingly, though, we have some haters.
Not everyone out there stans Mickey D's new breakfast sammies — Twitter user @Turnksu called the new options "pure trash," while @sgtgreengaming wants the chain to bring back their "old breakfast chicken." Regardless of what that means, we all know that with all good things come haters. So check out what they had to say in the series of tweets below if you haven't seen them already.
Article continues below advertisement
The McDonalds McChicken Biscuit is pure trash. Do not waste your money on this product. I took two bites and threw it out.

— Mike Rouse (@Turnksu) January 27, 2020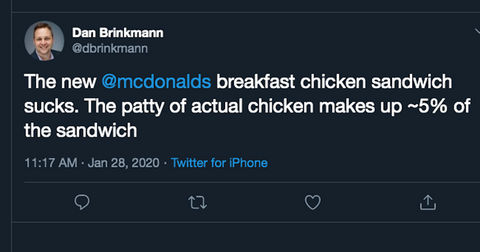 Article continues below advertisement
.@McDonalds you all need to bring back your old breakfast chicken.

Please do not try and give me a mcchicken on a biscuit.

You're better than that.

— SGT Green (@sgtgreengaming) January 28, 2020
I'm sorry is this crispy chicken sandwiched in McGriddles????????

— Kate Flaim (@kateflaim) January 28, 2020
Article continues below advertisement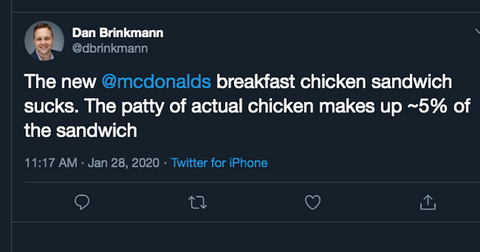 Regardless of where you stand, give them a shot for yourself.
We all know that Twitter is — well — whack, so it's best that you try these babies yourself. Unfortunately, according to the press release, they will only be available nationwide for a limited time, so you'll probably want to shoot your shot as soon as you possibly can. Price may vary based on location as well, so you'll probably want to keep that in mind before you make the early morning trek.
Like the glorious Lizzo or high-waisted jeans, it can take time for something really great to get the positive feedback it deserves... and McDonald's breakfast chicken is no exception. In all honesty, it may take months — or years — for fast food fanatics to give these babies A+ positive feedback. Until then, though, try it for yourself and don't forget to order some hashbrowns on the side.