McDonald's Hacks That Will Transform Your Fast Food Experience
McDonald's is great, but sometimes you need a custom experience to kick it up a notch with things like a DIY soda float or a veganized Big Mac.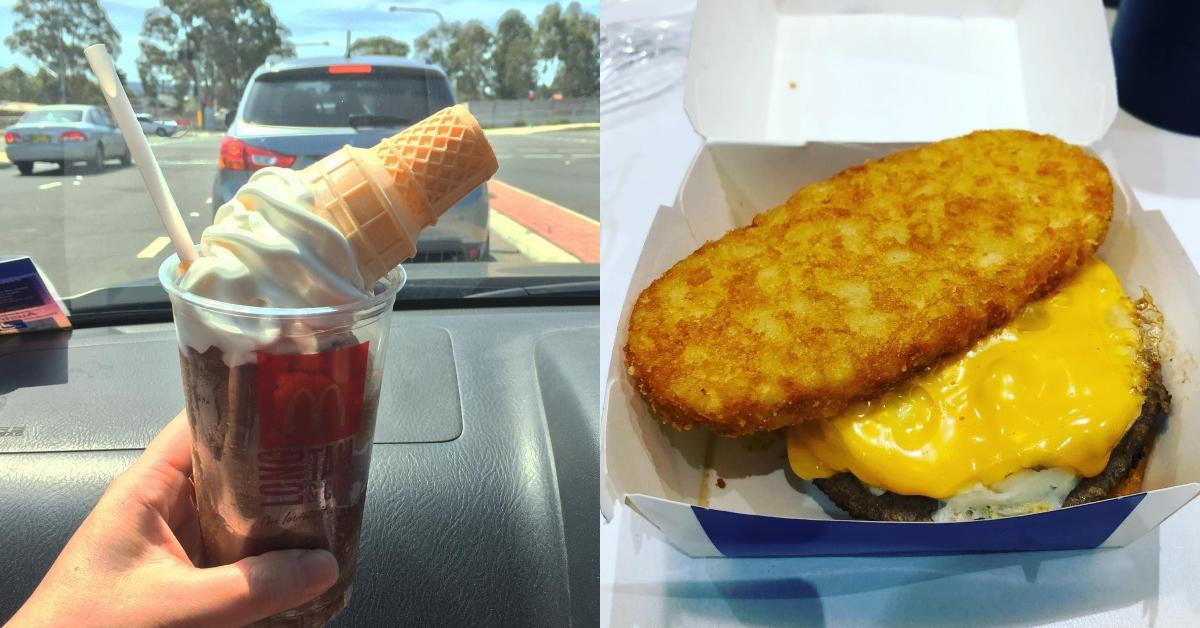 McDonald's may have a pretty wide selection of menu items, but sometimes their options just don't do it for ya, you know? That's when you have to get creative. People are sharing their McDonald's hacks all over Instagram, ways to use the menu to your advantage and get the most out of your McDonald's order. Here are some of our favorites.
Article continues below advertisement
If you aren't a meat eater, that doesn't mean that you shouldn't be able to eat a Big Mac. Until McDonald's starts offering vegan patties themselves, the move is to order a Big Mac without the burgers, then cut a plant-based Beyond Burger in half the long way and use that to complete your Big Mac. Looks legit.
Create your own soda float by ordering a Coke or a Root Beer and a soft-serve cone. You know how to do the rest. This is ingenuity at its finest, folks.
Article continues below advertisement
If you still like your ice cream / drink combo but you want to get fancy (and kind of Italian) with it, order some vanilla soft-serve or a vanilla shake and an espresso, and pour that coffee all over your ice cream. It's called a McAffogato.
This is a brilliant move. This person suggests ordering a chicken biscuit but asking to swap the biscuit for McGriddle bread. That way, it's pretty much chicken and waffles. Who knew McDonald's offered this southern classic?
Article continues below advertisement
If you are a dessert fiend, order soft baked chocolate chip flurries and an Oreo McFlurry and make some of the best ice cream sandwiches you'll ever have. Yum.
Apparently, you can order any McDonald's burger "like a Mac" and it will come with shredded lettuce and Bic Mac sauce. So maybe you want a quarter pounder (as depicted here), but you want that Big Mac taste. All you have to do is order it "like a Mac," and they should know exactly what you're talking about.
Article continues below advertisement
This genius reminds us that you can buy plain chicken breasts from McDonald's and that they're extremely cheap (about $2 each). So if you need dinner on the go or a last-minute protein boost and you want to stay on the healthy side, this is a great option. I mean, you could add this to salad! Pasta! Your own sandwich! The possibilities are endless.
If you want that sweet good stuff but you still want a boost of energy from some caffeine, this ex-McDonald's employee suggests ordering a Mocha frappe with two shots of espresso in it. I think if I drank this, I'd explode, but that's just me.
Article continues below advertisement
Maybe you want all the goodness of a Big Mac but in a big cozy bowl that you can shovel into your face with a fork. Enter: the Big Mac salad. The addition of the French fry "croutons" is a genius touch. This is a great way to get all the deliciousness of a Big Mac with a few extra veggies, you know, for health purposes.
If you are gluten-free or just really love McDonald's hash browns (who doesn't?), order a McMuffin with hash browns instead of an English muffin. Your taste buds will thank you.
Article continues below advertisement
Maybe you're a West-Coaster who can't get enough of In-N-Out's animal style fries, but you're nowhere near an In-N-Out. Luckily, you can order McDonald's fries with Mac sauce, and you're almost there.
Maybe you are cutting carbs and upping your protein intake...or maybe you just really like beef. Whatever the case, this person suggests that a "real Big Mac" includes tossing out that useless middle bun and replacing it with a quarter pounder and extra Mac sauce. That is one serious burger.
Article continues below advertisement
Most of these are menu hacks, but if you are grabbing McDonald's to have some walk-around food, as one does, then consider using this drink / straw / container contraption to make for easy consumption. It works with nuggs and burgers alike!
This is some serious sandwiching. This person suggests ordering a Big Mac and then replacing the bun with chicken patties. This might be too much for the average person with a normal human heart, but to each their own I guess.
If you had the chicken Big Mac yesterday and want to be a little healthier today, consider this healthy-ish McDonald's hack. Remember those plain grilled chicken breasts from before? Order one or two of those along with a side Caesar salad, and you've got yourself a meal!