McDonald's Gives TikToker Egg Instead of Chicken Nuggets in Bizarre Order Mix-up
A TikToker's emotional post about a massive McDonald's order mess up has other users sympathizing/laughing at her expense.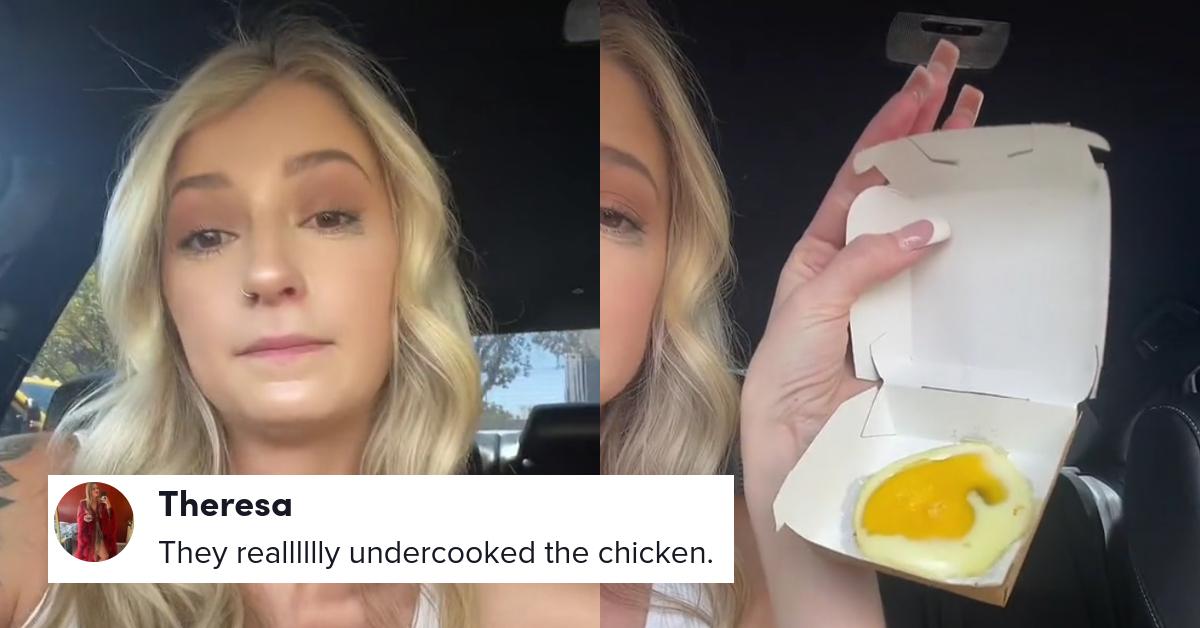 When you're really looking forward to a meal, especially when you've had a rough day, it can be crushing when something ruins that meal. And while it's easy to write off "hanger" as a fake phenomenon and attribute it to a person's own inability to manage their emotions, Smithsonian Mag says it's a very real phenomenon.
Article continues below advertisement
According to a survey that was conducted on 64 people who had their emotions tracked via a smartphone app, findings indicated that "hunger was associated with more anger and irritability and less pleasure—to a significant degree. After crunching the numbers, the researchers determined that hunger was responsible for 56 percent of participants' varying feelings of irritability."
The outlet went on to state: "Past research has also linked low blood sugar with increased aggression, impulsivity and anger, as well as the release of stress hormones like adrenaline and cortisol."
While there are plenty of us who probably have tons of anecdotal evidence/experiences that can back this study up, it might provide comfort to some to know that there's some legitimate scientific research to back up their hunger/anger episodes.
And this TikToker's sad post could be yet another example.
Article continues below advertisement
In it, a user on the platform by the name of Jessica Gardner who posts under the handle @jessicagardner585 shares her story of an unfortunate experience she claims she had at a Mickey D's location.
Article continues below advertisement

In the post she says, "I'm having a terrible day and so I got McDonald's before I went to work I got a burger they forgot to put the patty on it and you know what that's fine I got nuggets so I'll just eat the nuggets and maybe I didn't need the burger." She shows off the patty-less burger with a few bites taken out of it. Then she extricates the nuggets box from the bag.
Article continues below advertisement

"So I go to open the nuggets...trying to open the box...it's an egg. Why. Why is there an egg in here?" She asks, seemingly fighting off tears. Breakfast has been over for two hours. I just wanted a meal before I go into work. I'm very upset," she says before the video cuts out.
Article continues below advertisement

Other TikTokers shared their own McDonald's order gaffes, while some people expressed sympathy with Jessica's experience, stating that if they were having a bad day too that this happening would ultimately send them over the edge.
Article continues below advertisement

Jessica herself in the comments section said that "This sent me over the edge today."
"My heart felt for you girl!!!!"
"This would've been my 13th reason"
Article continues below advertisement

Others took it as an opportunity to tell some jokes, quipping that they still technically fulfilled the "chicken" part of her chicken nuggets order.
Article continues below advertisement

"I mean they technically still gave you chicken, just forgot to finish making it"
"They realllllly undercooked the chicken."
"I once ordered nuggets but it was a container full of pickles"
Article continues below advertisement

So what was the cause of the gaffe? One TikToker offered up a practical hypothesis: that her order was probably mixed up with a vegetarian's order who wanted their cheeseburger patty replaced with a fried egg, and the employees boxed the egg separately for the individual to assemble themselves, creating an alternative protein paddy order.