Woman Calls Out Boss for "Tearing Down" a "High Five" Note That Praised Her Efforts
A Redditor shared an interaction with her boss that angered a lot of folks online, and it's all because of the way he took down a note praising her.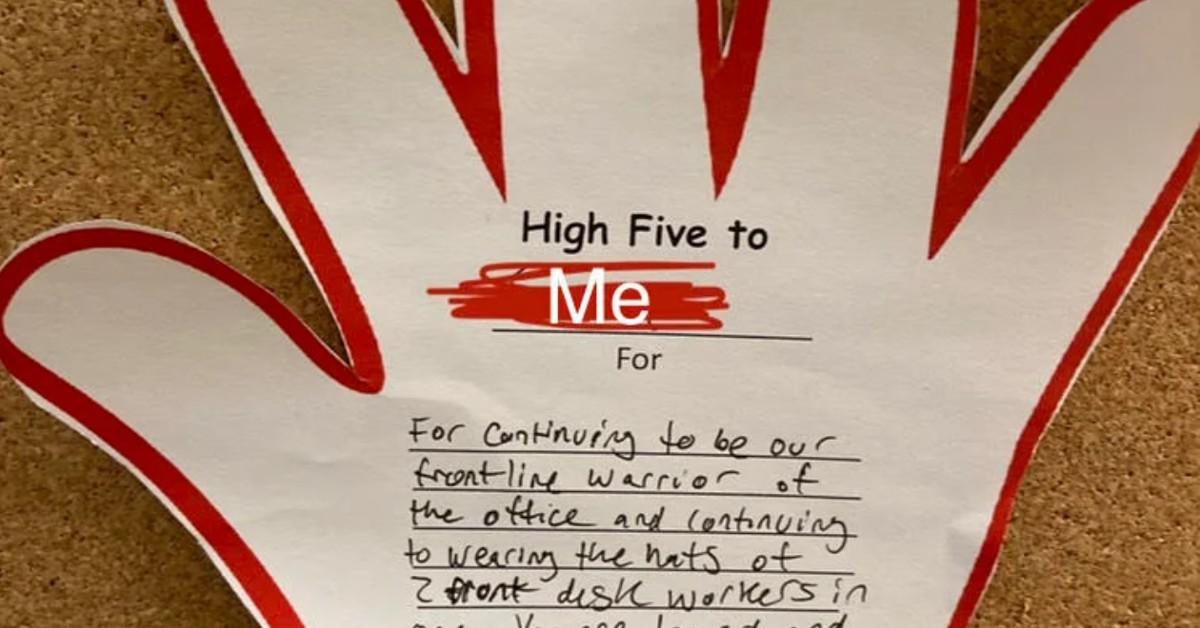 Article continues below advertisement
Sometimes, it's because they're not getting paid what they believe they're worth. Other times, they're constantly passed over for promotions or have their hard work attributed to either another worker or "swallowed" by their manager who takes all of the credit for the efforts of the team without sharing the love or financial bonuses they get as a result.
But in the case of Samantha Russell's co-worker, it had to do with her boss tearing down a little bit of workplace recognition all because it kind of made their job look bad.
Russell shared the story on Reddit's popular antiwork forum about how she got into an argument with her boss because she didn't take too kindly to a "written high five" that was posted by a coworker praising her for doing double duty.
Article continues below advertisement
She writes in the post titled: "I got into a verbal fight with my boss about a written high five," that: "For the last several years I've worked as a receptionist at the front desk of a busy office. Up until 9/1/21 – there has always been 2 receptionists running the front."
Article continues below advertisement
"Tammi, the 2nd receptionist retired 9/1/21. I've been running things by myself since. (A new Tammi was hired but she quickly quit). It's been hard! I've asked my boss for help at the front desk. Verbally, via email and during my evaluation. Her response is always, 'there is a front desk coverage schedule. You can ask those people on the schedule for help whenever you need it.'"

Article continues below advertisement
It seems that Samantha's big gripe with work, according to the Reddit post along with her interview at Newsweek, that she's been overworked tackling two jobs at the same time. She goes on in her post: "The ppl on the front desk coverage schedule have other job responsibilities. Covering the front is stressful for them. When I bring this up to my boss – she says that it's not my problem. It's like if I worked for a dentist's office and called up the dentist to help with reception."
Then she proceeds to talk about the "high five note" at work. It's an appreciation system at her work where folks put up notes "high-fiving" co-workers and writing a little bit about the great effort they've been putting in.
Article continues below advertisement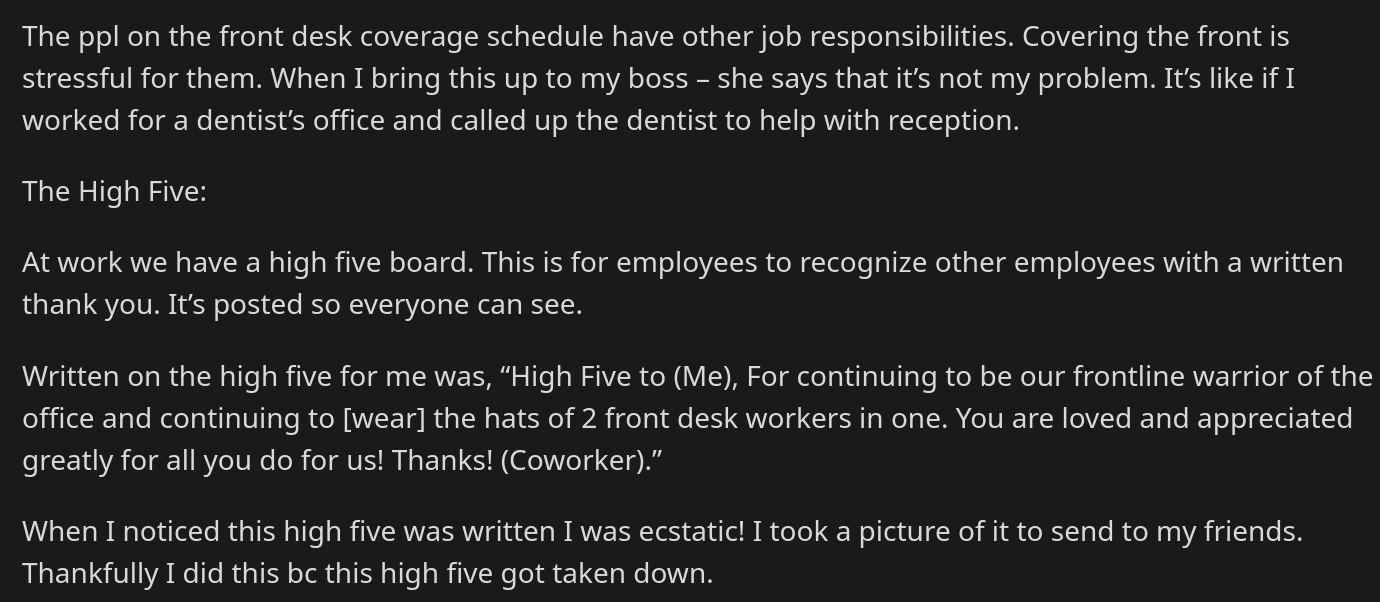 "At work we have a high five board. This is for employees to recognize other employees with a written thank you. It's posted so everyone can see.
Written on the high five for me was, "High Five to (Me), For continuing to be our frontline warrior of the office and continuing to [wear] the hats of 2 front desk workers in one. You are loved and appreciated greatly for all you do for us! Thanks! (Coworker)."
Article continues below advertisement
Although it's a small gesture, it apparently meant a lot to Samantha, who was crestfallen to see it had been removed from the board: "When I noticed this high five was written I was ecstatic! I took a picture of it to send to my friends. Thankfully I did this bc this high five got taken down."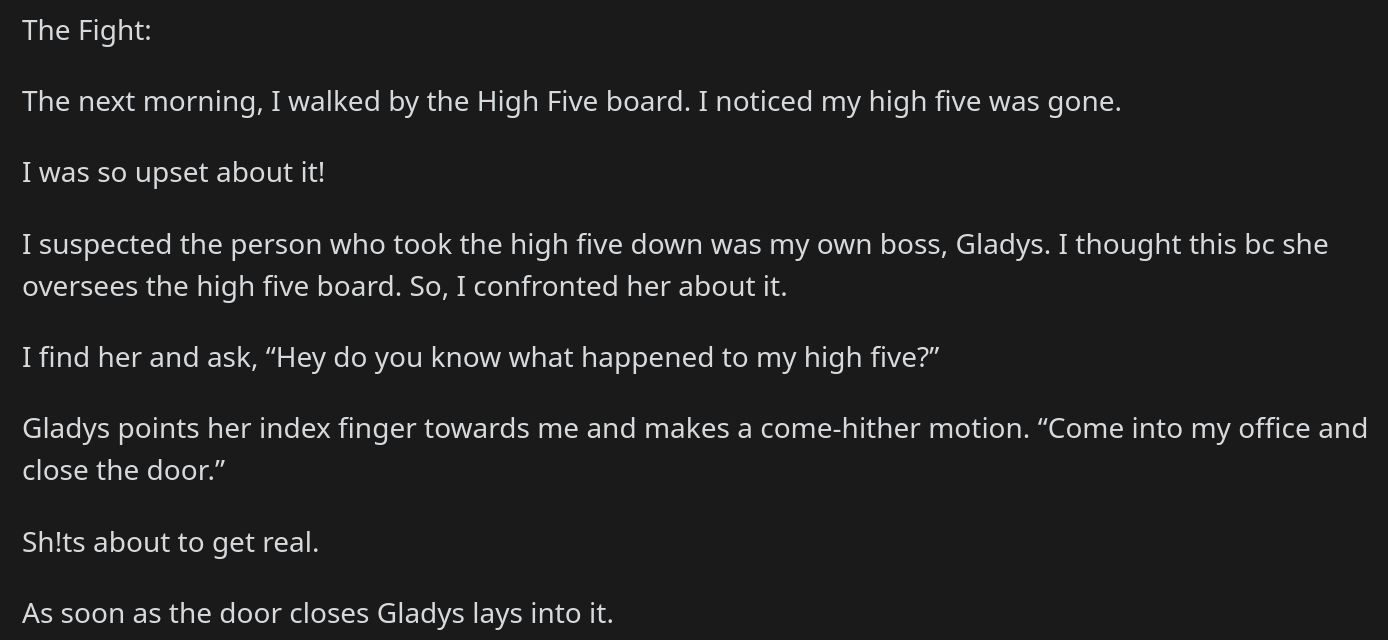 Article continues below advertisement
"The next morning, I walked by the High Five board. I noticed my high five was gone.
I was so upset about it!
I suspected the person who took the high five down was my own boss, Gladys. I thought this bc she oversees the high five board. So, I confronted her about it.
I find her and ask, 'Hey do you know what happened to my high five?'"
Apparently, Gladys wasn't too happy with the fact that departmental "business" was broadcast for everyone at the workplace to see. Samantha went on to say that Gladys, her boss, proceeded to "gaslight" her about an email she sent, which averred that working the front desk wasn't a two person job.
Article continues below advertisement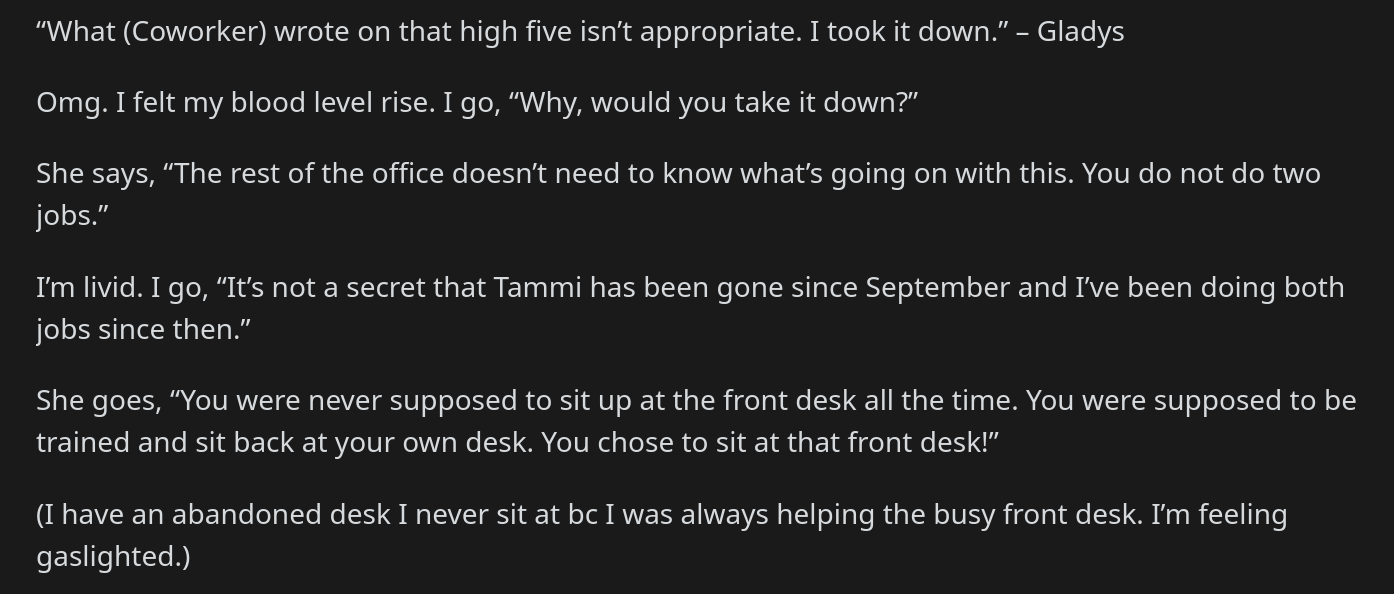 However, that's the exact opposite of what Samantha has been saying for quite some time. Instead of allowing their conversation to denigrate into an argument, she decided to leave the room, shocked at her manager's behavior and with a renewed resolve to ditch that job in lieu of another.
Article continues below advertisement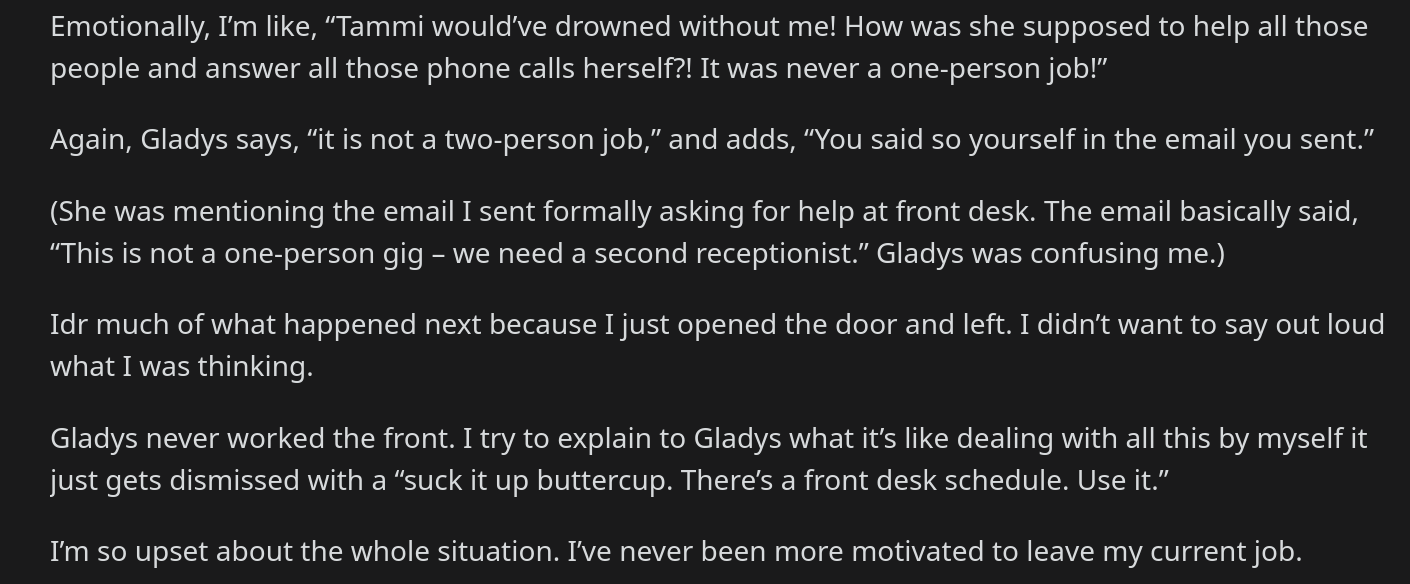 Some Redditors had other suggestions, with many telling Samantha to allow the phones to ring while sitting away from the front desk and not offering to help out with any influx of correspondence.
What do you think? Was Gladys in the wrong for taking down the high five notice? Or do you think that it's ridiculous people are fighting for the equivalent of a banana sticker in kindergarten?