A Middle School Principal Bans Leggings, Sparking Debate About How Men Sexualize Young Girls
When a middle school principal bans leggings, netizens debate on whether or not leggings are appropriate attire for school or if they're ban-worthy.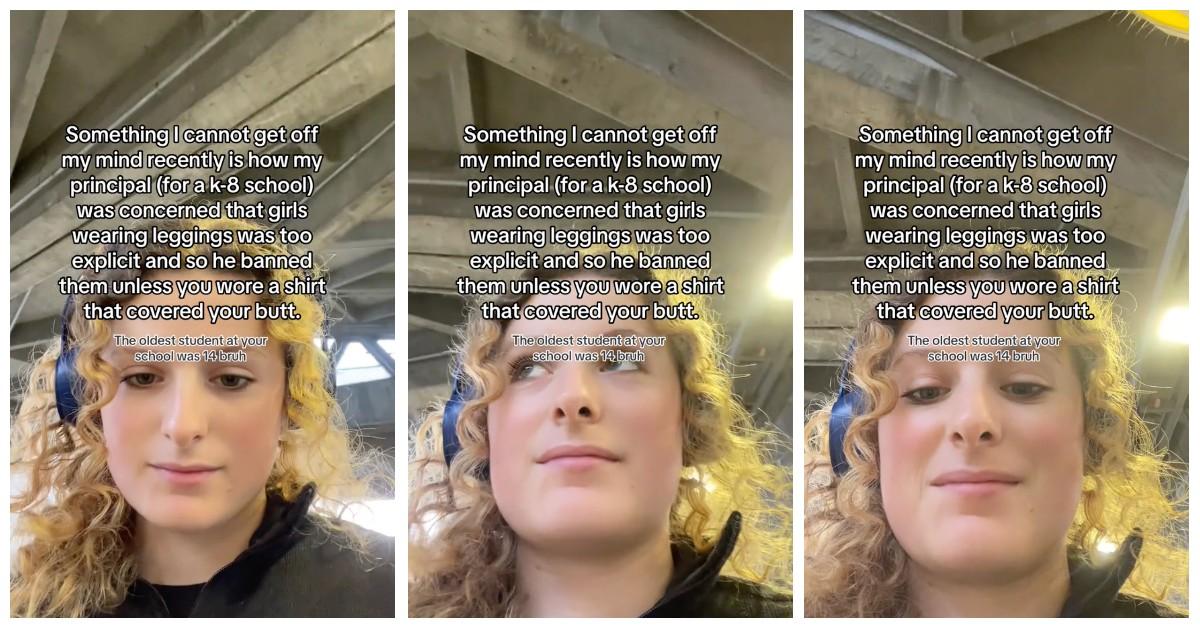 The dress code debate is a longstanding one. Throughout the past few decades, young and teenage girls have been policed on what they're allowed to wear to school often because their clothing (or lack thereof) can be "distracting" for their male classmates. While this has oft been an argument for dress codes among high schoolers, extending this to kids and pre-teens just seems extra icky.
Article continues below advertisement
Dress codes have always had an ick element to them because they both sexualize young girls and put the onus on them to fix the problem rather than on their male classmates (and teachers, ew) to not sexualize them. Now, when Ada Shookenhuff shares on TikTok how her middle school principal banned leggings because they're "too explicit," a debate ensues in the comments.
Article continues below advertisement
A middle school principal banned leggings because they were "too explicit."
In Nov. 2023, TikToker Ava shared her video recapping what she's been thinking about now that she's older. "Something I cannot get off my mind recently is how my principal (for a k-8 school) was concerned that girls wearing leggings were too explicit and so he banned them unless you wore a shirt that covered your butt," she wrote.
"The oldest student at your school was 14 bruh," she added. Obviously, it's disturbing that a middle school principal is thinking about girls aged 5-14 as explicit in any way. The girls are children!
Article continues below advertisement
On the other hand, all schools have dress codes, even elementary and middle schools. I was always upset I couldn't wear a "belly shirt" aka a crop top to elementary school, but I also wouldn't wear one to work today. Women and girls should be allowed to wear what they want to school, but dress codes are inspired by real-life work dress codes.
Article continues below advertisement
In some cases, a dress code is appropriate, for example, when it equally affects boys and girls, and when it's because of professionalism or the appropriateness of everyday wear rather than because of sexualization. But when teachers and administrators start to say that young girls are inappropriate because they're wearing spaghetti straps when boys wear tank tops, then we have a serious problem.
People in the comments debate whether or not leggings should be allowed in schools.
The issue with leggings is that sometimes, they're totally see-through! Other times, they're just so skin-tight that we can see every crevice of a woman's body. Unlike skinny jeans, which are thick and don't sculpt to bodies, leggings can definitely be seen as more inappropriate everyday wear. In fact, I always abided by the idea that "leggings are not pants" growing up because I would never wear them with a shirt that didn't cover my butt.
Article continues below advertisement
But as fashion has changed, so have leggings, and they are definitely now part of everyday wear. If the school had a pledge to some sort of level of professionalism, then that would be reason enough to ban leggings. In fact, we doubt most women today would wear leggings to work, even at a casual job. But if sweatpants, basketball shorts, and other activewear styles are allowed, then leggings should be too!
Article continues below advertisement
However, men had some inappropriate things to say in the comments. One guy wrote, "Kids should not be flashing their junk," to which Ada aptly replied, "This comment is disturbing." Another wrote, "Y'all are so braindead and chronically online. Yoga pants def show your stuff. And if it didn't y'all wouldn't want to wear them so bad." Once again, he's sexualizing girls' bodies and saying that we asked for it!
Article continues below advertisement
Luckily, there are plenty of women in the comments who have their fair share of stories to tell about getting sent home from school as girls for violating the dress code. Is it really fair to take away a girl's education because of what she's wearing? This is the crux of the dress code debate.
The worst comment came from someone who worked in a K-6 school with a "pretty lenient dress code." She said that one of the moms complained that her husband couldn't stop staring, which is obviously disturbing. All of this just goes to show that the big problem here is not what girls are wearing, but how men think about them. All in all, ew.