Woman Scorches Her Family's "Sexist" Thanksgiving Potluck Google Doc, Sparks Viral TikTok Debate
A TikToker went viral after calling out her family's "sexist" Thanksgiving potluck Google Doc, sparking a debate in the comments section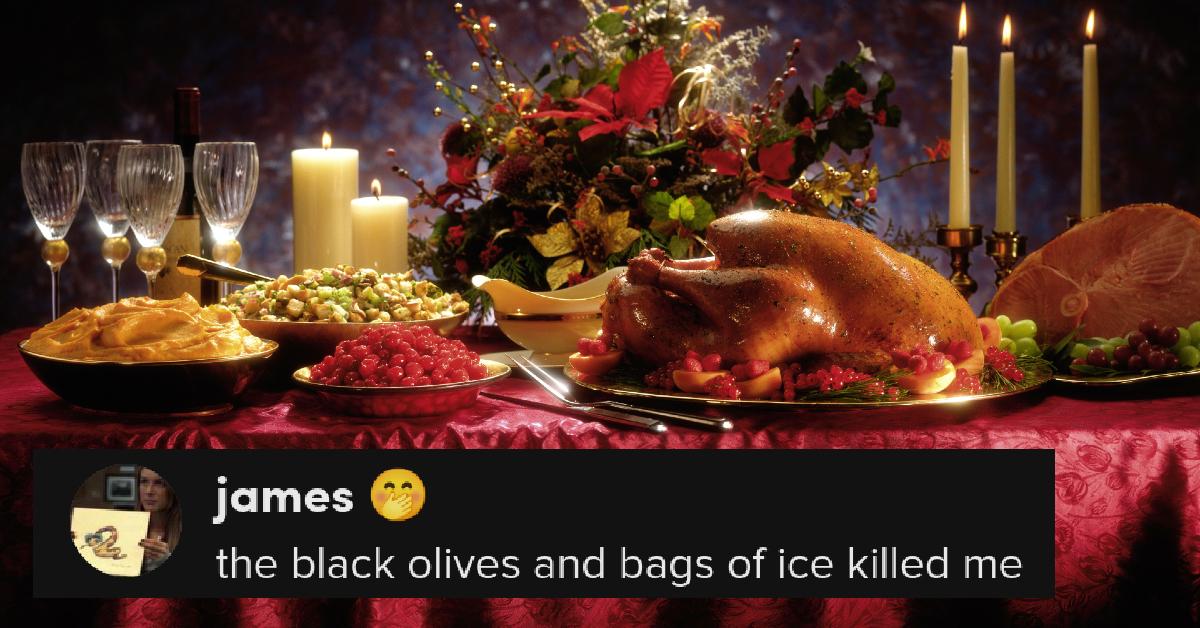 A TikTok user by the name of Maddie, who posts under the handle @pumpkinheadgirl, sparked a viral debate after calling out a Google Doc her family put together containing Thanksgiving potluck meal and item assignments. Maddie appeared frustrated by the number of repeat items on the list and pointed out that many male members of the family weren't expected to bring more difficult or involved items, which sparked a debate in the comments section.
Article continues below advertisement
Maddie begins her TikTok by stating: "I've been added to my family's Thanksgiving Google Doc and I would love to take you through the f--kery on this thing, let's go. Starting off we're gonna skip all the way to the bottom to the desserts. Um, my sister Berkeley, notoriously does not show up to family events, so she's been sort of ambiguously assigned a dessert or snack because we know that she's not going to show up until we're already done eating."
She continued, "Going up a little though, we do have one two, three different pumpkin pies, which is too many pumpkin pies for the number of people who are coming. But, to give context and fairness, my cousin Carol did dibs making a pumpkin pie first, and then I guess my grandma was like, 'no I'm gonna make the pumpkin pie.'"
Article continues below advertisement
She further explained the familial food drama: "And there's no reasoning with Grandma, so she's also making a pumpkin pie and then my aunt Sherry for some reason decided to toss her hat into the ring and also make a pumpkin pie. And I would like to be very clear that none of these three women have 'famous pumpkin pie' recipes...I love them, but they are just going to be following the recipe that's on the can of pumpkin."
Article continues below advertisement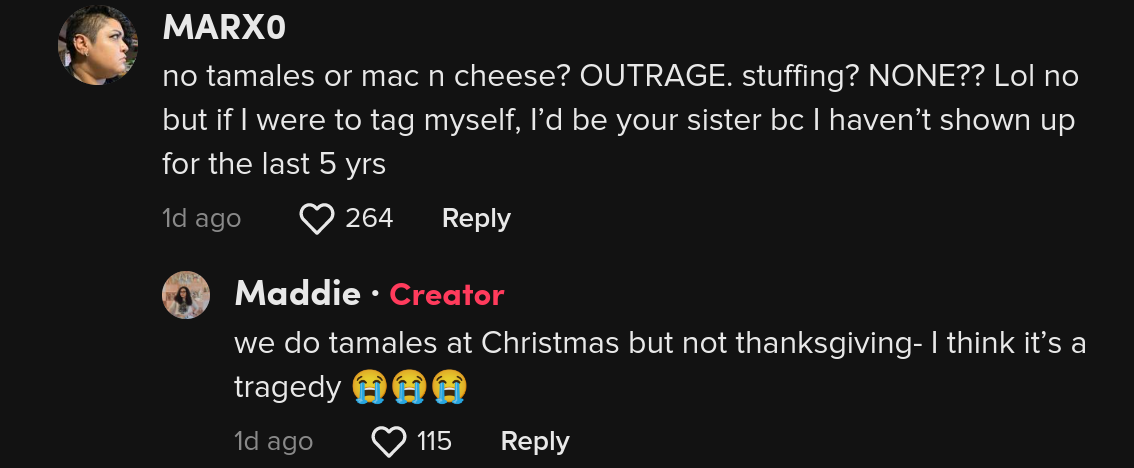 Maddie went on with her rant, "But doubling up on things is not going to stop there, because we do have two different kinds of sweet potatoes coming. First I would like to say that, for some reason, my uncle Rick gets 'Rick's famous sweet potatoes.' The rest of us do not get fancy titles or superlatives, even though some of us are making signature dishes, I kind of think he wrote that himself or his wife Sherry might have."
Article continues below advertisement

Her ire wasn't restricted to nomenclatures or quantities, though. "Anyway, now my cousin Karina is bringing sweet potatoes with marshmallows, which we do have at Thanksgiving because my cousin Jenny loves them, but if you take a quick peek at the list of names, Jenny is not coming to Thanksgiving this year. Nobody wants these. Karina doesn't even want these, she likes Rick's sweet potatoes. She's very confused why she is making them and who they are for."
Article continues below advertisement

The anger was even further compounded when she pointed out a clear double standard when it came to gender on the list and the expectations put on male members of the family and what they were asked to bring or provide to the potluck style meal.
Article continues below advertisement

"There are several members of my family in a tizzy about this list, but not because of anything I've just listed. It's actually because of what my male cousins have been asked to bring. Keep in mind, one of them is the same age as me and one of them is older. There is no reason that these men cannot contribute to Thanksgiving."
Article continues below advertisement

Maddie delineated what their assignments were: "Here's what they've been assigned to bring: so my cousin Michael needs to go buy a bag of rolls and paper plates. Whatever. The bigger sin here to me is my cousin John, who has been assigned to bring a single can of black olives and then ice, which we all know he's going to get at the gas station on his way to Thanksgiving."
Article continues below advertisement

She continued to get fired up about the list. "Now you might be thinking well are the black olives for something else? No, see if they're supposed to in the salad, then our Grandma is supposed to be getting them. If they're any...there's no reason he would be assigned to bring somebody else's ingredients, maybe somebody just wants to eat black olives. Which is fine, I also like olives, but you can't tell me that this an equal contribution compared to some of the other names on this list."
Article continues below advertisement

Maddie indicated that she wasn't the only one who took issue with the list in its current form. "So my mom has pointed out that this is sexist. Michael's sister Carol has pointed out that this is unfair. I also believe it's unfair. My sister does too, but, like I said, she doesn't really count for family things."
Article continues below advertisement

She ended her video by stating that there's no way this kind of operation would work for future Thanksgiving meals, "In the future, if this is a valid thing to bring, I would like dibs on black olives next year."