Mike Zimmer's Rumored Girlfriend Seems More Newsworthy Than His Vikings Coaching
NFL season is underway, but Minnesota Vikings fans seem a bit distracted by head coach Mike Zimmer's rumored girlfriend. Keep reading for the details about their relationship.
Article continues below advertisement
Who is Mike Zimmer's girlfriend?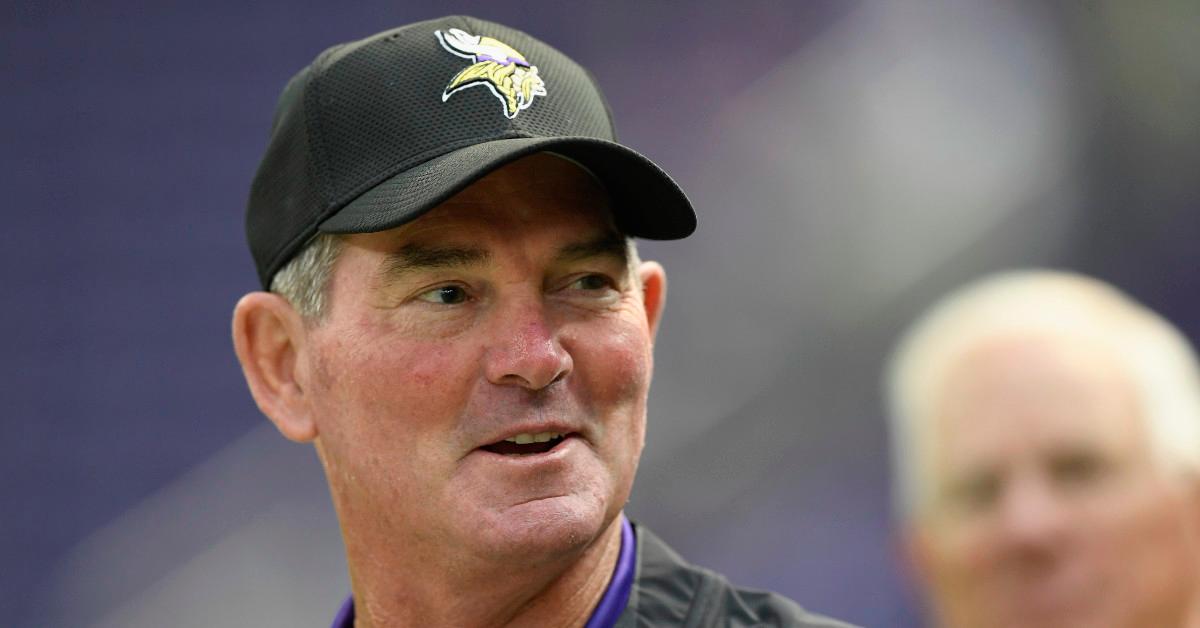 Mike is reportedly dating model Katarina Elizabeth Miketin, a model who made headlines with her Instagram post on Oct. 1.
In the pic — her first Instagram upload in two years — Katarina appears in profile and topless, with an arm draped over her chest. "Free spirit…" she wrote, adding the praying-hands emoji. "I missed you all!! I'm back!"
Article continues below advertisement
Article continues below advertisement
According to her LinkedIn profile, Katarina currently works as a vice president at Frandsen Bank & Trust in Minneapolis. She has a B.A. from the College of St. Scholastica and a finance MBA from Northwestern University's Kellogg School of Management.
Article continues below advertisement
Who was Mike Zimmer's wife?
Mike's wife, Vikki, died unexpectedly at their home in Ohio on Oct. 8. 2009. She was 50 years old, and she and Mike had been married for 27 years at the time.
Mike, who was then the defensive coordinator for the Cincinnati Bengals, told ESPN at the time that his wife "was the sweetest, kindest, most caring person who'd never say a bad word about anybody."
Bengals coach Marvin Lewis gave Mike the game ball after the Bengals defeated the Baltimore Ravens three days after Vikki's passing, and Mike gave a tearful speech to his players, according to the Star Tribune.
"Mike is part of our Bengals family, and we'll support him in every way we can," Marvin told The Cincinnati Enquirer. "We will dearly miss Vikki. She was a friend to all of us, and a big supporter of Mike's players. Her thoughtfulness to them in so many ways will also be greatly missed."
Article continues below advertisement
The Enquirer also reported that Vikki was beloved by the Bengals players, especially because she often baked cookies for the team.
"Mike tells me, 'Those kids work so hard and so long. They really like it when you make them that stuff,'" Vikki had told the team's official website. "They're worried about putting on weight, so I want to make it a little bit healthy, but he tells me they destroy whatever it is no matter what they say."
Article continues below advertisement
Mike had three children with Vikki: a son, Adam, and daughters, Marki and Corri. Adam has been coaching with the Vikings since 2014 and is currently the linebackers' coach and co-defensive coordinator.
Adam also cheered his father on when Mike became head coach of the Vikings in 2014. "I think it means a lot because it's something he's worked for a long time and just hasn't been able to get someone to get him that chance," he told the Star Tribune at the time. "I think he's really excited about having the opportunity to prove everybody that didn't give him the job wrong."