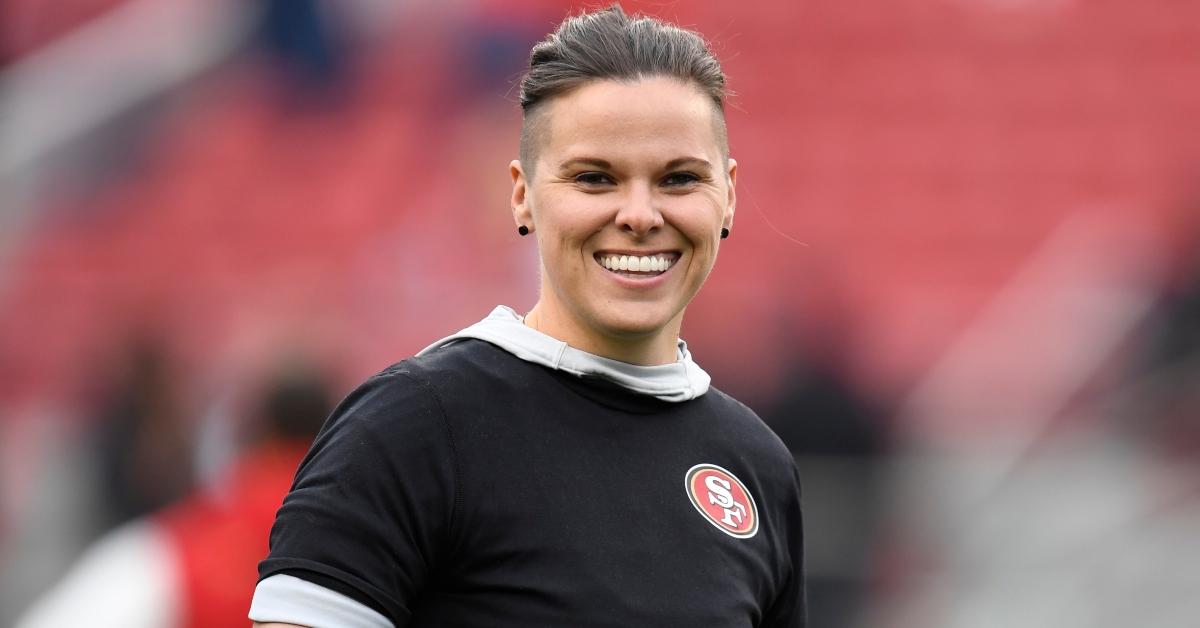 The 49ers' Katie Sowers Is the First Female NFL Coach Ever — Details on Her Life off the Field
For the first time in NFL history, a female coach will be hoping to lead her team to victory during Super Bowl LIV. Katie Sowers is that historic coach; she's been an offensive assistant coach for the San Francisco 49ers since 2017. In addition to being the first-ever female football coach, she's also the first openly gay coach to be in the league as well.
Article continues below advertisement
While her presence with the Super Bowl-bound team is groundbreaking, to say the least, Katie has had NFL aspirations since childhood, and she wasn't going to let expectations stop her.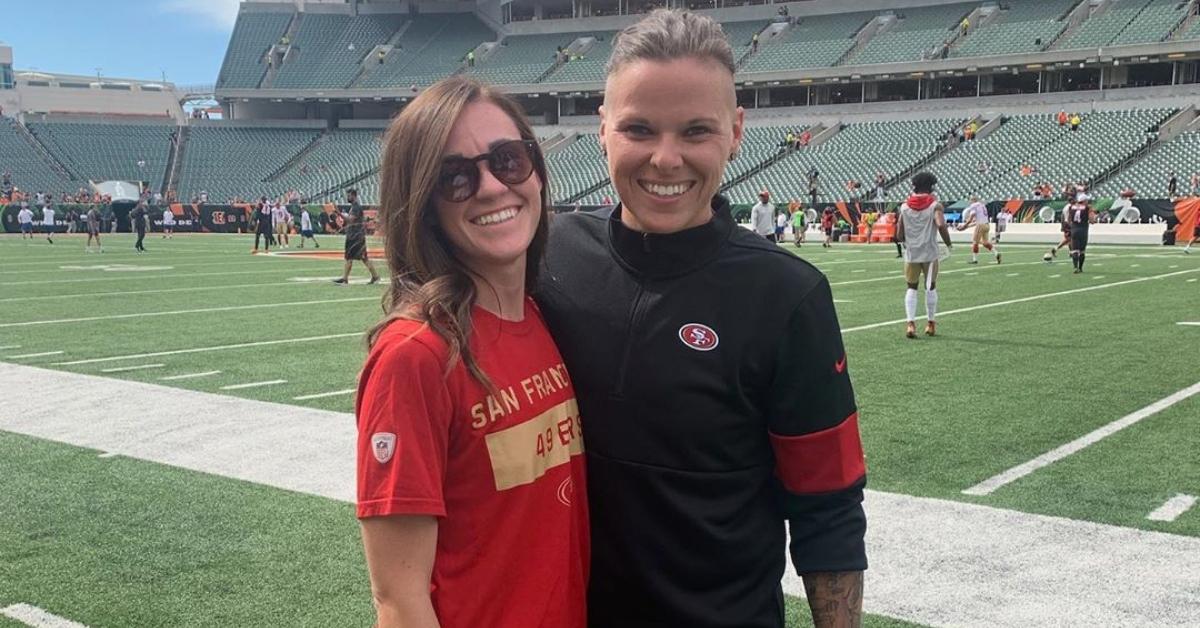 Article continues below advertisement
She's known to many members of her team as a source of compassion and comfort and that translates to her life off the field too. She often speaks about the importance of family, and she showcases her relationship with her girlfriend too.
Who is Katie Sowers' partner? The empowering coach is off the market, and we have the details of her relationship.
Who is Katie Sowers' partner?
The 33-year-old coach and Kansas native began her love affair with football at the age of eight as a player. After attending both Heston and Goshen College, Katie ultimately got her masters in kinesiology from the University of Central Missouri. She continued with her football career, and made the U.S. Women's National Football Team. After injuring her hip, Katie was forced to retire from the game in 2016. She then shifted her focus to a coaching career.
Article continues below advertisement
Katie first worked as a wide receiver's intern for the Atlanta Falcons in the summer of 2016. After her internship ended, she stayed on as an intern scout. After excelling in that position, she was then hired by the San Francisco 49ers in 2017. She's been at that position ever since.
She first came out as a lesbian in an interview with Out Sports in 2017.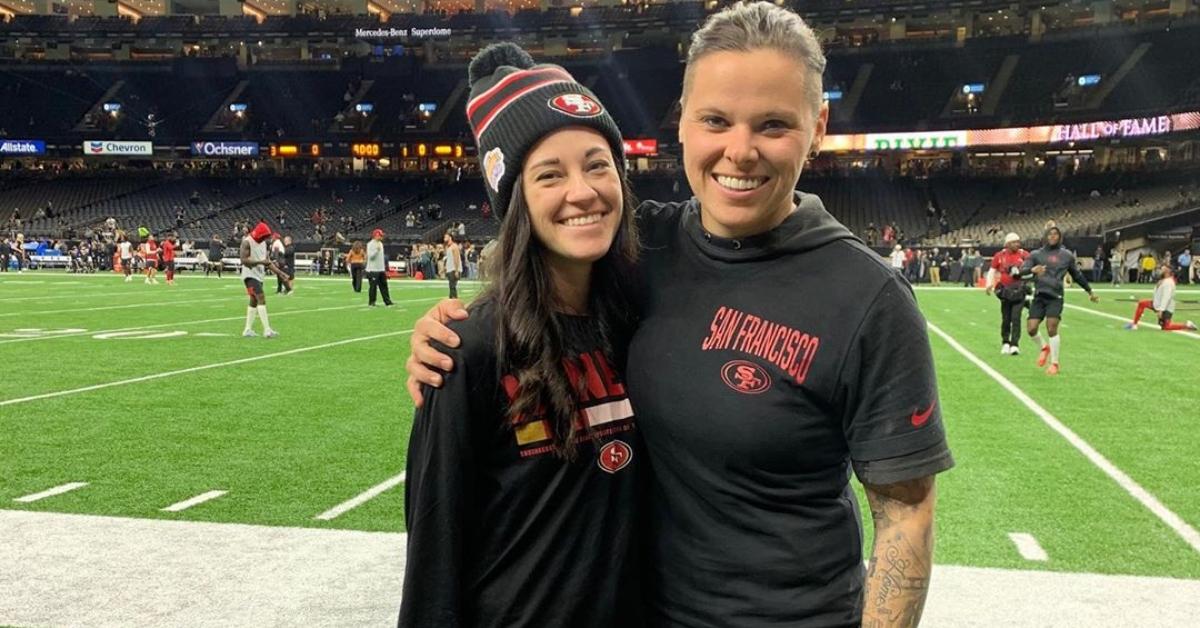 Article continues below advertisement
"No matter what you do in life, one of the most important things is to be true to who you are," Katie said when asked why she wanted to publicly come out. "There are so many people who identify as LGBT in the NFL, as in any business, that do not feel comfortable being public about their sexual orientation. The more we can create an environment that welcomes all types of people, no matter their race, gender, sexual orientation, religion, the more we can help ease the pain and burden that many carry every day."
Since at least the summer of 2019, Katie has been in a relationship with a woman named Cara. The NFL coach posted her first picture with her girlfriend in July of 2019, and she has since posted a multitude of photos that gush about their love. Though Katie does tag her girlfriend in her photos, Cara's Instagram handle is Caracutures. While that may be a clever play on words, is not very informative about what her full name is.
Article continues below advertisement
Before dating the 49ers coach, Katie shared that Cara was not out as gay. Katie tweeted a picture of a note that Cara received from her grandmother shortly after coming out to her family back in September of 2019. In the note, Cara's grandmother expressed how she wanted her to "be happy" and that she wanted to meet Katie when her "whirlwind world" slowed down.
Article continues below advertisement
Katie hasn't revealed how she met her partner, or any other specifics of their relationship. But, Cara will surely be cheering Katie and the 49ers on during the Super Bowl.
Katie Sowers' identical twin sister also plays football.
A love of football definitely runs in the Sowers' DNA. Katie's identical twin, Liz Stowers, is a quarterback for the Kansas City Glory. The two often post about how proud they are of each other, proving that their bond extends beyond average bounds.
Article continues below advertisement
You can catch Katie Sowers coaching for the San Francisco 49ers offensive line (and vying for a ring) during the Super Bowl.
The game kicks off at 6:30 p.m. EST on Fox.