I Watched Lifetime's 'Mistletoe and Menorahs' and Hoo Boy Is It a Doozy
I saw a clip from 'Mistletoe and Menorahs' floating around on Twitter, so when I was flipping channels and came across it, I had to stop and watch. It was shocking.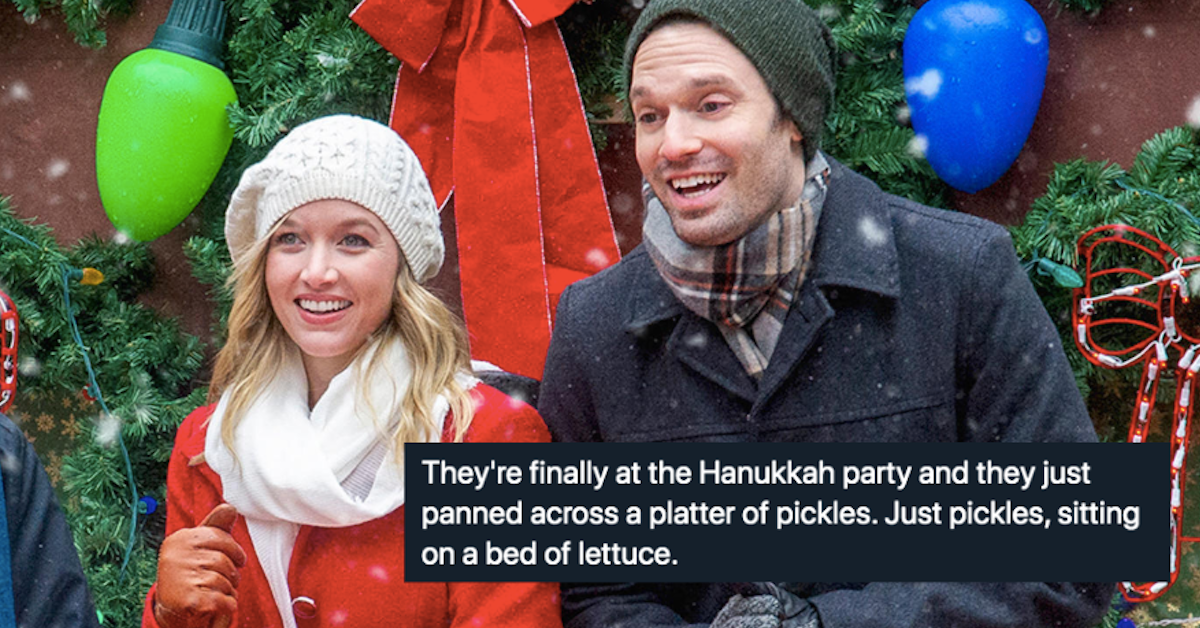 This year, the Hallmark Channel has gotten the brunt of the criticism for their lackluster attempts at two "Hanukkah" movies, which were, to put it kindly, disastrous. But it turns out we've all been walking with blinders on!! Because Lifetime just aired their Hanukkah movie Mistletoe and Menorahs, and it's... oy gevalt.
Article continues below advertisement
I first became aware of Mistletoe and Menorahs when writer Dave Horowitz posted a truly shocking clip from it on Twitter. In the scene, the movie's main character, a very blond, very goyish toy designer named Christy (after Jesus Christ, no doubt) complains that she has to learn about Hanukkah before she has to attend a holiday party in eight days. The party is hosted by the guy she has to pitch her latest toy idea to, so obviously, she has to appear as a Hanukkah expert. But how ever will she learn all there is to know about this weird Jewish holiday in only eight days?!?!
Article continues below advertisement
The two women brainstorm all the Jews they know (which is... two) and decide that local teacher, Mr. Silver (you know, because Jews love money), is the perfect man to teach her all about Hanukkah before the party. They do momentarily try to google the holiday, and the brunette woman's takeaway is, "There's candles involved and some sort of jelly donuts... How complicated could a jelly donut be?" This makes me wonder if she is completely illiterate. Seems like she saw the preliminary image search results and made her conclusion, which is honestly quite sad.
I'd seen the clip, rolled my eyes, and moved on. But then yesterday, on the first night of Hanukkah, I turned on the TV, started flipping channels, and there it was. Mistletoe and Menorahs. It had just started. In fact, I caught it right at that tragic café scene in which you learn the main character is horribly mentally deficient and her friend? Unable to read a single word.
Article continues below advertisement
So I hunkered down to watch the rest because what else was I going to do on the first night of Hanukkah? Not be offended?? And oh boy, friends, this movie. I was not disappointed, or rather, I was spectacularly disappointed, which made me gleeful and giggly. It's dumb. It's offensive. It's shocking! And it tries to convince us that it would take you eight whole 24-hour days to learn about Hanukkah, which is just bonkers.
Article continues below advertisement
Hanukkah is one of the least religious holidays in Judaism. It's only gained the attention it has for its proximity and resemblance to Christmas. If you want to know everything there is to know about Hanukkah, there's a children's cartoon called A Rugrats Chanukah that explains the whole thing marvelously in 23 minutes and 44 seconds.
Nevertheless, Mistletoe and Menorahs' Christy embarks on a torturous journey to take a week and a day to learn about Hanukkah with the help of Mr. Silver, an attractive Jewish teacher who for some reason keeps pronouncing Hanukkah as "HANEEKAH," which made me want to take all the menorah candles I have and use them to light myself on fire.
Article continues below advertisement
And in return, Christy vows to teach Mr. Silver (first name: Jonathan) about Christmas, a holiday about which he is woefully ignorant, to impress his girlfriend's parents. At one point, he tries to put up mistletoe to be "authentic" but uses parsley instead. Which means he went to the grocery store, scanned the produce section for mistletoe, saw the leafy green bunch labeled "Parsley," and thought, "Great! Found the mistletoe."
Seriously, I don't know if this guy should be teaching children. Somebody check his students' test scores stat. It's offensive enough that Christy and Jonathan's girlfriend — who asks, "Isn't Hanukkah random?" — are so perplexed by this most basic of Jewish holidays, but it's made even worse by the fact that Jonathan seems to know nothing about Christmas, a holiday that is everywhere all the time forever, shoved in our faces every December, the subject of countless movies and TV episodes, the biggest holiday in the country. Christians have no chill. So yeah, Jews know a thing or two about Christmas, even if we don't celebrate it.
Article continues below advertisement
I couldn't help live-tweeting my experience of Mistletoe and Menorahs because: a) it was that appalling, and b) I quickly decided I had to pitch it and write about it the very next day. There are so many moments in this made-for-TV mess that made me cringe, from when Christy says she'll teach Jonathan to wrap presents as if that is a specifically Christian thing to know how to do to when her dad asks him if there is a "special pie" Jews eat for Hanukkah.
Article continues below advertisement
But then there was an outright offensive moment that made more than cringe. My jaw dropped and I looked around me to see if I was being punked because I truly could not believe what was happening on my television screen. The specific exchange I'm talking about was between Christy, who had just attempted to make latkes and serve them to her douchebag boyfriend Peter. I (maybe roughly) tweeted out the conversation:
Article continues below advertisement
How did they let that happen? I understand that the boyfriend is supposed to come across as the bad guy here, but I don't think Lifetime intended to seem like they detest multiple cultures in one line of dialogue. Wow. This movie exceeded my wildest expectations. And my wildest expectation was that it would be pretty offensive!
Eventually, Christy drops her xenophobic dude-bro boyfriend and Jonathan gets dumped by the "random" girl, and they go to the Hanukkah party together, where Christy sings the prayers over the candles painfully slowly and there's a platter of pickles — yes, just pickles — on the table. I love pickles as much as the next Jewish person, but come on now.
Article continues below advertisement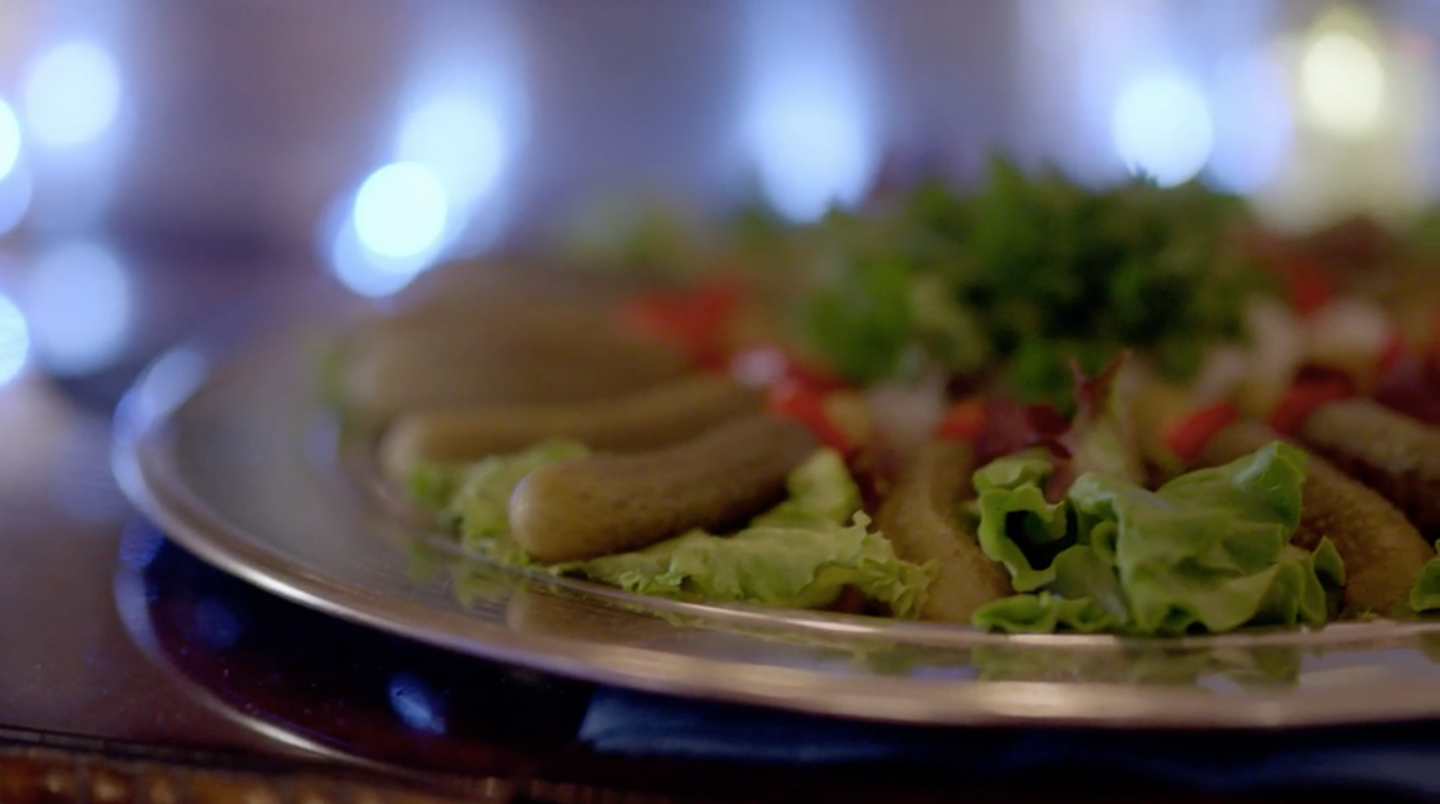 Christy comes up with a last-minute pitch for a boring-ass Maccabee doll the toy boss calls a "game-changer," and she and Jonathan realize that they like each other even though she's Christian and he's Jewish.
After eight crazy nights of teaching each other basic, Google-able things about Christmas and Hanukkah, the two main characters of Mistletoe and Menorahs find that they actually have a lot in common, namely a bunch of worms eating their brains. And they live happily ever after.