"Nobody Messes With My Kids" — Mom Confronts Son's Elementary School Bully
A mom sparked a viral social media debate after she recorded herself confronting her son's bully: an elementary school girl.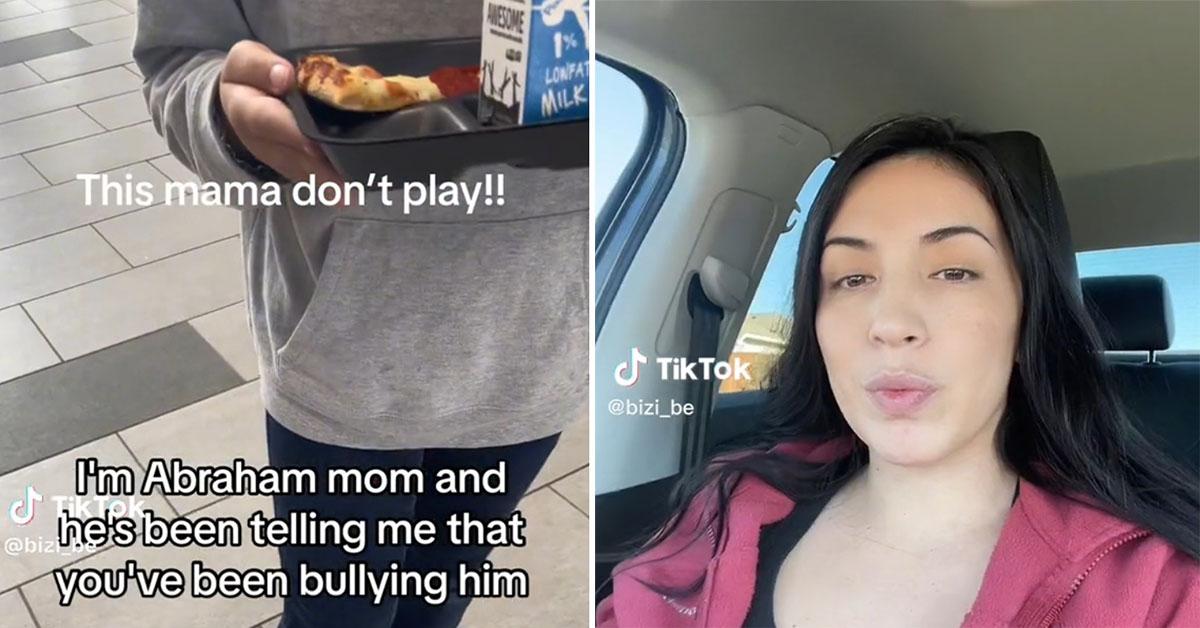 As a parent, sometimes you want to fight your children's battles for them because it pains you to see them getting harassed or bullied by someone.
But folks have different ideas on how different bullying situations should be handled.
Article continues below advertisement
For instance, if there's someone significantly older/bigger than your kid, there probably aren't too many folks who would say that intervening in this scenario is even a topic of debate: why wouldn't you intervene on their behalf?
However, there are some who might argue that if there's another kid the same age as one's child, that it's important to teach your child to stand up for themselves and learn to either verbally or physically clap back at their bully, as some folks think it's a bad look to see an adult chewing out a young child.
Article continues below advertisement
There may be people on the flip though, who would argue that they know the individual personality of their child and think that sometimes the "fear of God" needs to be instilled in a kid to prevent them from ever messing with their baby.
The debate between these two modes of thought came up in response to a viral TikTok posted by user Bettina Ramirez (@bizi_be).
Article continues below advertisement
In the video, she confronts a young girl who was purportedly bullying her son, Abraham, and telling everyone in school that he's "gay". Betinna writes in a caption for the clip: "This little girl was relentlessly picking on my son at school so i went to confront her myself."
She adds that although she tried to get in contact with the young girl's parents, she was unable to do so, and decided instead to let her know she wasn't going to stand for someone talking smack to her boy.
Article continues below advertisement
"I tried reaching out to her parents but wasnt able to speak to them. I recorded it so that she could not exaggerate anything i told her. Nobody messes with my kids!!"

Article continues below advertisement
In the clip, Bettina can be seen walking up to a young child, who is holding a tray of lunch in front of her. A text overlay in the clip reads: "This mama don't play!!"
Bettina approaches the girl and says: "I'm Abraham's mom and he's been telling me that you've been bullying him."
She goes on: "And I'd like to ask you to stop."
The girl replies: "Yes I'm gonna go to the principal right now."
"Okay he told me that you were telling people that he was gay. Do not mess with my son do you understand me?"
"Yes," the elementary school student replies.
Article continues below advertisement
"I'm not playing. The next time that he tells me that you're bullying him, I will go knock at your parents' door," and then the video ends.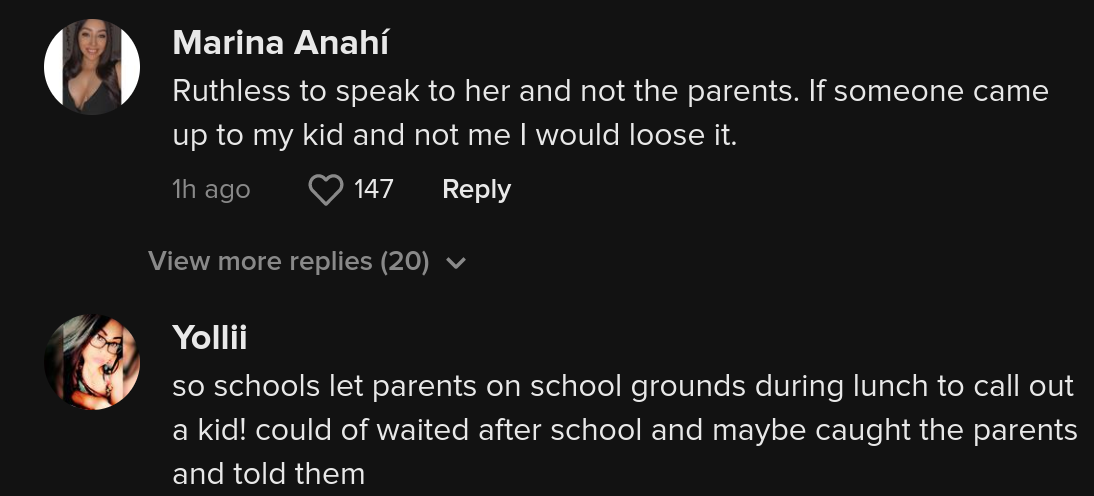 Article continues below advertisement
The video prompted a litany of different responses from various users on the platform. There were some who applauded Bettina's efforts, stating that they were happy to see her stand up for her child.
"Well done! Kids don't get educated at home and feel it's ok to go around bullying others. Teachers can only do so much," one wrote.
Another said: "YES GIRL!!!!" while someone else remarked, "YEsssss someone has to say something the schools teachers sugar code everything."
Article continues below advertisement
However there were others who said that Bettina should've talked to the parents, not the child to address the matter: "My dad did this when I was little and the cops came to our house lol," one user commented.

Article continues below advertisement
Someone else wrote: "you should talk to the parents. I remember a mom yelled at me as a kid because her kid lied and said I did something I still never know what it was."
Another TikToker added: "so schools let parents on school grounds during lunch to call out a kid! could of waited after school and maybe caught the parents and told them"
What do you think? Would you have spoken to the parents first instead of accosting your kid's bully? Or, if you were in Bettina's situation and couldn't get in touch with the parents at the time and wanted to make sure the bullying stopped immediately, would you address the child yourself?