Mom Punishes Her Son by Making Him do Push-ups In Public Bathroom, Earns Praise Online
What do you make of the creative punishment?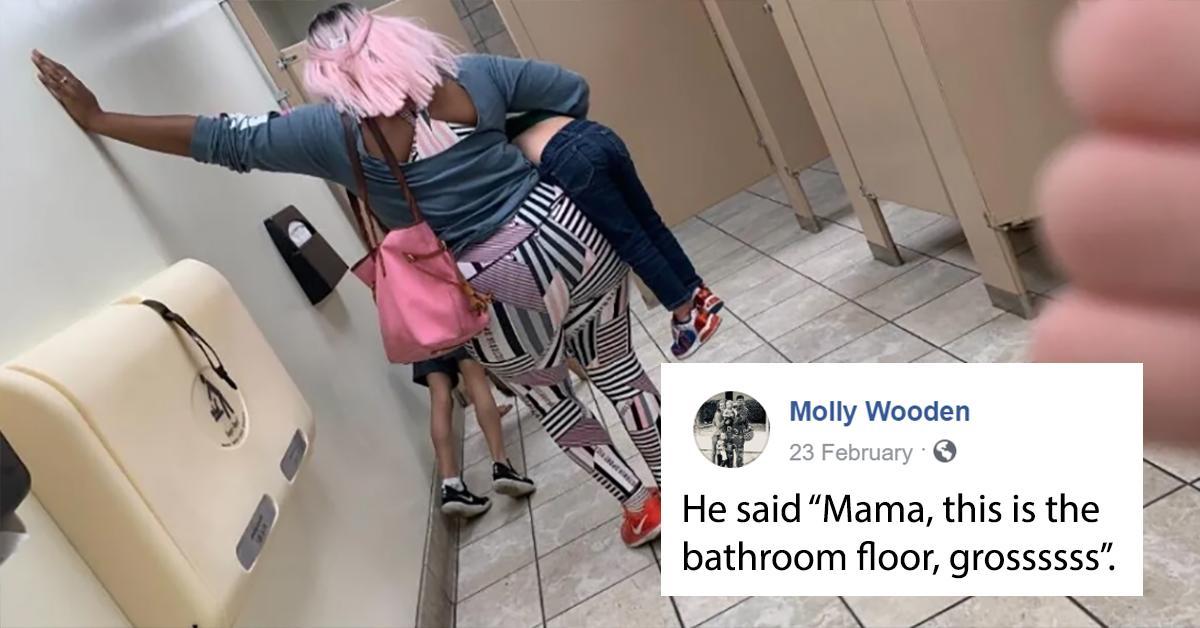 Any parent knows that kids will have public breakdowns over the smallest things. And whether you decide to ignore them or dole out some kind of punishment on the spot, you'll most likely draw criticism from someone.
Article continues below advertisement
But one mom seems to have won over the Internet with her creative punishment. Molly Wooden of Fort Hood, Texas, recently took to Facebook to share a photo of a mom dishing out punishment in the bathroom of a Hobby Lobby. It's since gone viral, attracting over 14,000 comments and 43,000 shares.
Wooden explains:
"To the woman in the Hobby Lobby bathroom. If my hands weren't full of children I would have applauded you. As your son gave you the back talk of the century, you stayed calm and collected while adding 10 more push-ups to his already growing number."
Article continues below advertisement
She continued by praising the mom for her decision, writing:
"We need more parents like you, who aren't afraid to parent their own children because of what someone else might think.
"He said 'Mama, this is the bathroom floor, grossssss'. She said 'maybe you shouldn't have been acting obnoxious. (They have soap for a reason.) 10 more.'"
Article continues below advertisement
Wooden went on to conclude: "Random woman of Hobby Lobby, I love you. Keep on raisin' them boys right!"
Facebook commenters seemed to approve of the punishment, with one user calling the woman "a wonderful and smart mother."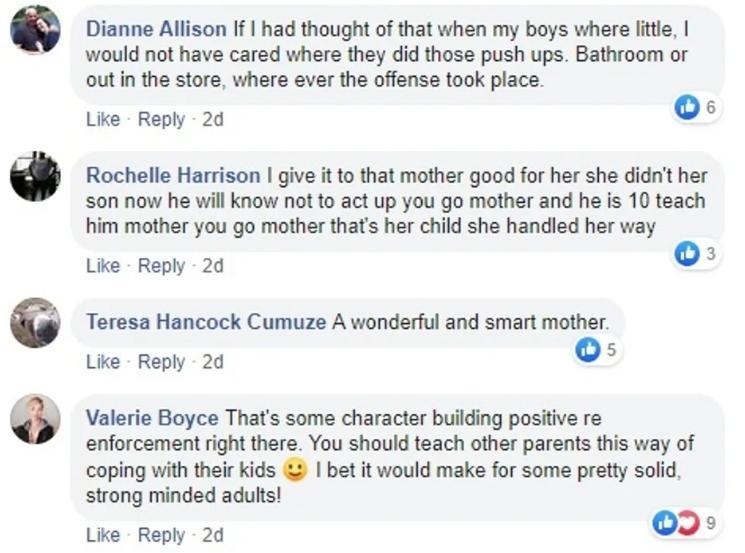 Article continues below advertisement
In fact, the only criticism seems to have been leveled at Wooden for taking the photo. "I just don't understand how you thought this was OK to put on your Facebook page," one user wrote.

Article continues below advertisement
Wooden went on to update her post, explaining that the mom had seen the post and was totally fine with it.
"I have since found the Mom through the power of social media and she promptly thanked me for posting this," she explained. "[She] says she appreciates the support and positive comments, and we're hoping to grab coffee sometime... while supervising push ups that is."
What do you make of the interesting punishment?