Woman Says She Was "Robbed" After Landlord Accidentally Put Her on Move-Out List, Removed All Her Stuff
A mom went viral on TikTok after sharing the unbelievable story of how the apartment complex she lives in threw away everything she owned.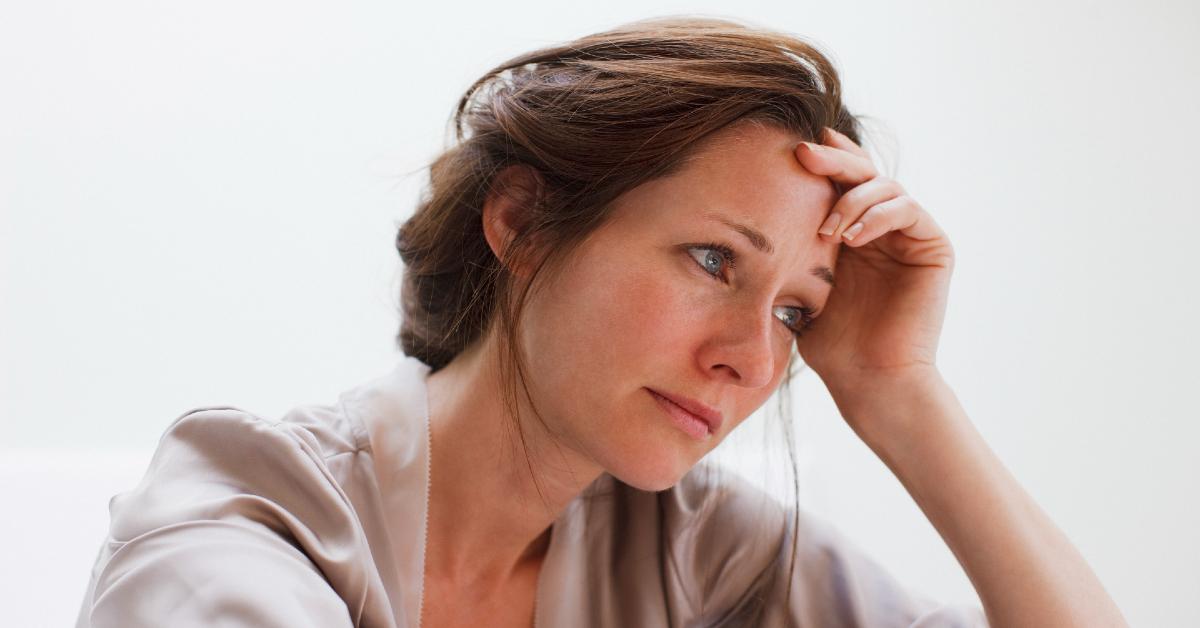 TikToker Nicole Love (@nicolelove1127) says her family was robbed of nearly everything they owned by their apartment complex when she was mistakenly placed on the "move out" list by building management. She explained her struggles in trying to get her items back in a series of videos, documenting the stress her family endured as a result of the complex's massive error.
Article continues below advertisement
In the initial video, she shows the aftermath of movers taking all her items out of her unit. She briefly tells the story of what happened in a series of text overlays: "I got robbed by my apartment complex. They took everything from my three daughters, myself, and my unborn baby girl."
She continued, "They said they accidentally put me on the move out list after I told them the officers found DNA and fingerprints."
In one portion of the video, she goes to the remains of her bedroom: "They took my bed, TV, kids' beds, all their stuff." At this point in the clip she notices a box on the floor containing her daughter's dollhouse: "That was in my closet...ohoo they left that house and furniture though, yaaaay."
Article continues below advertisement
Nicole further explained what happened in a follow-up TikTok. "So I moved into this apartment complex January of 2021. I had many incidents before this happened with this apartment complex, but at this time it was November 22, it was the week of Thanksgiving and I was three months pregnant."
Article continues below advertisement
Nicole continued, "So I came home like any other day and I noticed that all my things were out of order. I immediately called 911 I was a single mom with three girls I was pregnant 3 months with my fourth daughter so I didn't want to take any chances. I'm pretty sure that the officer thought I was crazy because not really anything was stolen at this time, except for my prescription medication, which I was pretty upset about because it's hard for me to get without my lupus medication."
Article continues below advertisement
She went on to say, "So the officer took my report and he gave me the report number. He was totally nice and he left and that was that. Fast forward to day two. I came home from working a full day of work and I was just really expecting to go in, lay down, and relax. That was not about to happen. I gave the keys to my oldest daughter to open the door because I was grabbing bags and we had went grocery shopping."
Article continues below advertisement
When they entered the house, they were greeted with a traumatizing scene: "She opens the door and she turns around and she says, 'Mom there's no table in here. Our table's gone.' I really thought she was trying to prank me, you know everything that happened the night before. So I said, 'I know you're playing.' She said, 'Mom, I'm not playing.' And she wasn't playing. So I called her back to the car, and I put my kids back in the car and locked it because I wasn't sure if somebody might still be in there."
Article continues below advertisement
Nicole knew she needed to go inside and check out the apartment but wanted to ensure that her children were safe inside of the locked car and called the cops. "It turned out to be the same officer from the night before, which was actually pretty lucky because he was just in my apartment, like he just saw that everything had been gone through, he saw everything that I had, and now he's walking into basically an empty apartment," she recounted.
Article continues below advertisement
"They had taken everything. They took my deep freezer full of meat. They took my kitchen table, couches, they took mine and my children's beds, they took our clothes, they even took my shoes. Anything that was name brand or designer was gone. They took all of our TVs, and electronics. They took my bluetooth speaker, computer, laptop ... and just everything. I've never been robbed before so I was in a state of complete shock."
Article continues below advertisement

Nicole and her girls "found sodas that were left all over the house," which the cops placed into evidence bags for DNA testing She also added that the officer fingerprinted the scene to see if they could find the robber.
Article continues below advertisement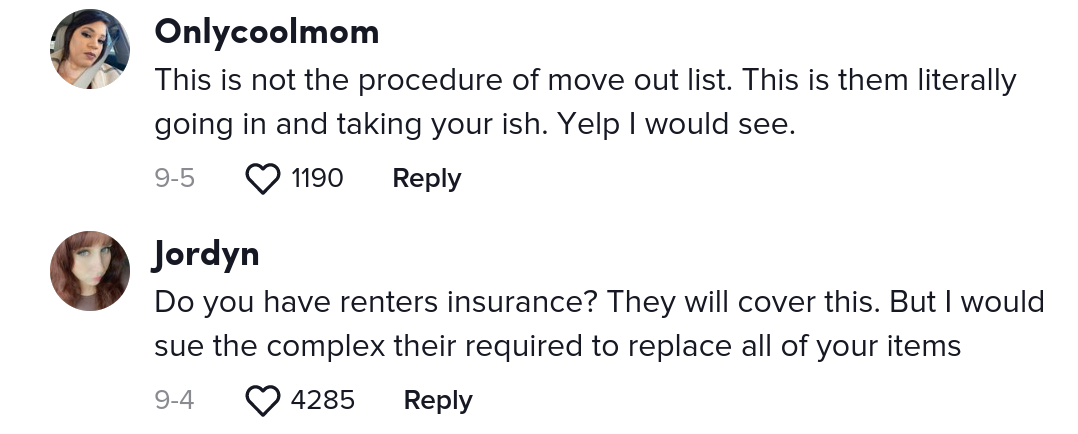 However, when Nicole called the property management company to let them know she was robbed, she learned that her name had been placed on the "move out list." So she wasn't the victim of theft, but rather a major mix-up from her landlords, who basically threw her entire life in the trash.
Article continues below advertisement

Nicole says there wasn't any correspondence with the property management office prior to the incident. "My rent is paid every month, the utilities are in my name, it's obviously lived in, breakfast plates were on the table," Nicole said.
Article continues below advertisement

Nicole was told by a rep from the company that she would have to file an incident report but that her items were in a storage unit somewhere. However, they warned that her belongings wouldn't be in the same condition as they were when they were in her apartment. The "storage unit" turned out to be a dumpster, Nicole says.
Article continues below advertisement

The pregnant mom sifted through the dumpster with her cousin to see what she could salvage. However, none of the items in the trash container were hers. She says she has called several attorneys in Arkansas to represent her, but everyone declined, despite the complex having admitted fault.
Article continues below advertisement

Nicole was ultimately able to secure representation through Legal Aid, who launched both a civil suit and criminal case on her behalf. The first suit is against the apartment complex, since they admitted they were in the wrong and have no paper trail or correspondence to prove Nicole was moving out or had been evicted. Nicole says the criminal case is against the third party moving company, alleging they entered Nicole's place illegally.
Article continues below advertisement

Article continues below advertisement
To add insult to injury, Nicole says the apartment complex has done nothing to help her. They didn't offer to put her up in a hotel or offer any compensation or even money off her rent to cover the costs of her missing belongings. In fact, they stopped communicating with her altogether at one point.

As of this writing, it appears the case between Nicole and the apartment complex is still pending. The mom thanked TikTokers for helping to raise awareness to her case and offering words of encouragement and support.