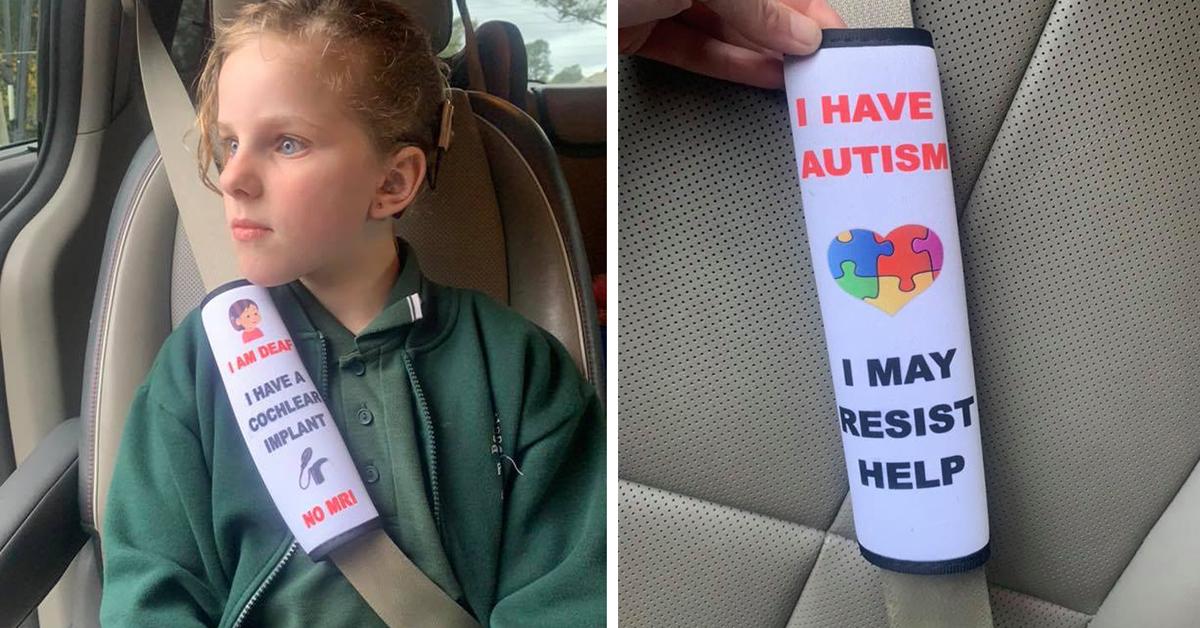 Mom Creates $12 Seat Belt Covers That Could Save a Child's Life in an Accident
Natalie Bell of Victoria, Australia, recently decided to make a custom seat belt for her daughter, Shae, who is deaf and has a cochlear implant, which means she can't undergo an MRI scan. Natalie hopes that in the event of a car accident, during which she is incapacitated, the seat belt will help doctors provide the best possible care.
Article continues below advertisement
Figuring that the idea could help other children with disabilities, Natalie also made a version for people with autism and Down syndrome. Taking to Facebook to advertise the covers, which Natalie sells on her website for $15, they received an incredible amount of attention and praise, with over 46,000 comments and 750,000 shares.
Article continues below advertisement
Natalie explained the reason she created the covers in the Facebook post:
"I always wonder what would happen if I was in a car accident with my daughter in the car and I was unable to let the doctors know that my daughter could not have a MRI due to having a cochlear implant, now I don't need to worry about that with these seat belt covers. These can be made for any special needs that the medical team will need to know if you are unable to tell them."
The covers are made with Velcro, so they can fit to school bags as well as seat belts. Natalie explained to ABC:
"It's a safety thing ... because anyone can be a first responder at the scene of an accident."
"So having the details and they're clear, they're noticeable, it's the first thing you'll see when you open up that car door."
Article continues below advertisement
Natalie explained that since her post has gone viral, she's been inundated with praise from parents, firefighters, and police. "I did not expect it to go worldwide," she added.
While first respond jewellery already exists, Natalie believes that the bright and bold letters of her covers are easier to spot in an emergency, and would be more obvious to members of the public who are usually the first on scene of an accident.
"The bracelets are amazing, but you don't always look for a bracelet and they can be covered by clothes," she said.
Diabetes Victoria chief executive Craig Bennett told ABC that the idea would be "great" for children with type 1 diabetes who need to take insulin regularly.
"If there was an accident, it could be helpful for paramedics, bystanders or medical responders to be aware of relevant health conditions for those involved in accidents," he said.
Article continues below advertisement
The idea seems to be working for Natalie, who told the Daily Mail that she's received thousands inquiries about the covers. Natalie added that she had launched her online craft store while looking for "something new" to do after the birth of her last child.
Facebook commenters seemed to love the idea too.
"My husband is part of Fire and Rescue and said that this is a brilliant idea. Such a valuable piece that provides a lot of information clearly so that personal involved can approach situations with knowledge and care," one woman said.
While another commenter added: "This is also a great idea for adults with dementia."