Mom Shamed on TikTok for Saying She's Raising Her Baby "100% Vegan"
A mom who posted on TikTok that she's raising her child not to consume or use any animal byproducts received a ton of hate on the platform.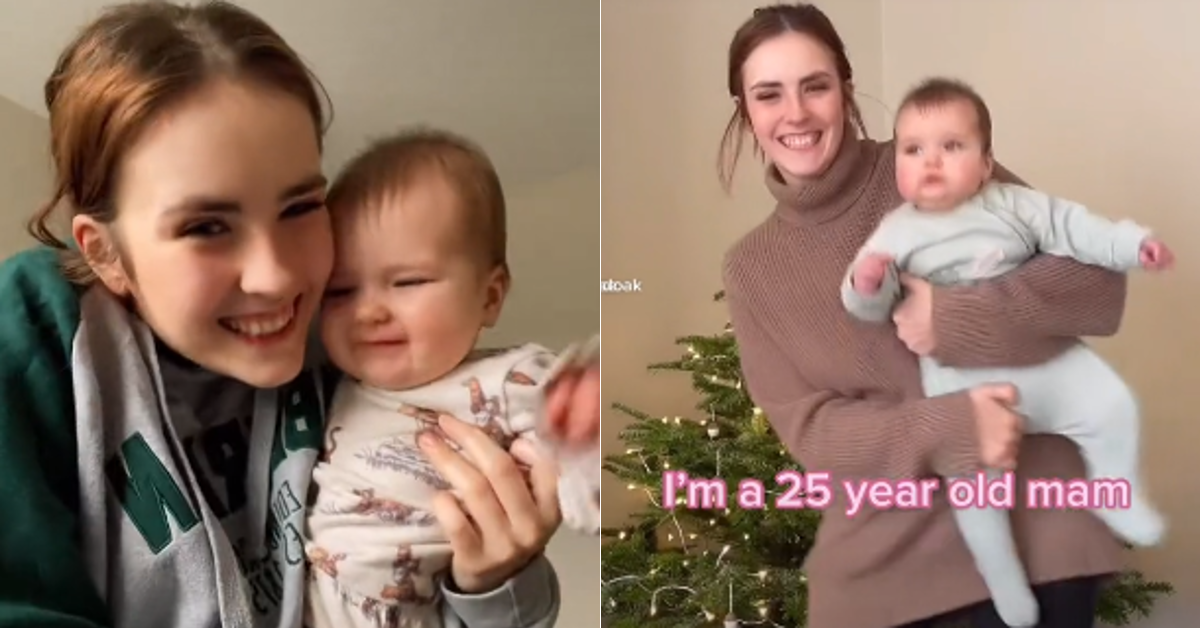 If you share any bit about the way you live your life online, there's almost always going to be folks who are going to take issue with your lifestyle. Into fitness and have a great workout routine that gave you tremendous results? There will be people to poo-poo it or share their own reasons as to why the exercises you're doing are no good.
Article continues below advertisement
Have a bit of motivational advice or personal pep talks that you use to help you get through your work? There will be a myriad of folks who will highlight all of the assumed privileges you had that, in their eyes, negates whatever positivity you're trying to spread with your shared message.
Things tend to become even more complicated when the care of other beings in your life is involved. Remember the Vegan dog owner who posted a photo of them about to feed their animal a meal that primarily consisted of sweet potatoes, brown rice, tofu, chia seeds, and digestive enzymes? They were torched for their post.
Much like this Vegan mom who stated that they're committed to raising their child "100% Vegan."
Article continues below advertisement
Natasha Callahan (who goes by Tash and posts under the TikTok handle @tasjrose) has shared her experience as a 25-year-old first-time mom on the popular social media platform.
Many of the videos she posts feature her with her 7-month-old (as of this writing) daughter Oak.
Article continues below advertisement
The one video that really got folks up in arms is where she stated that she's raising Oak to be vegan, which means her baby has a diet without any animal byproducts in it.
This caused a litany of negative reactions from folks who saw her clips with some saying that Natasha not giving Oak cow's milk was "cruel."
Article continues below advertisement
Another user who goes by @j3ster47 wrote, "child services please." While others averred that "babies need meat. One day when they grow up older they will start eating meat."
For all of the critiques Natasha received, however, there were many others who pointed out that Natasha's decision is no different than other parents giving their children a diet of animal proteins.
TikTok user Emma Hutton also said, "babies certainly can sustain themselves on a vegan diet, as a vegan family I would assume they know the food groups well enough to give the child."
There were plenty of commenters who highlighted their own experience raising children on vegan diets stating that they're perfectly healthy and happy without ingesting any animal byproducts.
Article continues below advertisement
Natasha has stated that she has no qualms if Oak grows up and decides that she wants to not be Vegan, much like other parents who haven't taken issue with the fact that their kids decide to be Vegan or Vegetarian once they are old enough to make their own dietary decisions for themselves.
Article continues below advertisement
There are various health agencies that do say Vegan diets can be healthy for babies and toddlers as long as the individual kids' dietary needs are ultimately met. There are more and more animal-free protein products available at supermarkets that can be incorporated into people's diets too, which means that proteins and fats can be covered as long as the right food groups are being ingested.
However, there are some healthcare professionals who contend that optimal building of fast-twitch muscle fibers occurs through the consumption of animal proteins, namely fish.
Natasha doesn't seem too perturbed by the negative comments she's received for how she's chosen to raise her child.
"She's well cared for, happy, and healthy. And that's all that matters," she penned in one of her videos.