YouTuber RiceGum Sparks a Feud With Morgz's Family
There's a feud currently going on between popular YouTubers Morgz and RiceGum — but why? Get all the tumultuous drama explained here.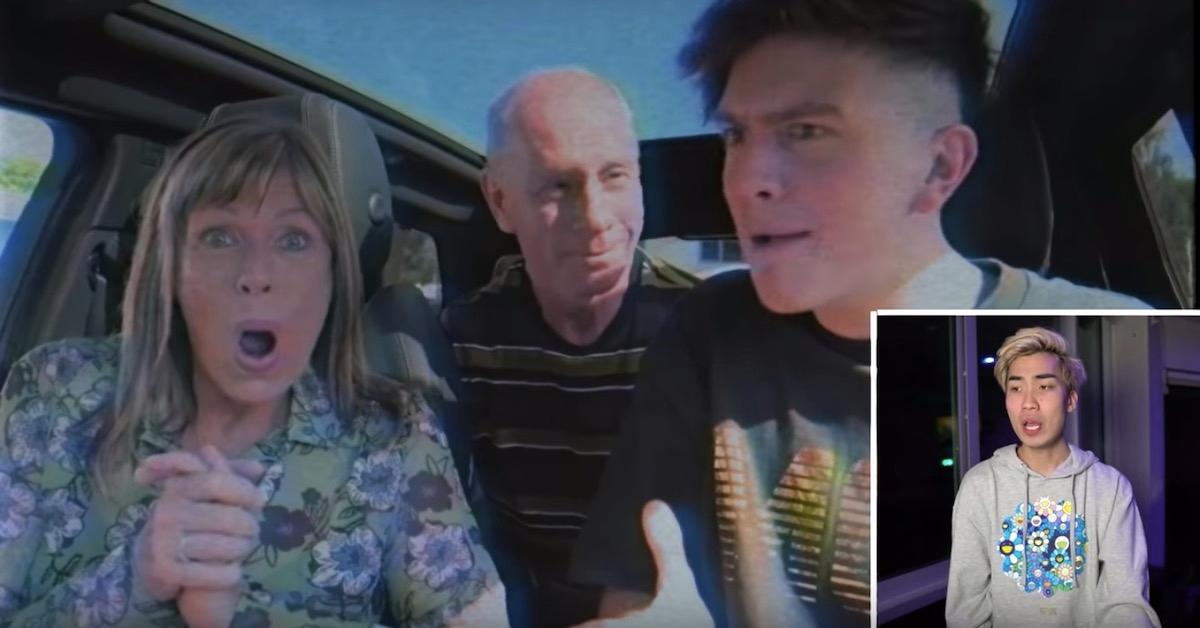 Article continues below advertisement
Though Morgz hasn't responded with a video of his own, he did take to Twitter with some receipts indicating Bryan wasn't always so down on his content in the past.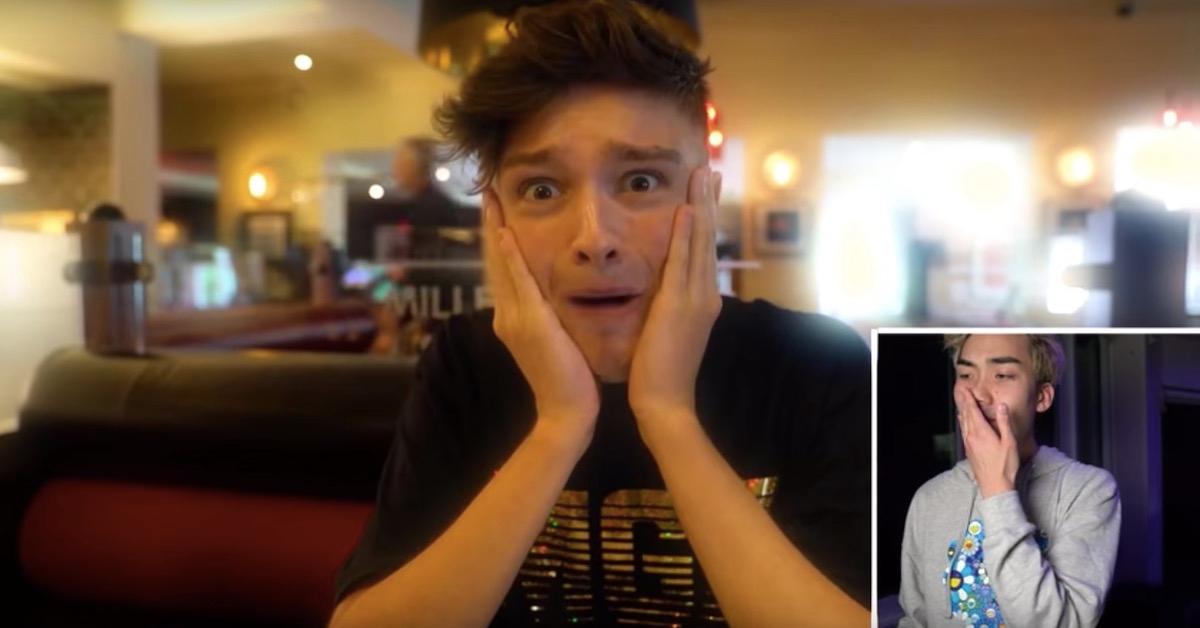 Article continues below advertisement
Here's the whole Morgz-RiceGum drama explained.
On Sept. 6, 2019, RiceGum uploaded a video where he watches and reacts to a video Morgz and his family did last week where they attempted to consume 100,000 calories in one day.
Throughout the 16:39 video, Bryan criticizes the family for their over-the-top delivery as well as their looks, and even took a swipe at Morgz's dad for sitting in the backseat of the car on their trip to McDonald's.
The major takeaway from the reaction video is that RiceGum can't comprehend why Morgz has more subscribers than he does. Clearly the British YouTuber's content isn't RiceGum's cup of tea — only it seems like that distaste is a new development.
Article continues below advertisement
Morgz took to Twitter to show DMs between him and RiceGum.
Morgz's reaction was pretty succinct, tweeting simply, "You hate to see it," but attached three screenshots to illustrate the timeline of events. Turns out, back in January, Bryan was DMing Morgan not just to compliment his content but to suggest a collaboration. "Good stuff man," he wrote, followed by "let's make a funny vid."
Article continues below advertisement
It's not clear whether Morgz responded to that suggestion and, if so, how, but the other two screenshots he shared were of RiceGum's video and another showing that the Las Vegas vlogger now had Morgz blocked on Twitter.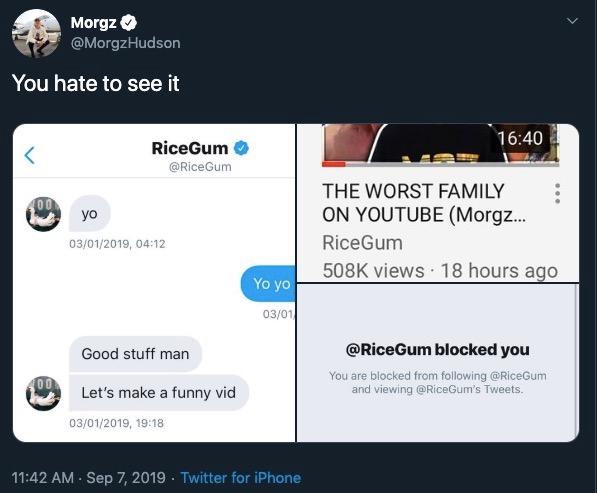 Article continues below advertisement
Many people on Twitter and YouTube pointed out that RiceGum acts like he's just seeing Morgz's content for the first time. His premise is that he wants to discover what channels people are enjoying and see if they're offering something he isn't to grow his followers. (Both personalities have over 10M subscribers, though at the time of this writing RiceGum has a little less than 200K more than his rival.)
Even people who don't exactly count themselves fans of Morgz's videos weighed in on his side. "You're one of the worst content creators on YouTube but I gotta admit that's f----n low even for RiceGum standards lmao," wrote one.
And many others found themselves in a dilemma over which personality they hate less. "Okay, so we have one who is a content cop, and one who is probably one the most annoying YouTubers out there. Choosing would be nearly impossible," another "fan" tweeted.
Article continues below advertisement
Whether or not you're a fan of Morgz, RiceGum's video mostly comes off as sour grapes and the insults aren't even particularly funny. I couldn't make it through either video without skipping around considerably. Thankfully we don't live in a world where these two are our only entertainment options.