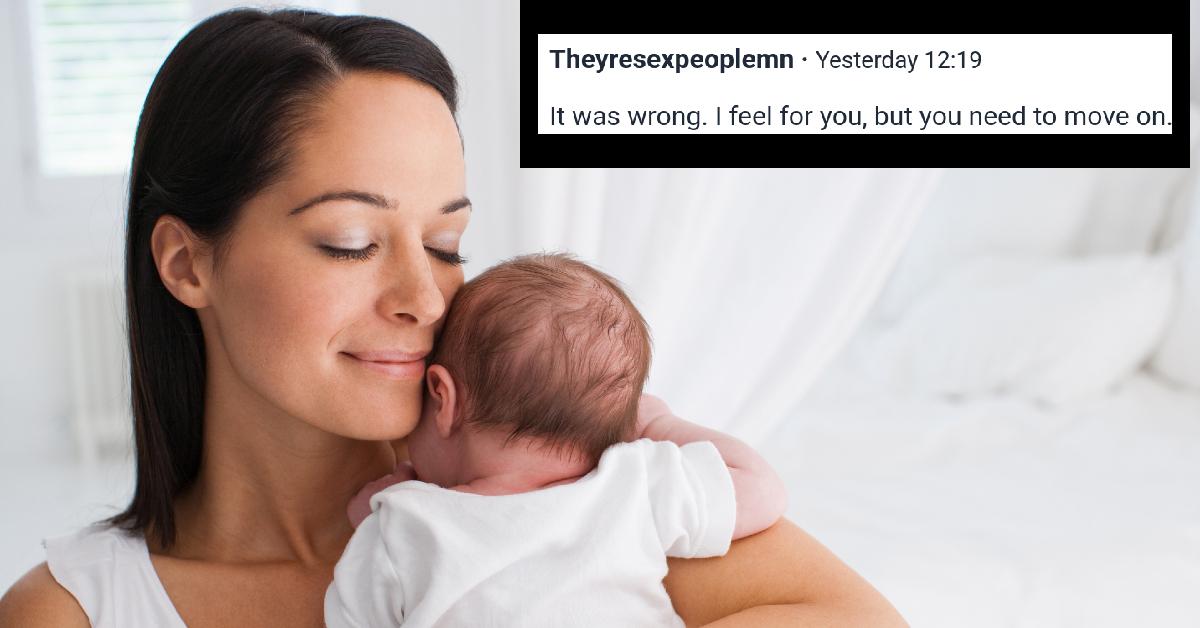 New Mom Furious Her Mother-In-Law Posted Newborn's Picture Online First, Sparking Debate
Even the most cynical of folks have to admit that babies are pretty darn miraculous. Yes, tons of different animal species are popping out babies every single day. As you're reading this right now, within the next 60 seconds 259 women will simultaneously be giving birth. The next minute, another 259, and so on and so forth.
Article continues below advertisement
So if an alien species was looking at planet earth and seeing all of the baby-making going on in a single day, they might wonder why in the world humans make such a big deal every time a child is born. There's the soft baby reveal on social media, maybe a snippet of a foot or a little hand, until mom and/or dad reveal the family photo shoot with the child looking like an unhatched platypus, staring off into nothingness.
Life is miraculous, but we're genetically predisposed to caring about our own kids over everyone else's. When you're at the park you're not really over the moon when the snotty kid in the matching Snoopy sweat suit brings you a dandelion and talks about how cool it is, but if your child manages to mumble "aiwrpwane" while pointing to the sky you might have to fight back tears.
So it makes sense why this mom would feel some type of way over her mother-in-law taking away the joy of announcing her own birth.
Article continues below advertisement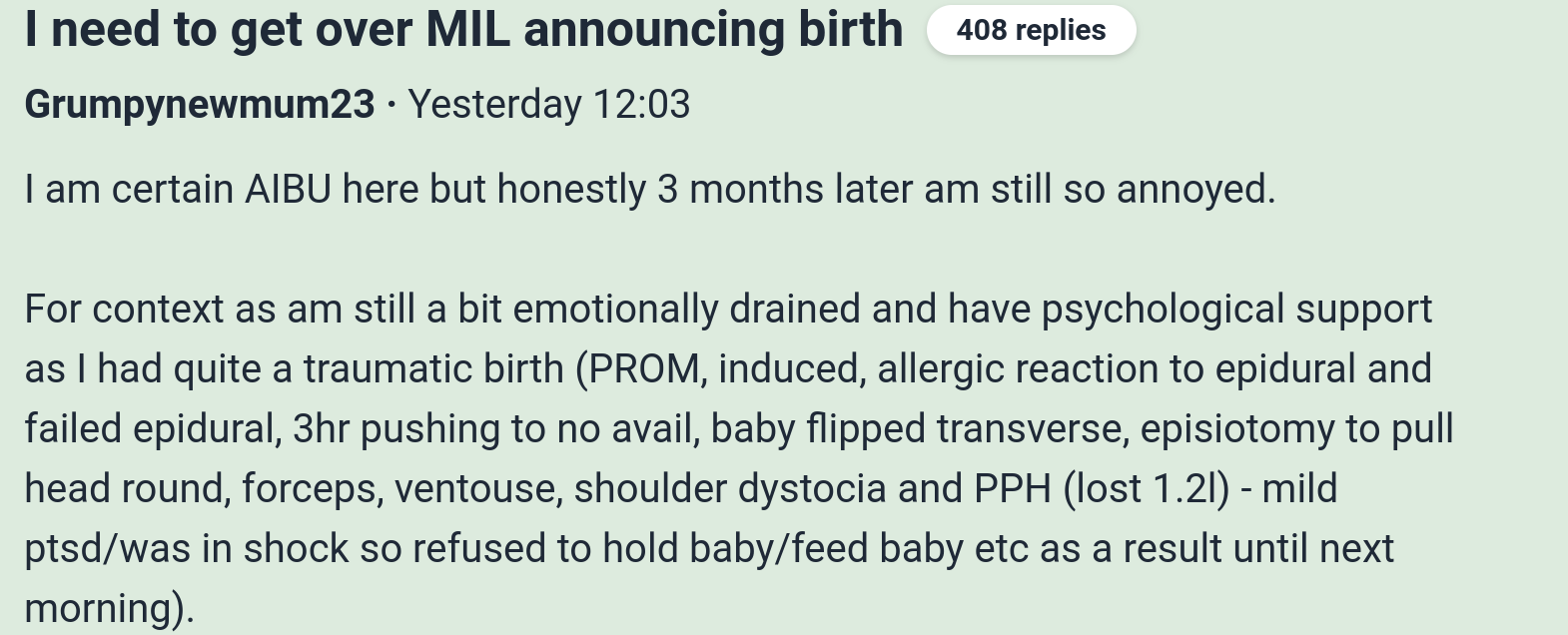 In a post uploaded to the popular mom forum Mumsnet, user @Grumpynewmum23 discussed how livid she was when her mother in law posted a picture of her new daughter to social media without tagging her or her significant other, before she got a chance to share the news herself.
Article continues below advertisement

To make matters even more complicated, @grumpymum23 said that her pregnancy and delivery was a complicated one, she writes that even three months after delivery she was "a bit emotionally drained" and is undergoing psychological support treatments to aid in her recovery.
Article continues below advertisement

The birth itself was a traumatic one. She writes, "PROM, induced, allergic reaction to epidural and failed epidural, 3hr pushing to no avail, baby flipped transverse, episiotomy to pull head round, forceps, ventouse, shoulder dystocia and PPH (lost 1.2l) - mild ptsd/was in shock so refused to hold baby/feed baby etc as a result until next morning"
Article continues below advertisement

After going through all of that and getting ready to go home the following morning, she saw that her mother-in-law had uploaded a photo of her newborn child online. When it occurred because she was still in a state of shock after the difficult labor process, she really didn't know how to feel about it.
Article continues below advertisement

But once the air cleared, she says that she became increasingly angry over her mother-in-law's actions, writing, "At the time I was too in shock and exhausted to even really take it in, but as the initial shock of the birth wore off I've just felt increasingly angry about it and literally cannot shake it off."
Article continues below advertisement

She added that she hates feeling so "grumpy" about it all the time and wanted to ask other users on the site if she was in the wrong for being upset about it, but judging from people's responses, many thought that she had a right to be upset. While some thought that the word "incensed" was a little extreme, they said that they too would probably be annoyed someone debuted their kind online before they could.
Article continues below advertisement

However, there were some users who said that years later were still not over the fact that their own mother in law did the exact same thing and they still weren't over it: "Mine did this. I had only just got out of theatre, not told my family yet and she had announced the birth of my little one, how the labour went, weight, sex and name.....and tagged us in it! My daughter is 8 now, I am still not over it. I only found out so quickly as my phone was blowing up and my husband looked and people were congratulating me. I was only just coming round."
Article continues below advertisement

However, others didn't really think it was that big of a deal and told the new mom to basically get over it. What do you think? Does it matter if someone else announces the birth of your child over social media? Or is that only contingent upon the weight that someone places on their social media accounts?