Mother-In-Law Demands Grandson Take Paternity Test Because He Looks Like Mother's Ex-Boyfriend — "Major Red Flag"
A mom on TikTok who tells satirical stories while sharing recipes recently went viral for this tale about her mother-in-law's paternity accusation.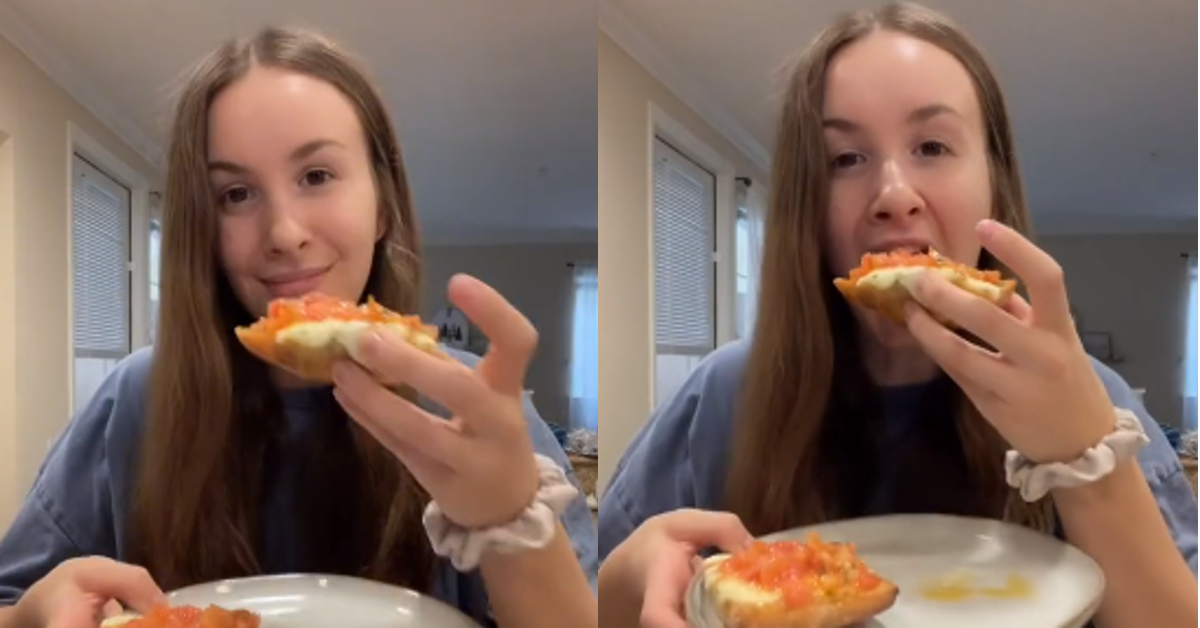 Family drama, even if you don't really take much stock in what your relatives say or think can take a toll on you, especially when children are involved. Suddenly everyone who's ever had a kid in your family has some expert opinions on how to raise your kids and what you should do for them...even if their own offspring grew up to suck.
Article continues below advertisement
Now if you were to ask a comedian from the late 1950s what their thoughts on mother-in-laws are, they'd probably provide a solid 15 minutes of material you'd feel obliged to laugh at.
Yes, the overbearing mother-in-law is a well-known trope, one that even Jennifer Lopez made a movie about with a title that tells you everything you need to know about the plot.
And it's a trope that this TikTok-er, Sienna, mined for one of her "satirical" stories she opines about while showing off some delicious recipes on the video-sharing platform.
And by satirical, she "makes up" stories by her own admission.
She also shares cute videos of her hanging out with her son in the kitchen and on family outings.
However, in one particularly viral chapter, the mom delineated how her husband's mother was a little dubious of her son's appearance.
Article continues below advertisement
In the yarn, she says that her MIL thought the young boy was growing up to look a little too much like Sienna's ex-boyfriend. She not only expressed her dubiousness to the woman but also demanded that she take a paternity test.
While the subject matter of the story is scandalous and dramatic in nature, it's pretty hilarious at it's all being told to a recipe for a quick mozzarella bruschetta toast air fryer recipe.
Article continues below advertisement

She begins her story by saying: "My mother-in-law called me this morning and said our son is starting to look a lot like my ex-boyfriend. To be fair, my ex-boyfriend did have blonde hair and blue eyes, but that is absolutely ridiculous that she'd ask me that."
Article continues below advertisement

She went on to say, "She was demanding that I get a paternity test, but I just don't think that there's any reason to do that, so I'm not going to do it."
However, Sienna said that her mother intended on bringing it up to both her and her son during a family meeting.
Article continues below advertisement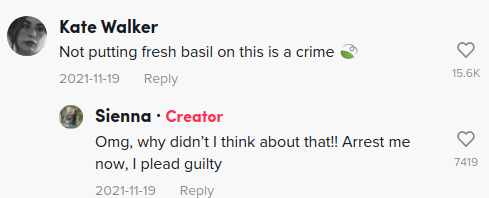 She soon posted a follow-up clip where she admits she eventually relented and took a paternity test which proved that her fiance was indeed the father.
Even though Sienna's pretty clear that her tales are satirical and almost (complete) fabrications, there are still tons of folks in the comments section who either take her stories as total fact or get jazzed up by the hypothetical scenarios.
Article continues below advertisement

And then there were folks who thought that the balsamic glaze she was drizzling on her bruschetta was chocolate syrup, which led folks to believe that there are a lot of people out there who have no idea what balsamic glaze is. If you've never used it to make yourself a Caprese sandwich or in other Italian/Mediterranean style dishes, then you're really doing yourself a disservice.
Article continues below advertisement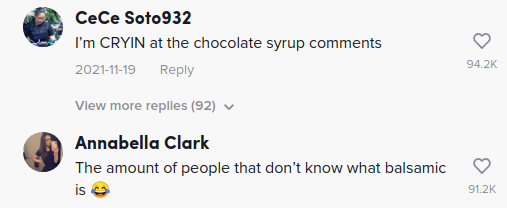 Are you a fan of Sienna's cooking/storytime videos? Do you think her stories are actually made up or is she just saying that they are so no one gets upset with her?