This Movie Theater Replaced Their Seats With Double Beds
Cinema Pathe in Switzerland is providing an experience that's unique to movie theaters, but very familiar with viewers who love snuggling up with some good entertainment at home.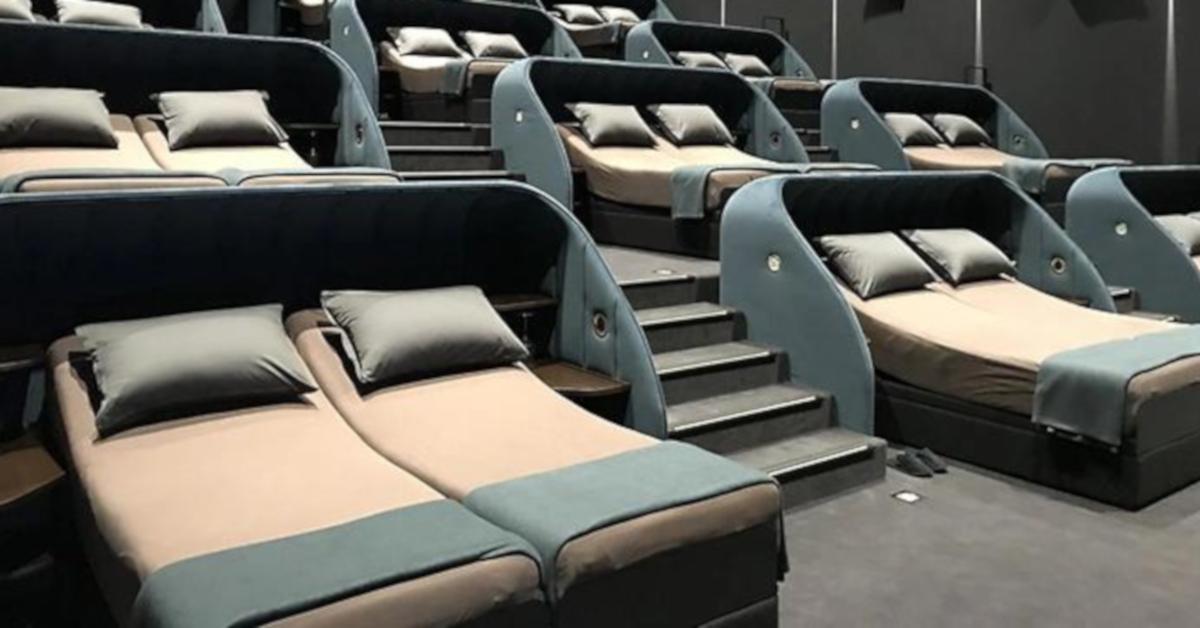 A movie theater in Spreteinbach, Switzerland, right on the Swiss-German border, has decided to throw out all of their seats and offer customers the ultimate in comfort while consuming their flicks: a VIP-bedroom theater.
Most of us watch movies from the comfort of our own beds, whether it's on a laptop screen, on our phone or tablet, or maybe on a small TV we've got perched on top of a dresser.
Article continues below advertisement
I personally don't like keeping TVs in my bedroom or even looking at my phone, because I find it difficult to fall asleep when I do so. However, I've got a huge snuggly couch with a giant ottoman, and there are fewer things I love doing more after a day of working my butt off than just lying down and vegging out to a great movie.
As awesome as that is, however, fewer viewing experiences can compare to the big screen movie theater.
It's why the box office still manages to generate revenue, despite the boom in streaming content, quicker home video release, and piracy. But that doesn't mean the experience couldn't be improved.
Cinema Pathe decided the best way to make a good thing better was to replace seats with these slick and super-comfortable-looking adjustable double beds.
Article continues below advertisement
The intimate, VIP-Bedroom theater features 11 sets of double beds, perfect for a date night or an awkward encounter with a stranger. They're fitted with grey and beige sheets, plus a little coverlet for maximum snugliness.
I know what you're thinking, though: eating snacks in bed is the worst, because crumbs get everywhere and start to ride up your leg. The thought of swimming around in a bunch of food bits, if even for only two hours or so, might sound like a nightmare for some people.
Article continues below advertisement
But Cinema-Pathe already thought of that. They've got a setup that may be similar to your own bedroom; they've even provided a double-decker nightstand for your popcorn and beverages, as well as some space to stow your personal belongings.
Speaking of popcorn, a VIP ticket doesn't just get you access to a sweet bed and a movie, it also comes with a drink and some food. As you can imagine, this premium experience comes at a premium price.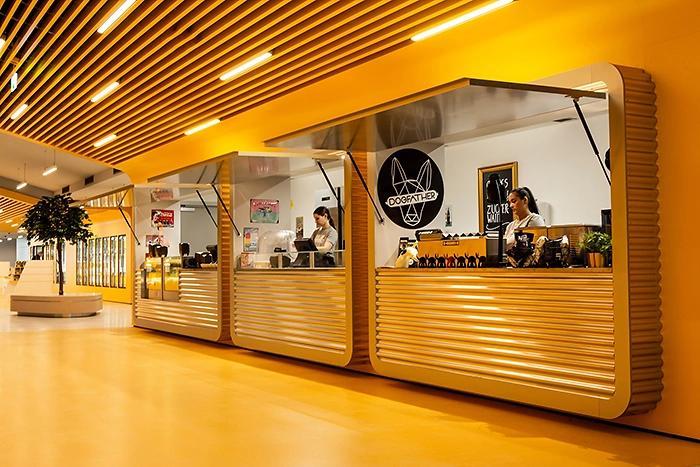 Article continues below advertisement
A VIP ticket is $48.50, which definitely sounds like a lot of coin for some snacks and a movie, but here are a few things to consider. First, this is about how much you'd pay for food and a ticket to an IMAX show in Manhattan at one of those fancy-reclining seat theaters. second, the gross GDP of Switzerland is much higher on average than in the US, so while the cost of living is higher, so are people's incomes.
Comparatively, a regular old ticket will run you $19 and doesn't come with "complimentary" food and drink or a comfy bed. Oh, and you'll also have to wait in line for snacks and to be seated in the theater with the rest of the plebs. If you spring for the bed-viewing experience, you won't have to do any of those unseemly things.
It turns out those aren't the only perks this theater is offering, though.
Article continues below advertisement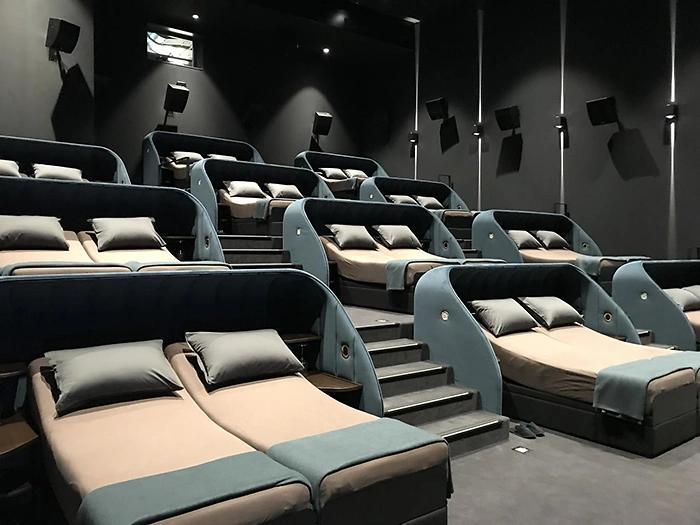 If you want to take your kicking-back-and-relaxing to the max, the theater also provides guests with slippers so they can feel more at home. They've also evolved their snack game beyond just popcorn, nachos, and hot dogs. Soon they'll be offering crepes and waffles, so enjoy getting syrup all over your sheets.
Article continues below advertisement
There's another theater in the venue that's more my speed: the double sofa room. What's interesting is that it appears they've put three different kinds of weird but luxurious couches for audience members. Some of them look like they're ripped straight out of Alice in Wonderland.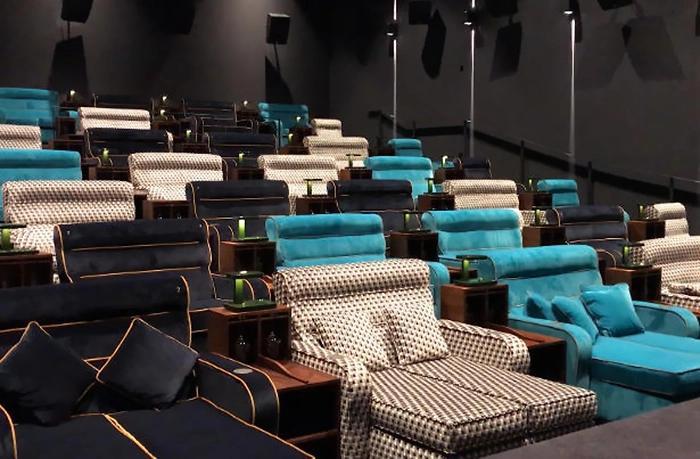 Article continues below advertisement
If you're worried about cleanliness, CEO Venanzio Di Bacco says sheets are changed between each film viewing: "The hygiene aspect is very important to us.".
The theater might look quaint, but it also contains the features you'd find in enormous, mega-mall theaters, like a 350-person IMAX screening room.
Oh, and the fun isn't just reserved for adults. There's a cinema room just for kids, that comes complete with bean bag chairs, a slide, and a ball pit! Tickets for the little ones run $14.
If Cinema Pathe looks all new and spiffy, that's because it is. The theater just opened up on May 9, 2019.
Article continues below advertisement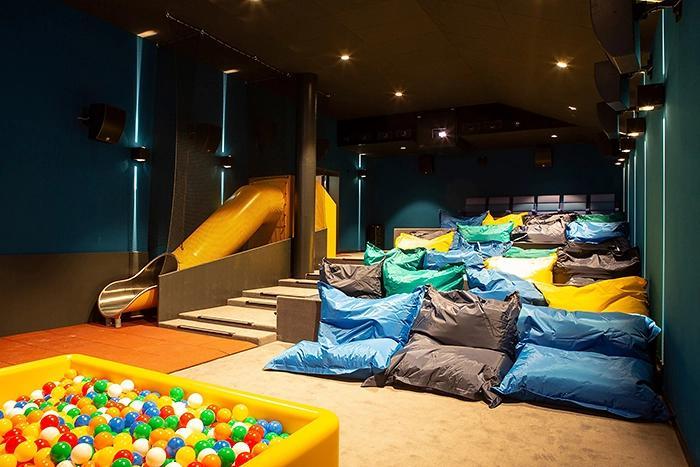 Venanzio went on to say that, although this concept is new in Switzerland, the concept has been tested in other markets and has done extremely well.
Would you want to go to a theater like this? I'd be down. Not sure I'd want to eat waffles in bed, though. That just sounds like a syrupy disaster waiting to happen.