Super Cool Pop Culture-Themed Airbnbs You Can Actually Stay In
From 'Stranger Things' to 'The Hobbit,' these Airbnbs recreate your favorite movies and TV for an unforgettable vacation stay.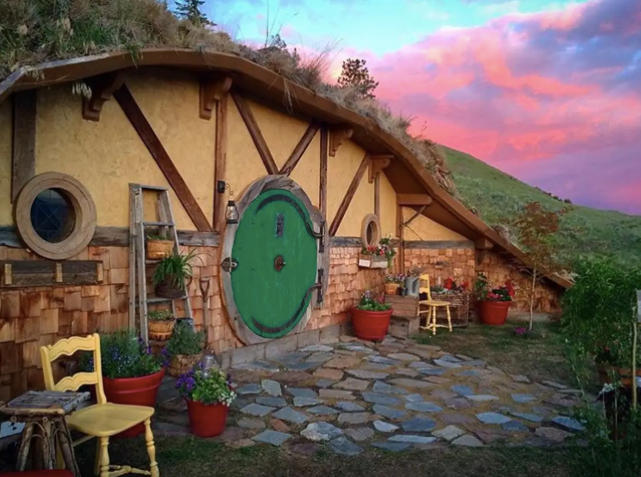 I don't know about you, but when I book my vacations, I usually choose the destination and then try to find accommodations in that area that don't totally suck. But maybe I have been thinking about it all wrong! Maybe if I centered my stay around a super cool Airbnb themed around my favorite TV shows and movies, it would totally transform my vacation experience.
Themed vacation spots have become all the rage these days, and honestly, they are super fun and kitschy and hilarious, and I am totally on board. The latest addition to the pack is a St. Louis apartment decorated to look exactly like the iconic sets of Stranger Things. How could you not want to stay in "The Upside Den"?
Check out this listing and many more pop culture themed Airbnbs that you can book for your next trip.
Article continues below advertisement
The Upside Den – St. Louis, MO
The Upside Den has everything you could ever imagine would be in a Stranger Things themed apartment. It's got 50+ VHS tapes for your viewing pleasure, Eleven's tent, that Christmas light alphabet wall to communicate with friends stuck in the Upside Down, and so much more.
One of the owners of the apartment, Ann Hubbard, told St. Louis Magazine that she got the idea for the apartment because she noticed she had the same sheets Eleven used to build her tent in the first season.
Things just sort of snowballed from there, and now the place is completely decked out with '70s furniture and '80s movies. It's a Stranger Things fan paradise. The one-bedroom suite sleeps four guests and clocks in at a crazy reasonable $49 a night. So you basically have no excuse to not experience this.
It would be quite a hoot to binge-watch the new season (which premieres July 4) in The Upside Den, no? You might have to bring your own Eggos, though.
Article continues below advertisement
Bonita Domes – Joshua Tree, CA
Is this a California desert dome vacation rental or Anakin Skywalker's house from Star Wars? The Bonita Domes will make you feel like you're on another planet...specifically Tatooine. These sleep pods are perfect for the curious adventurer who wants a one-of-a-kind sleeping arrangement at night and super easy access to Joshua Tree National Park — a desert hiker's dream — during the day.
Article continues below advertisement
Underground Hygge – Orondo, WA
Well, this is a perfect Hobbit home if I ever saw one. Could you imagine waking up in this hillside dream, making yourself breakfast and a pot of coffee, making yourself second breakfast, then hiking the gorgeous mountains of the Pacific Northwest? It's a Lord of the Rings fan's dream come true.
Article continues below advertisement
And the inside is just as adorable and on-theme a the outside! Relax with a fireside game of chess, whittle your cares away with the tools provided on the custom whittling bench, or, you know, go on an epic odyssey to destroy the One Ring and vanquish evil once and for all. Your choice.
Article continues below advertisement
Hello Kitty Apartment – Osaka, Japan
Let's take a hard left turn out of the Shire and into the heart of Osaka in Japan, where this Hello Kitty apartment will fulfill all your dreams... or nightmares, depending on your opinion of Hello Kitty. Everything in this apartment, which sleeps seven, is either Hello Kitty themed or pink and white.
Article continues below advertisement
And I mean everything. Eat off of Hello Kitty plates and drink out of Hello Kitty cups while a stuffed Hello Kitty stares into your soul from across the table.
It's hard to underestimate just how big a deal Hello Kitty is in Japan and around the world. As of 2019, Hello Kitty was the second highest-grossing media franchise of all time, probably due to all the merch that was purchased for this amazing Airbnb.
Article continues below advertisement
Wes Anderson Home – Prince Edward, Ontario, Canada
Wes Anderson has one of the most distinct aesthetic styles in film, and it is recreated to a T in this amazing rental home in Prince Edward. Look at that Camp Ivanhoe bedroom, decorated perfectly in the style of Moonrise Kingdom. Become the master of quirk while vacationing in this lovely Canadian beach town.
Article continues below advertisement
Each room in the house is themed after a different Wes Anderson movie. This here is Margot Tenenbaum's bedroom, obviously. Others include the Look Nook, a small den inspired by Moonrise Kingdom's Suzy Bishop, a Life Aquatic themed living room, a Darjeeling Limited tea room-inspired kitchen, a Rushmore themed office, a luxurious Grand Budapest Hotel themed bathroom, complete with clawfoot tub, and a Fantastic Mr. Fox powder room.
Article continues below advertisement
Fairy Tale Gingerbread House – Gesyerville, CA
Get lost in a fairy tale...and also become quite hungry for sweets, when you stay in this adorable little gingerbread house. Of course, it's not made of real gingerbread (which doesn't keep too well in the rain), but it's made to look like it. This small cottage is on the property of the Isis Oasis Sanctuary, which has a temple and a theater and is designed to facilitate a relaxing spiritual journey.
Not to mention, it's also smack dab in the middle of California wine country, so you can totally get your drink on.
Article continues below advertisement
Careful, though. Once your zonked from wine tasting, you'll come home to this gingerbread hut and just looking at the walls will make you hungry.
Article continues below advertisement
Fixer Upper House – Waco, TX
If you are a fan of Chip and Joanna Gaines and their shiplapping ways, why not stay in one of the houses that was actually featured on Fixer Upper?! This house was the subject of S2E9 of the show! It's a mid-century modern wonderland in the middle of Waco, Texas, and it's just waiting for you to walk in and go, "Woooooowwwwww."
Article continues below advertisement
The McFly – Dallas, TX
Go Back to the Future in this rad '80s pad called the McFly (named after the one and only Marty McFly, of course). This pastel and neon house is full of movies, posters, arcade games, and other decor from the '80s that will literally send you back in time. There's a Michael Jackson themed bedroom, an original Nintendo console, and a Breakfast Club buffet stocked with your favorite childhood cereals. Totally rad!
Article continues below advertisement
Pirates of the Caribbean Getaway – Topanga Canyon, CA
Want to feel like you're at sea with pirates while you're actually in the mountains of Los Angeles County? Then book your stay at this tropical getaway in the heart of southern California. The place is chock full of desert isle, pirate-themed decor. There are enough creepy statues to scare you at every corner, and it's got a hot tub with a rock crystal waterfall next to it.
Article continues below advertisement
The one thing it doesn't have (thank goodness) is a drunk Jack Sparrow roaming the property saying inappropriate things to the guests. But I suppose that could probably be arranged if that's what you wanted. It's LA. You can hire anybody to do anything.
Article continues below advertisement
Great Escape – Clermont, FL
This huge estate home on ten acres sleeps up to 43 people in their insane game-themed rooms. Every room is decorated like a different classic game, including Clue, Pac-Man, Scrabble, Monopoly, Operation, Pictionary, and more. Not to mention there are actual game rooms, a pool with a water slide, and tons of outdoor games.
Article continues below advertisement
Oh yeah, there's also a frickin' Jumanji theater. It's official. I want to live in this house. In case you aren't convinced, the house also contains and giant Lite Brite wall, a floor piano like the one in Big, a lazer maze, a huge wall-sized word jumble, and a casino.
It's on a lakefront, too, so you can take boats out or go fishing. This is one vacation rental you wouldn't even have to leave the entire time you're there.