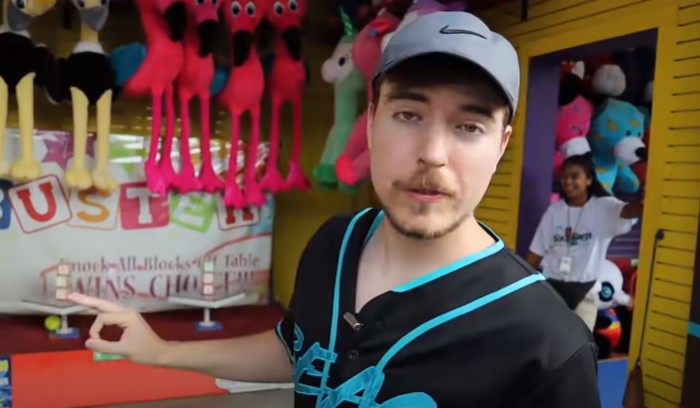 Is This Joke MrBeast Made About "52 Genders" Transphobic?
There are tons of ways to make yourself a fine living on YouTube. As long as you've got a genuine passion for something and aren't afraid to work hard to learn the ins and outs of promoting and marketing your videos, you can probably make a nice career for yourself, as MrBeast has with his videos centered on elaborate pranks, challenges, and touching acts of philanthropy.
He's generally a beloved internet celebrity, so why is he being "canceled" all of a sudden?
Article continues below advertisement
Some are discussing whether or not MrBeast should be "canceled" due to a resurfaced 2016 clip.
In the video, MrBeast (real name Jimmy Donaldson) appears in a sketch comedy bit that lampoons the idea of multiple genders. Another person in the piece gets angry when MrBeast doesn't understand he sexually identifies as an attack helicopter and then begins to attach pieces of cardboard to his arms as various scenes depict him whirling around the neighborhood acting like the aerial vehicle.
Jimmy also addresses the camera in the video himself, stating, "I was born a tank, but sadly it wasn't one of our 52 genders. Is someone just sitting there and getting paid to think of genders?"
The jokes regarding gender rubbed some people the wrong way, while others posted the video clip in an attempt to raise a discussion on the collective mindset differences pertaining to gender that have occurred over the last four years.
Article continues below advertisement
Some have said that citing the year it occurred and MrBeast's relative youth (he would've been 17-18 years old at the time) is no "excuse" for what transpired in the video.
Comedian Dennis Feitosa posted the video on his Twitter account, @defnoodles, along with screenshots of him reaching out to MrBeast and the other online personality in the video, Chris the Meme God, asking for comments on the "seemingly transphobic remarks."
Article continues below advertisement
Some people accused Dennis of attempting to chase clout for going after MrBeast with the accusations of transphobia, while others thought Jimmy "needs his YouTube channel removed" for making the joke.
For the most part, however, people seemed to be on the side of MrBeast, highlighting his years of philanthropy and kindheartedness as the reason why "he's here to stay."
Article continues below advertisement
Def Noodles' tweet has garnered nearly 1,500 replies.
Many pointed out that the comedian probably wouldn't get a response due to the fact that he is a "lesser content creator who's desperately trying to stay relevant by clinging to a nothing joke."
Article continues below advertisement
There were others who looked at Dennis' pages and previous tweets and believed he was attempting to manufacture "controversy" as a joke, and to try and create fake outrage to highlight the absurdity of "cancel culture."
A growing number of content creators, especially Twitch streamers, have been put on the social media chopping block for past comments.
Article continues below advertisement
An ongoing conversation regarding "cancellations" of popular personalities is when do we draw the line at when someone's online behavior is considered excusable? At what age or point in someone's career is it OK for them to make specific jokes?
It's a discussion that probably doesn't have a clear answer or consensus at this point, but judging from the replies Dennis received to his tweet, it looks like there are tons of people who are in MrBeast's corner regardless.