Nanny Quits After Signing "Red Flag" Contract That Said She Couldn't Eat Family's Food
A Nanny was encouraged to quit working for a family after uploading a viral TikTok from a family who said that she couldn't eat their food.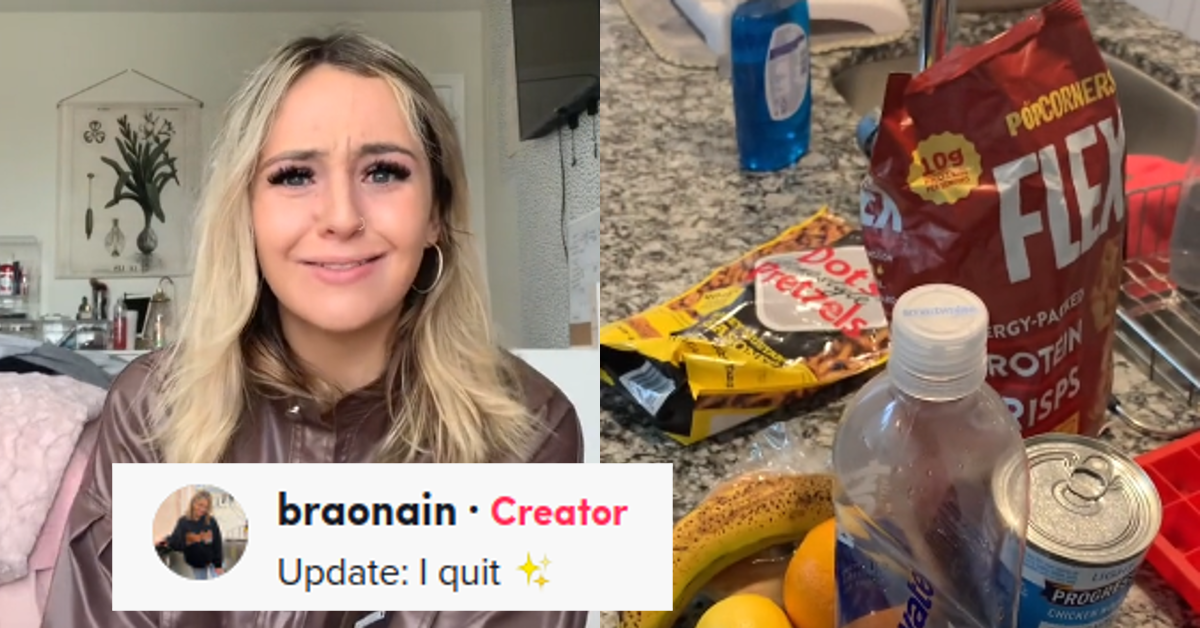 Certain jobs come with certain implied perks. Like if you're working a garbage route picking up people's trash and tossing them into trucks, the day's work is done when all the houses on your route are finished (generally speaking). No need to stay on longer just to fill up hours on the clock.
When you work in a restaurant, you're entitled to a certain number of free meals. Tanning salon? Let's just hope you don't get locked in one of them like that scene from Final Destination.
Article continues below advertisement
And when you're a nanny or babysitter who's spending a considerable amount of time in another person's home while looking after their children, it's a generally accepted idea that the contents of the refrigerator, freezer, and pantry are yours to peruse and pick from. You're taking care of their children after all, and you're probably spending a lot of time with them, so in addition to getting paid, grub should be part of the equation.
At least that's what the majority of folks in the comments section of this now-viral TikTok posted by user @braonain1. In the clip, she shows off the contents of her backpack, which is a random assortment of different foods she had to pack for a day of nannying for a family who told her that she couldn't eat the food in their home.
Article continues below advertisement
Coffee and water were fine, but no grub. She captioned the video with the following message: "Yeah don't ask about my food choices.. first time having a family tell me I can't eat their food but it's all good" and proceeds to pull out a can of soup, some pretzels, some protein crisps, a bagel, a lemon, an orange, a banana, and a crumpled bottle of Smart Water with the tiniest smidge of water at the bottom.
Article continues below advertisement

Many commenters were shocked to hear that there was a family precluding their nanny from munching on their edible wares.
"Couldn't imagine not letting our nanny eat our food!" One user remarked.
"Old nanny family be looking like king and queen rn," another joked.
Article continues below advertisement

And there were other TikTok users who hired the services of a nanny themselves and how they not only would let them have free reign of their kitchen but would even bring them on Costco trips and tell them to pick out some groceries for themselves.
Article continues below advertisement

And while there were plenty of people who couldn't believe that someone could be so "stingy" when it came to feeding a family caretaker, there were others who thought that the issue went deeper than just an unwillingness to share groceries.
Article continues below advertisement

Many thought that this kind of behavior was a huge red flag and a precursor of potential ill-treatment and/or other strange rules down the road.
Article continues below advertisement

@braonain1 said that she ultimately ended up quitting the gig with this particular family, and gave a little bit more insight into the situation in a follow-up TikTok, stating that she was presented a contract by the family that explicitly stated she couldn't eat their food and was "ridiculous." She even offered to post screenshots of the contract if folks were interested.
Article continues below advertisement

Have you ever heard of a family not allowing a nanny they hired to eat the food in their house? Or have you ever worked as a nanny and encountered a situation like this? Do you think it's odd?