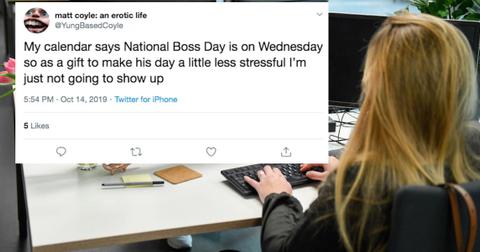 These National Boss Day Memes Will Make You LOL in Your Cubicle
By Lizzy Rosenberg

Updated
Whether you absolutely love your boss, or if you can't stand them, you're probably vaguely aware of the fact that National Boss Day is coming up on Wednesday, Oct. 16. And if you aren't planning to buy your boss a card or bring them coffee in the morning, at least remember to ping them with well wishes (or give yourself a pat on the back, if you're self-employed).
Anyway, on your own time, make sure to check out these National Boss Day memes — they're guaranteed to brighten your work day.
These 10 National Boss Day memes will make you LOL:
1. Some people are choosing to celebrate their favorite TV boss, and that's totally acceptable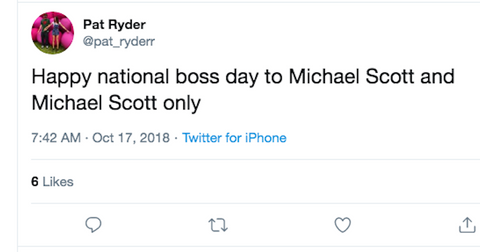 I mean, who wouldn't want an excuse to quote The Office for an entire day? That definitely is not something I could dream of passing up. Plus, honoring the great Michael Scott is a must.
2. Some made memes of their bosses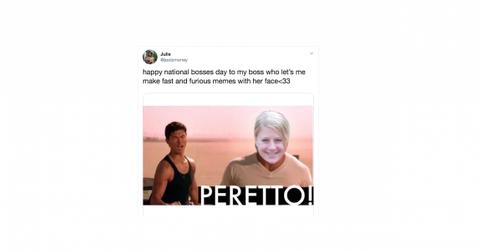 Yes, you heard that correctly. Anyone who is this tight with their boss, and PhotoShops their own memes of them gets a medal. You've reached the weirdest work relationship, and I kind of love it.
3. Others are odes to the more patient bosses out there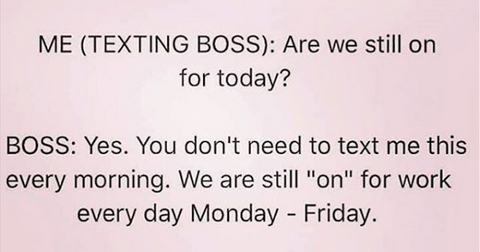 I mean, it doesn't hurt to ask if work is "still on," does it? Just making sure before I leave my bed.
4. Maybe you're spending National Boss Day dancing in the dark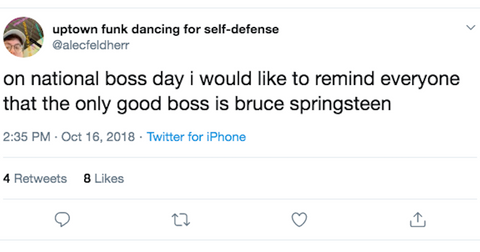 Like the greatest boss out there once said, "You can't start a fire without a spark."
5. It's time to celebrate the bosses who pretend they don't notice you're procrastinating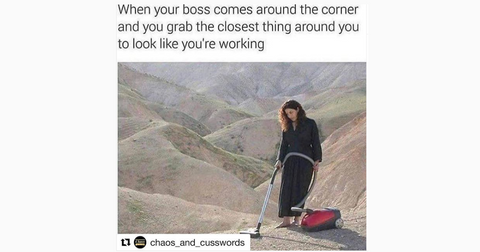 Absolutely everyone out there has done this at work... don't even pretend. And honestly, your boss usually notices you aren't working, and pretends they don't see you. And in reality, that's why they deserve to be celebrated on this national holiday.
6. Then, there are those who are just trying to give their bosses a break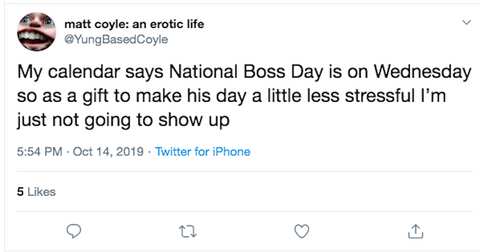 Silence is the greatest gift of all, some might say.
7. Even the micro-managers deserve to be celebrated today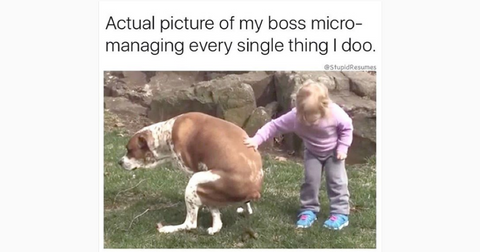 Bosses can be really, really bossy, but hey — it's their job, and that's why their title is "boss." Also, if you don't remember what video this is from, make sure to watch it here... truly incredible.
8. Some bosses out here seem to be fishing for well wishes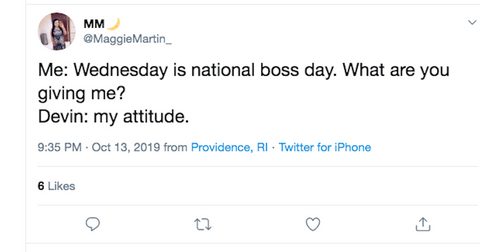 But to be completely honest, I would probably do the same thing #SorryNotSorry.
9. ...And the boss that doesn't allow "work from home" days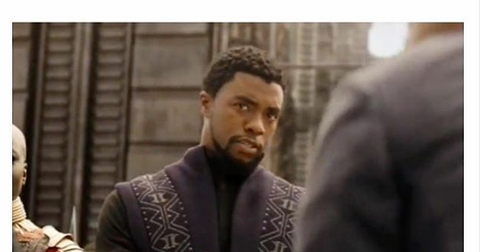 You bosses still deserve a holiday, but my god, I just want to work from my couch today!
10. There's that one boss who piles on you right when you're about to leave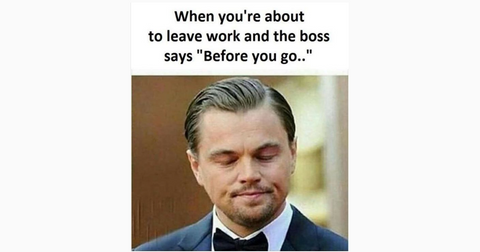 That's a "no" from me and also Leonardo DiCaprio... thank you, very much.
If you're celebrating National Boss Day alongside your superior, hopefully you're making their day feel extra special. And whether that means sending them good vibes, or bringing them Starbucks after your morning coffee run is entirely up to you. However, if you happen to be a boss (or if you're self-managing), we wish you the best, and we hope you feel appreciated.
Happy National Boss Day!