Guys Beg to Play With Their Neighbor's Dog and Get the Cutest Response Ever
They kept seeing Stevie Ticks through the window, so they wrote a letter to their neighbors asking for some playtime. They got a handwritten letter back from Stevie herself!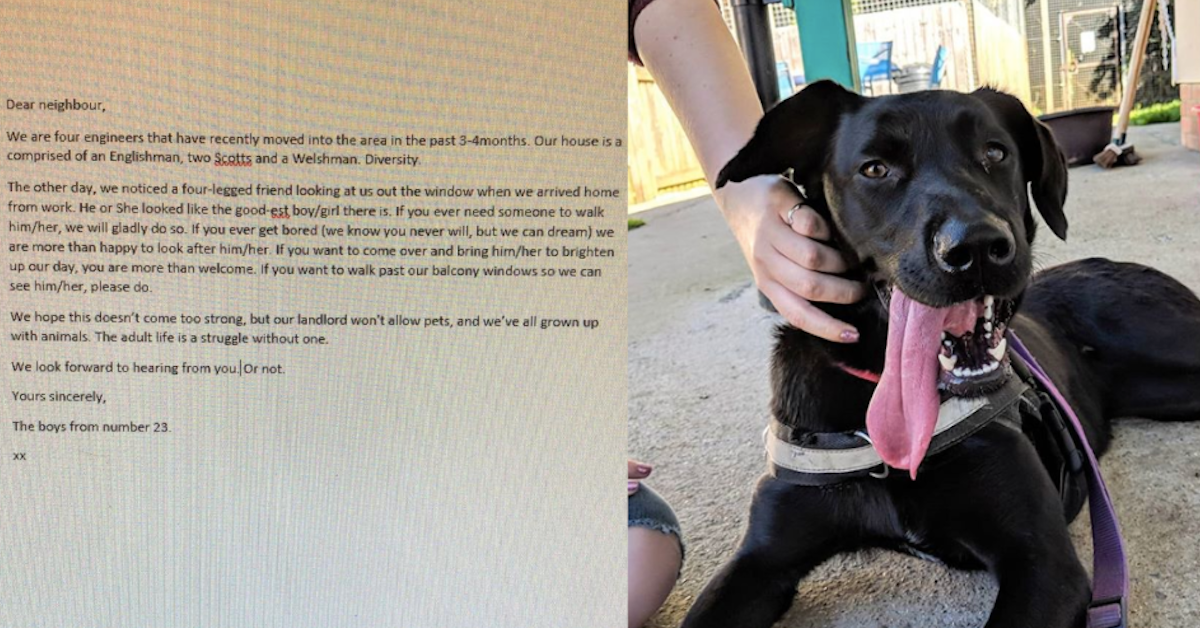 Dogs make lives better. It's a proven fact. And if you have the opportunity — no matter how remote — to possibly interact with a dog, you simply have to do everything in your power to try to make that happen. And there are four guys in the U.K. who understand that wholeheartedly. Jack McCrossan and his roommates had been admiring a pup in their neighborhood and decided, since they couldn't have a dog of their own, they would ask if they could meet her.
Article continues below advertisement
They wrote a letter to their neighbors explaining the situation and offered their playing and walking services. It's the most adorable thing you'll read all day. Four grown man asking their neighbor to play with their dog. You love to see it. But what's unexpected and even more adorable is the response they received.
Article continues below advertisement
Their letter explains that they are four engineers who recently moved to the neighborhood, and they recently noticed "a four-legged friend" looking out of the window at them when they came home from work.
They then offer to walk her, dog-sit, or play with her whenever the owners might need. "We hope this doesn't come too strong, but out landlord won't allow pets, and we've all grown up with animals," they wrote. "The adult life is a struggle without one."
I know what that feels like. I didn't have a dog for like four years after I graduated from college, and it was the worst. Now that I have a dog, life is much better. Luckily, the people who owned the dog next door were very happy to introduce her to the guys, and they let them know in a handwritten letter from the dog herself.
Article continues below advertisement
It came in an envelope addressed to "The Boys" and had a paw print signature on the back. The letter read, "Dearest Boys, What a treat it was to receive your letter! On the subject of treats, I like them a LOT. Big ones and meaty ones and cheesy ones...oh sorry...where was I?! I am two years and four months old, and I am a Sheprador (Lab x GSD). I come from Cyprus originally but Chris and Sarah rescued me from a cage in the 'doggy hotel'!
"You're right that I am the bestest girl — how did you know?? I am very friendly and full of beans. I love meeting new people and it would be great if we could be friends. I must warn you that the price of my friendship is 5 x ball throws a day and belly scritches whenever I demand them.
"We here understand how hard it is to find pet friendly rentals — and life just isn't full without a dog in it — right?! I'd love to have out whenever you fancy. Give my servant Christ a Whatsapp and we can arrange a meet-up!" Then she signed her name, which is Stevie Ticks. It doesn't get much better than that. The meeting happened shortly after.
Article continues below advertisement
Have you ever seen four happier dudes? I can tell that this is just the beginning of a beautiful and lasting friendship. Stevie Ticks looks ecstatic to have another hand to lick. Another angle of the meeting of the century was captured on Stevie's own Instagram account, which has gone totally viral since this story hit the internet.
Article continues below advertisement
Look at that smile! She's such a gorgeous pup. Her Instagram caption reads, "Sneak peek of my first meeting with the bois! 20/10 for scritches, did mlem, snaccs given. 5/5 Uber rating, would meet again!" Translation: She got belly rubs and treats and lots of loving, and for a dog, that's all she needs.
Article continues below advertisement
It's safe to say that Stevie Ticks is quite comfortable with her new friends and her newfound fame. She has been a star this whole time; she's just finally gotten the recognition she's so deserved. And let me just say, I love all the humans involved here, too.
Article continues below advertisement
The tongue! It's so long! I'm so glad, for Stevie's sake and for ours, that those four guys were so smitten that they decided to reach out to their neighbors for some canine play time. And I'm absolutely bowled over that Stevie's owners responded the way they did.
I don't know that I've ever been happier for a budding friendship. I'm so happy for everyone here but especially for Stevie, who is really good at fulfilling her job of bringing joy and love to everyone around her. Dogs, man. They're the best.