Person Gets Into "Friendly Flag War" With Conservative Neighbor During Pride Month
Two neighbors get into a friendly flag war as one openly celebrated LGBTQ+ Pride Month and the other puts up some more controversial flags.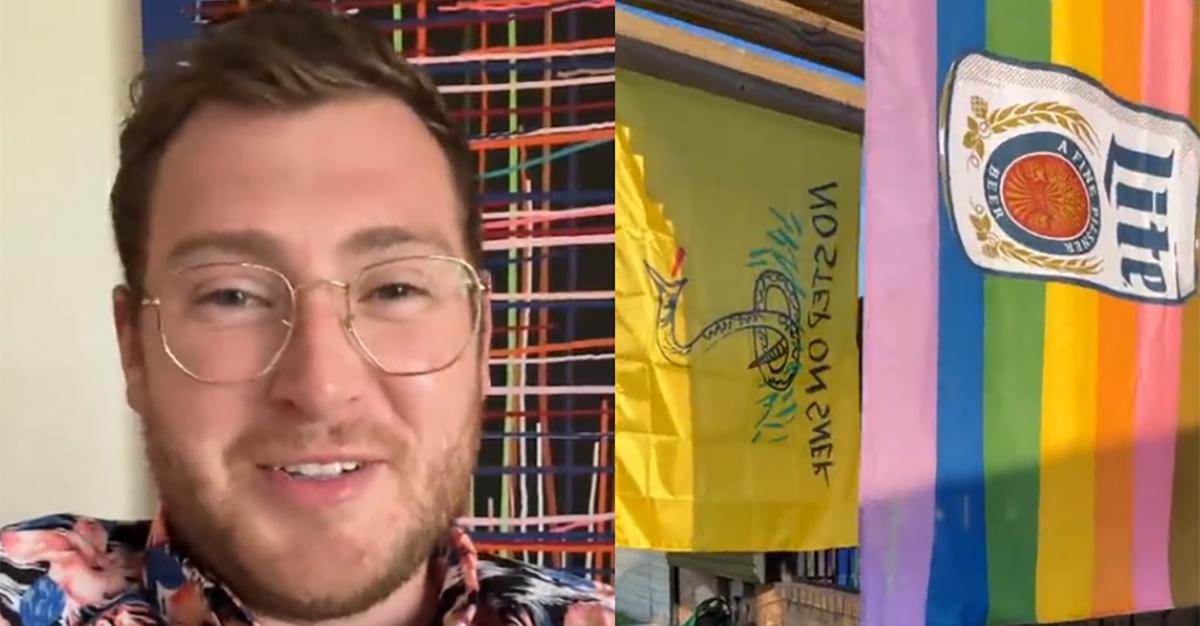 During a celebration like Pride Month in June, most LGBTQ+ folks and allies will want to let their flags fly. Literally!
One of the most indicative signs of Pride every year comes in the form of folks flying certain Pride colors in the form of flags. Whether you're trans, aromantic, gay, pansexual, or even just want to show your support for everyone during Pride, there's a flag out there for you to really let you profess your colors as loudly as you please.
Article continues below advertisement
Of course, it's not always easy for folks to express their Pride in certain environments. In 2023, trans rights and gender-affirming care are being attacked all over the country and corporations are finally admitting how flimsy their own Pride is compared to their bottom line in the face of right-wing boycotts.
We also can't forget individual conservatives who feel the need to respond negatively to Pride Month. To that end, two neighbors are engaged in a flag war as they put their lifestyles on display.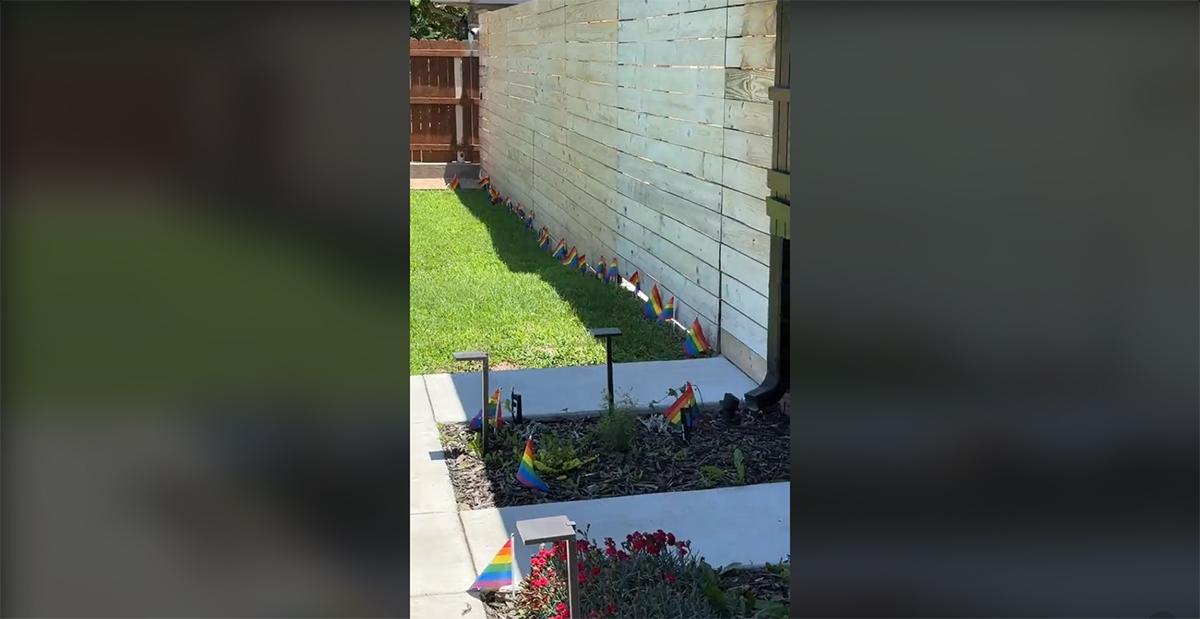 Article continues below advertisement
Two neighbors are in the middle of a flag war during Pride Month.
On June 10, 2023, Eli Glass aka @mstangeli on TikTok began documenting the flag war that they've been having with their neighbor in an Oklahoma suburb.
In response to the rainbow Pride Flag that Eli had put up on his own lawn, his elderly neighbor put up his own flag that reportedly says "White, Straight, Republican, and Male," implying that such a statement is something to be proud of. The neighbor then proceeded to add a "Don't Tread on Me" flag to go with it.
Article continues below advertisement
Not to be outdone, Eli added dozens of tiny rainbow Pride flags to their own lawn that practically line their property. They even added more full-sized flags. One of them is a rainbow Pride flag with a Bud Lite can on it, which is possibly a nod to recent controversies involving trans influencer Dylan Mulvaney's sponsored partnership with Bud Lite that earned the ire of conservative beer drinkers everywhere. Eli even rebuffed the "Don't Tread on Me" flag with a satirical one that says "No Step on Snek."
Article continues below advertisement
Eli's initial video has over 4.7 million views as of this writing, which Eli claims is more than the population of their home state. Eli has even provided several updates in subsequent TikToks, featuring even more Pride flags strewn about their lawn. In one video, Eli even claims that the "crazy neighbor" was "not happy" to see all of the Pride flags on Eli's lawn.
Article continues below advertisement
Eli has even posted an update assuring their new fanbase that the neighbor isn't violent and that they're more or less still friendly with each other.
"Our flags are just a friendly little flag war," Eli confirms. "It's just kind of fun and games."
Eli even mentions that their feud has become the talk of the neighborhood, with people "cracking up" over how much it has escalated.
Article continues below advertisement
Eli also mentioned that most of the flags will come down at the end of Pride Month, but folks continue to cheer them on in this neighborly conflict.
Article continues below advertisement
Of course, flags aren't the only way that Eli is celebrating Pride. In another TikTok, the now-viral TikToker has also made a project out of repurposing anti-gay propaganda into gay-friendly flags and symbols.