Warning! Don't Fall for This Tricky Netflix Phishing Email
There's a new phishing scam plaguing Netflix users. It claims that your billing information needs to be updated, but it's not really from Netflix.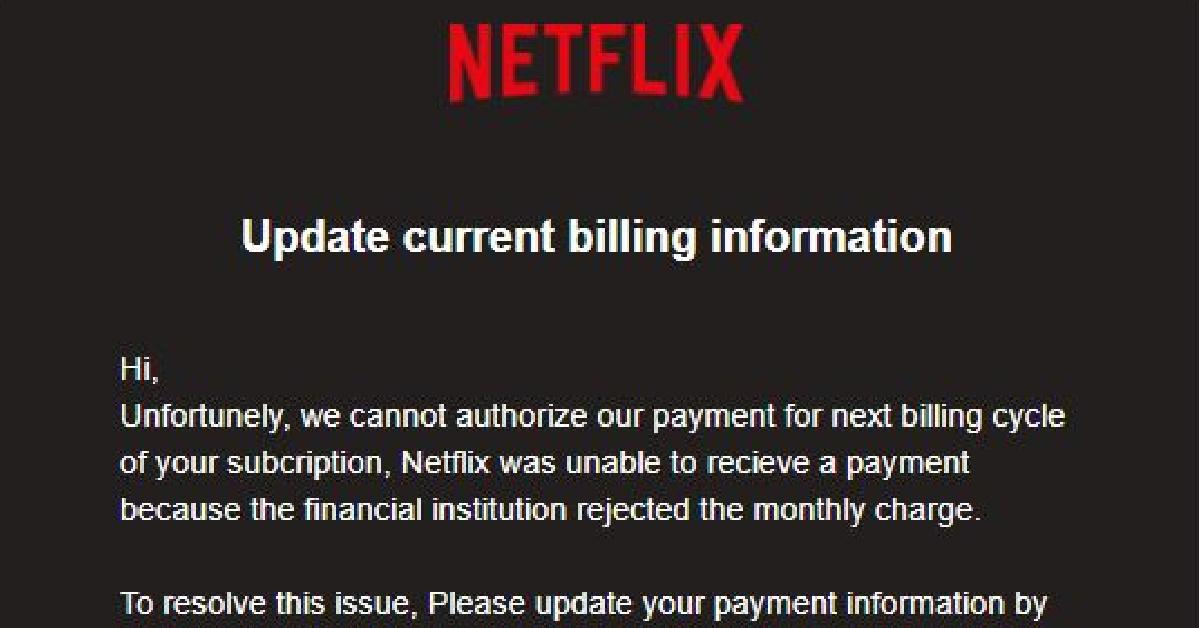 We all know that we're living in a world where scammers also exist, but most of us like to think that we're too smart to fall for their tricks. Of course, if no one fell for scammers' tricks, there probably wouldn't be scammers at all, right? So, OK, some people fall for scams, but not you, right?
Article continues below advertisement
Actually, there's a new phishing email making the rounds and a bunch of people have already fallen prey to it. The email looks as though it comes from Netflix, and if you open it and comply with the commands inside, you could risk giving scammers your credit card information. Yikes. Here's what you need to know.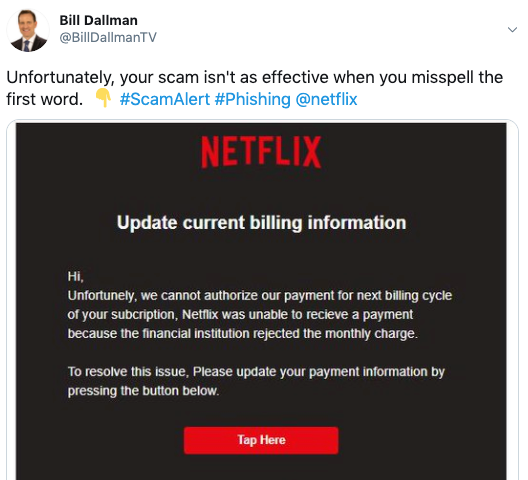 Article continues below advertisement
Warning! Don't fall for this Netflix phishing email.
Thankfully, most email providers have relatively good security when it comes to filtering out phishing emails. Anyone who has waded through their spam inbox knows that phishing and other scams are incredibly prevalent these days. Unfortunately, that's what sets this new Netflix phishing email apart. The filters simply aren't catching it, meaning more and more people are opening it and making themselves vulnerable to attacks.
According to Forbes, the email claims to be from Netflix Support and includes a link taking users to a functioning CAPTCHA page with Netflix branding. For many people, that's enough to convince them that the initial email was legit. Once unsuspecting phishing victims fill out the CAPTCHA form, they're brought to a Netflix lookalike site which serves only one purpose: stealing info from users. That includes login credentials, billing address information, and (worst of all) credit card details.
Article continues below advertisement
You can tell it's a fake site because while there are buttons and links that look legit, clicking on them simply reloads the page rather than taking you anywhere on the actual Netflix platform. Also, the URL is not any form of Netflix.com — another huge red flag.
Article continues below advertisement
The subject line of the email reads "Notice of Verification Failure." The email essentially states that there has been an issue with the billing of your account, and that you must verify your information within 24 hours in order to prevent your account from being canceled. If you receive an email like this, it probably goes without saying, but don't open it or click any of the links!
And definitely don't insert your personal information into the Netflix lookalike site. In general, you should always be very suspicious of any email asking for you to update your credit card information. But what should you do if you think it's legitimate?
Article continues below advertisement
If you're not sure whether you've received a phishing scam email, you can always log in to your account in a separate browser window or tab (not by opening any links in the email itself). If there truly was a problem with your Netflix account, for instance, you could simply log in to Netflix and address the issue from there.
As always, it's important to remain vigilant when it comes to phishing scams and other sketchy online content. As this phishing attempt proves, scammers are only becoming more adept at avoiding being caught by security filters, so it's important to remain informed and do your best to avoid becoming a victim.