Why Is Uber Sending Codes? People Are Concerned It's a Scam
Why does Uber keep sending me a code? Many are asking this question after getting text codes from the rideshare app. Details on if it's a scam.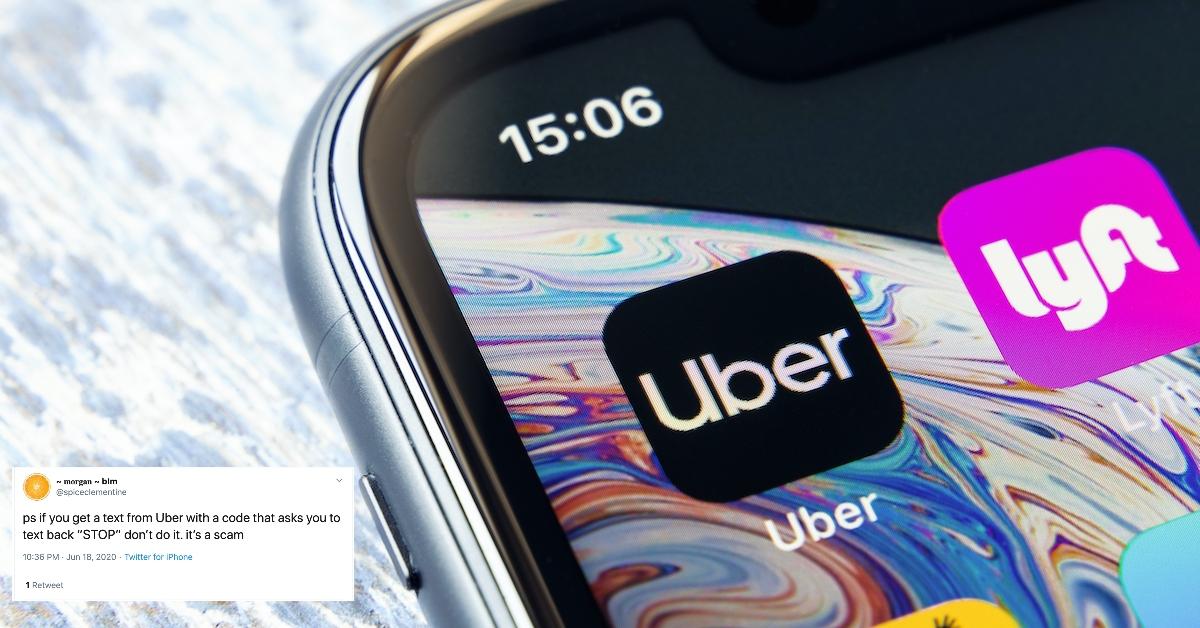 It's become a normal part of our lives to order rides via apps like Uber or Lyft rather than face the elements and try to hail a taxi (which can oftentimes be an unsuccessful venture).
While getting a ride to nearly any destination in just a few minutes has become commonplace, getting text messages from your ridesharing app when you're not using it can be quite unsettling.
Article continues below advertisement
After all, when signing up for Uber, users have to give some personal information, which helps keep both passengers and drivers safe. But, the thought of that information potentially being compromised because of a scam is more than enough to give people concern.
If you periodically receive text messages from Uber about someone trying to log into your app, you might be falling victim to a scam.
Why does Uber keep sending me a code? Find out what the scam is below.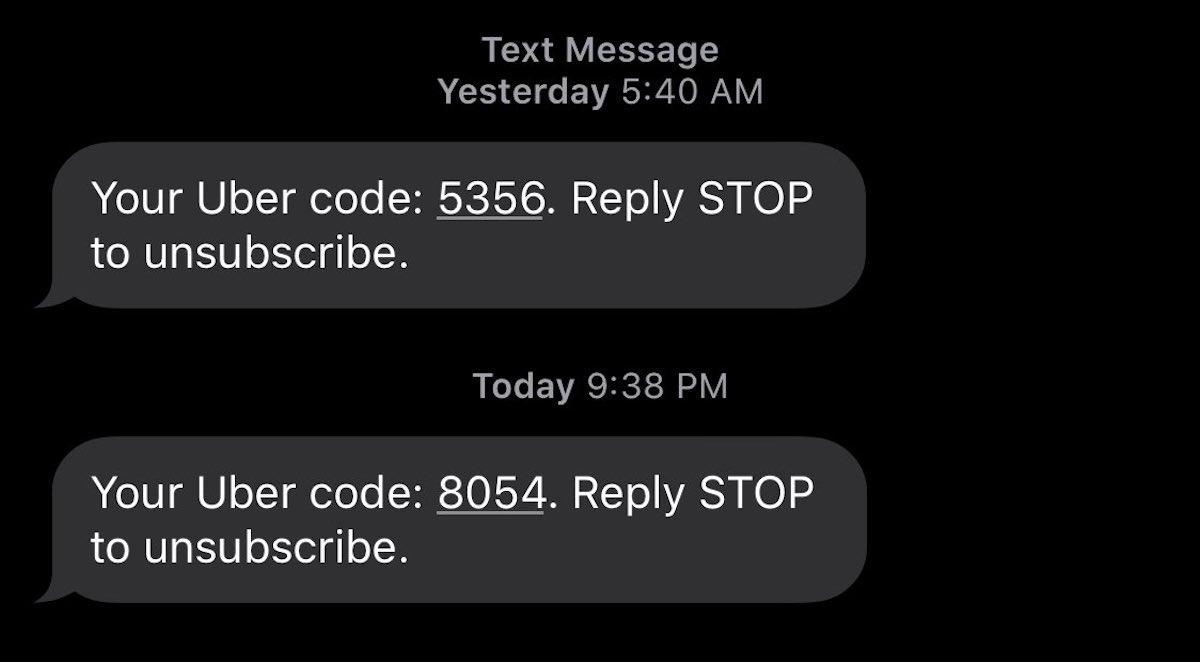 Article continues below advertisement
Why does Uber keep sending me a code?
The Uber code scam is oftentimes successful because of how simple it is. Many concerned users have received text messages about someone attempting to log on to their account. The text encourages people to respond "STOP" to the message if the login was not done by them.
One text that people commonly receive goes, "Uber Code: XXXX. If this wasn't you, reply STOP to XXXX to unsubscribe." The number to reply to sometimes is a full phone number, which can be a big sign that it's a scam.
The idea of someone using your Uber account without your permission is, at the very least, anxiety-inducing. Because of this, many people assume that the text is an official one from Uber, and they immediately want to stop someone from accessing their account.
Plus, Uber drivers often text riders when they have arrived, so users are used to getting communication from the app itself. Uber also sends text messages when users are setting up their accounts for the first time.
Article continues below advertisement
While the Uber code texts are often done by an outside source, sometimes the text messages are legitimately from Uber. In these instances, it is because someone (likely a bot) tried to use a phone number in order to create an account. When this happens, replying stop is the quickest way to stop the issue.
Uber has gotten into trouble in recent years for spamming users with texts.
Article continues below advertisement
In 2018, an Uber spokesperson told NBC Chicago what these texts were.
"These codes are sent when someone tries to create an account using your phone number — which is usually a typo or an automated bot trying to create a fake account... the text is sent to verify the phone number before creating an account."
If the text you receive forces you to reply to an outside number, then there's a good chance that it is a scam. If the text tells you to reply STOP directly to the number you received the message from, it may be from Uber. Uber also has a tendency to include links to its website in texts, which can help too.
Article continues below advertisement
How does the Uber code scam actually work?
Though victims of the scam aren't giving their personal information out or providing their credit card information, the scam has a two-prong way of working. If someone responds to the text, then the scammer learns that the number they have randomly tried is, in fact, in service. This might lead to the scammer using the number for other text message frauds, and the victims might soon begin receiving strange texts from other services.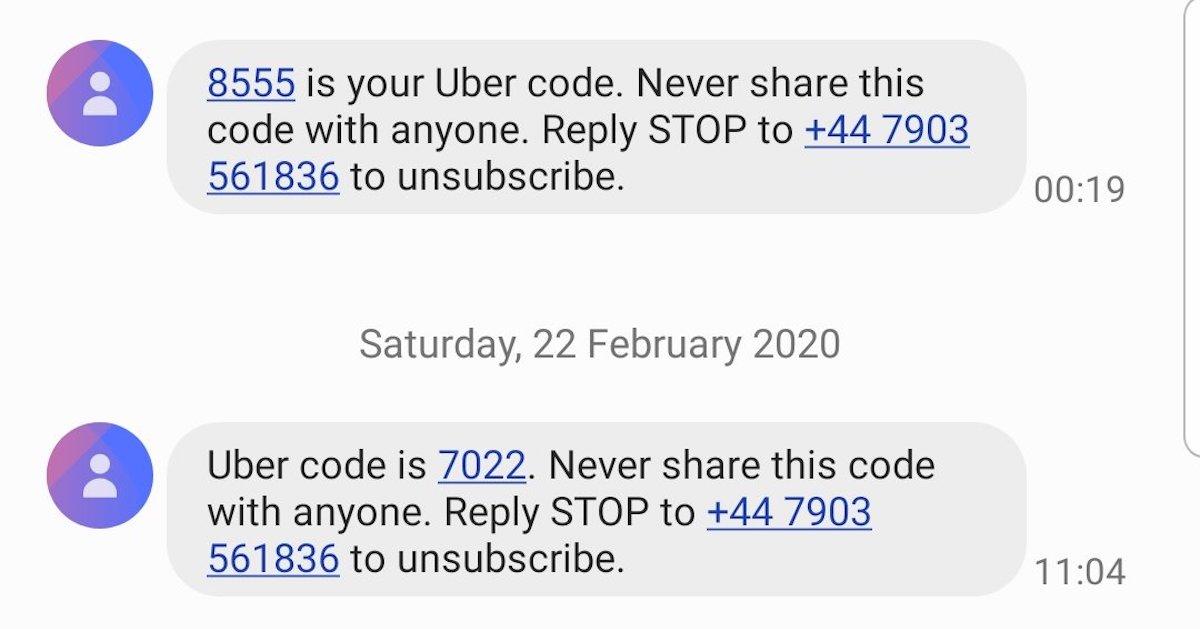 Another way that the scam can work is that responding to the number included in the text can sign people up for premium rate numbers. Communicating with a premium rate number can quickly get expensive, and victims of the scam can then be on the hook for paying for their interactions with these types of numbers.