The New 'SmackDown' Logo Debuted on Fox Commercial
WWE fans noticed that advertisements alerting viewers of the 'SmackDown' move to Fox also came with a new logo for the show.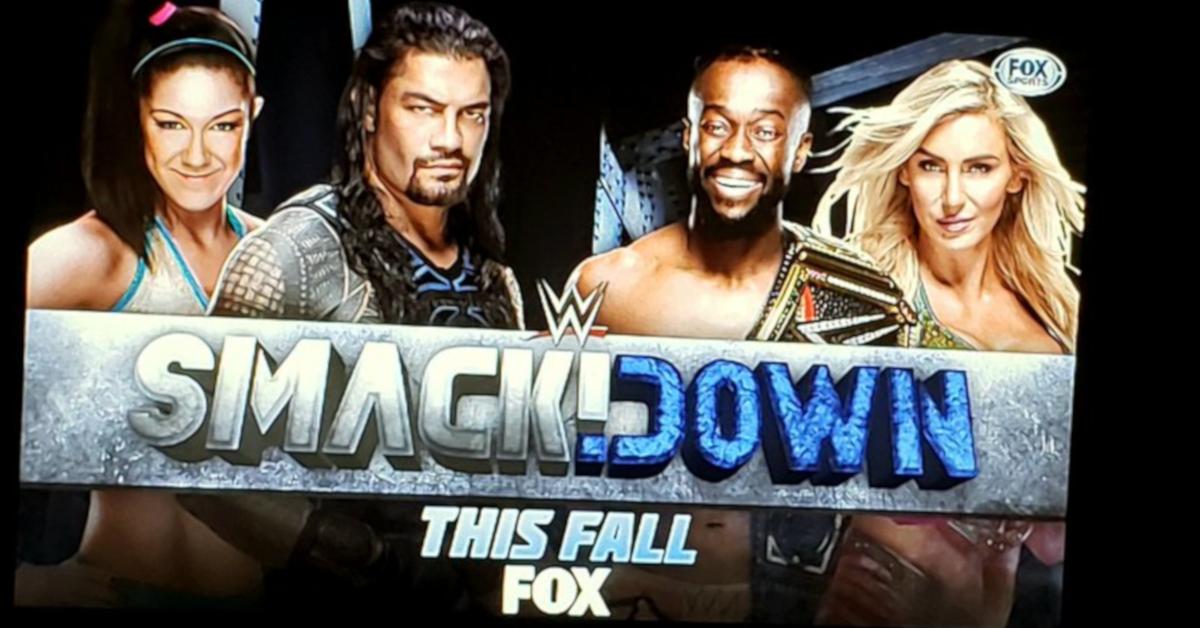 SmackDown Live isn't just getting a new network, it's also getting a new logo!
A Fox-branded advertisement making the rounds online shows that WWE dropped the "Live" part of the show's title along with completely redesigning the logo.
Article continues below advertisement
WWE announced in June 2018 that they'd be transitioning to Fox once their contract with the USA Network expired. For the past three years the cable station has been the home of Tuesday night pro-wrestling action. Prior to that, NBC Universal housed the program for six years.
The Hollywood Reporter writes that the WWE-Fox deal is a majorly lucrative one, valued at $1 billion, which puts the WWE at three times the earning value it was pulling in from NBCU.
Article continues below advertisement
What does the new SmackDown logo look like?
If you're a fan of the blue and grey color scheme, fret not. The logo wasn't drastically changed to something fans can't identify. RAW is still very much the "Red" brand and SmackDown is still rocking Blue. The font has decidedly changed, however, as it's been given a more "aggressive" look.
Article continues below advertisement
The letters appear to have been carved out of concrete and metal, and the exclamation point has been incorporated into the middle of the word "SmackDown" as it shares double-duty with the "D."
It's definitely a grittier rendition of the logo, and fans seem to like it.
It's important to note that this isn't the "official" logo per se. However, it's hard to imagine that it won't stick, especially after Fox has been blasting it on social media and in advertisements.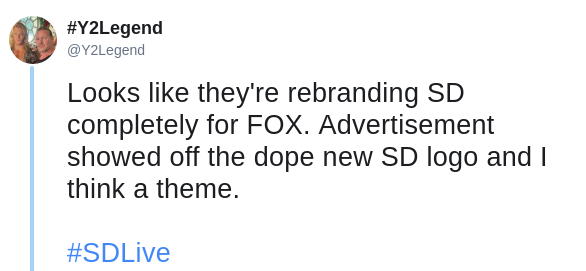 Article continues below advertisement

When is SmackDown finally coming to Fox?
There's been a lot of talk surrounding WWE's move to Fox, but it almost didn't happen. Burke Magnus, executive vice president of ESPN, said that they almost got the show instead of the major network. As it turns out, the decision not to take WWE had more to do with scheduling than anything.
Article continues below advertisement
"We did talk to WWE during their process some months ago. Took a hard look at it, we're obviously big fans of them. We just went into business with them on the XFL indirectly. But we couldn't find a fit for it, primarily based on schedule.
As you know, those properties are 52 weeks a year live. And I'm proud to say we have a pretty good problem, which is that we can't clear anything 52 weeks a year live. We have a pretty full portfolio of content as it is."
Article continues below advertisement
SmackDown will finally come to Fox on October 4th, 2019, but it'll be moving from its Tuesday night slot to Fridays. But don't worry, wrestling fans, it's still going to run for two hours.
The shift in days might have an affect on ratings for the show. It was once the highest-rated Tuesday night program, though it did drop below the 2-million views mark with a 1.93 score.
Are you excited for the Fox-WWE merger and the new SmackDown logo? Or do some of the more classic ones above tickle your fancy better? You can check out the whole history of SmackDown and its various rebrandings throughout the years by checking the fandom site here. It's a treasure trove for wrestling nerds everywhere.