The New WWE Title Redesign Features Some Pretty Obvious Design Choices but Still Looks Fresh
The WWE just debuted new Smackdown titles and a new Universal Champion design for the belt.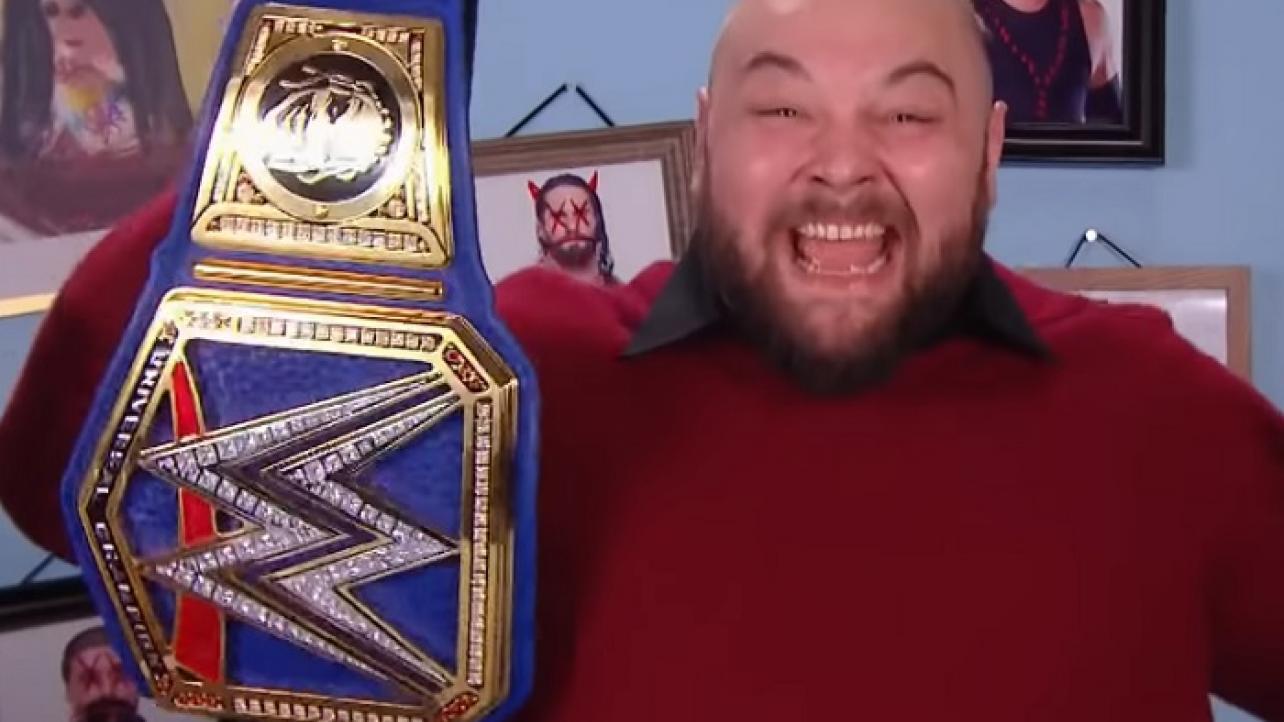 WWE fans have known for a while there would most likely be two new title designs revealed on WWE SmackDown. While one of the refreshes was a given, the second required a little bit of speculation.
Seeing as the WWE's Universal Champion switched brands from RAW to SmackDown, it was pretty easy to not only ascertain that that belt would get a makeover, but what the specifics of the facelift would be as well.
Article continues below advertisement
You really didn't need to be a rocket scientist to guess that the title would go from a red paint job to a blue one, given the nature of the two "opposing" brands. But what did come as a surprise was the wonderfully weird and whimsical way the refresh was unveiled to audiences.
If you're familiar with Bray Wyatt, then you know that the guy has a Master's Degree in off-putting, bizarre, and strange promos.
It doesn't get much stranger than his twisted interpretation of a children's variety TV show: his Firefly Fun House. If you've never seen this very specific type of promo, then do yourself a favor and check it out here. Bray has made it a habit of debuting various new aspects of and developments with his WWE character on the segment, like the frightening new custom mask that's become a staple of his entire persona.
Article continues below advertisement
Bray (doing his best goofy, yet oddly threatening impersonation of a children's TV show host) dons a magic outfit in a gloriously cheesy fashion. After casting a corny magic spell that mentions kids' parents "lie to them" and a wave of his wand, we see the red Universal Champion belt turn to blue.
It also sports a distinctly Bray Wyatt touch: two medallions emblazoned with horrifying logos of the wrestler's snarling mask decorate the sides.
Article continues below advertisement
If you're the kind of person who loves to buy replica WWE title belts and carry them around to work, the new SmackDown-themed title will cost you $429.99. If you were hoping to get the Bray plates on the side, then you'll be disappointed to find out that they don't come with them.
Then again, maybe you could ask him for a couple, I'm sure he'd be nice enough to give them to you.
Article continues below advertisement
While the new blue belt had a lot of people excited, some were hoping for a more revamped WWE title makeover. One twitter user wrote, "I was honestly hoping for a whole new title, but then remembered how lazy wwe was. Both titles suck."
Another penned, "Billion dollar company & they can't make a nice new different design they just change the colors the WWE & universal & raw & sd women's titles all look alike just different colors smh...I've seen Indy company's with better."
Others wrote that they haven't been impressed with WWE title designs for the past few years for Raw and SmackDown, "Agreed. I hate the new titles WWE has come out with for Raw & SD these last few years. Bland, boring, basic, unimaginative, repetitive, lazy etc are all words that describe the creative process that goes into making these titles and the finished piece. Lame."
While the Universal Championship belts get a lot of hate, WWE fans do have love for the NXT and Women's tag titles, though.
Article continues below advertisement
Will the WWE debut new Tag Team title belts?
Rumor was that new tag-team bling was going to debut on SmackDown, which would make sense now that the New Day is back in business and ready to take over the tag team landscape. Big E and Kofi Kingston cut a hilarious promo while holding the currently designed belts, but many thought they'd be ready to rock some new waist jewelry while on camera.
Article continues below advertisement
The New Day and The Revival's recent SmackDown match ended up in a no-contest, which is a classic pro-wrestling tactic to make rivalries grow only more. Expect the grudge between the two factions to only grow more and more, with fresh and shiny new tag team title belts on the line as either a SmackDown main event or a headlining PPV act.
What do you think of the Universal Champion belt in the WWE? Is it not regal or cutting edge enough? Are you excited to see new prospective Tag Team titles too? Or do you just want to watch more hilarious promos from the likes of Bray Wyatt and New Day? I mean if we're being honest, those wonderful "hype up" moments are the best part of professional wrestling anyway. Who cares about the belts?!