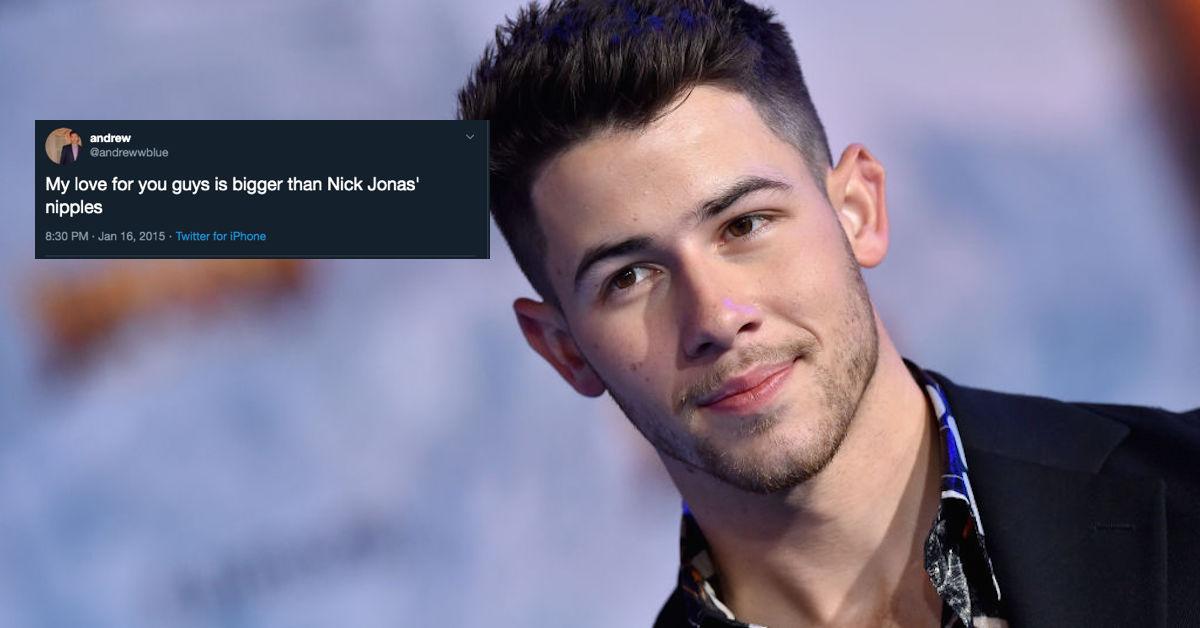 #TBT to When the World Thought Nick Jonas Had Giant Nipples
Due to a photoshopped photo that went viral in 2015, Jo-Bro fans were convinced Nick Jonas's nipples were gigantic, before finding out it was fake.
Don't believe everything you see on the internet, folks! You most likely heard that from the adults in your life once (or a million) times as a kid when you were surfing the 'net on your family's desktop. And although that piece of advice might actually be older than Kylie Jenner, the lesson remains true to this day thanks to the rise of social media and the creation of photo editing apps, including FaceTune, LightRoom, and Photoshop.
Article continues below advertisement
Likewise, remember back in 2015, when everyone thought that Nick Jonas had enormous nipples? The rumor spread like wildfire after a photo of the singer-songwriter in a bathing suit emerged, with — well — larger-than-life nips. Fans of the singer were quite literally shocked. Like, they couldn't believe their eyes.
Article continues below advertisement
The photo was, well, a sight to see.
Anyone can admit that Nick Jonas is an attractive man, regardless of your musical preferences or taste in men. But after a photo surfaced, in which the 27-year-old pop singer was shirtless, many were perplexed by Nick's nipple size. The photo went completely viral, with the #Meanies of Twitter going off about his "pepperoni nipples." In all seriousness, nobody could believe they were real.
Take a look at the image below, but proceed with caution. The enlarged nipples may shock you.
Article continues below advertisement
The rumors were ultimately fake.
In a 2015 appearance on The Kid Kraddick Morning Show, Nick set the rumors straight, regarding his alleged "pepperoni nips."
According to Body Rock, he said: "There's this picture that traveled around the Internet — it's fake, but I think a lot of people think it's real for some reason, and it's me at the beach and I don't have my shirt on and my nipples are humongous in the picture... My nipples are normal-size[d]." We uncovered a photo of Nick in which you can see he isn't lying — check it out, below.
Article continues below advertisement
Obviously, his brothers thought it was the funniest thing ever.
Most of the time, when your sibling gets themselves into an embarrassing mess like Nick's, you would most likely run to their defense. But in this situation, Joe totally leaned into the joke. In a 2016 Reddit AMA, when Joe was asked about Nick's nipple situation, the middle child made no effort to defend him.
According to E!, Joe said:
"Nick's nipples are not as big as they may appear. It did take multiple surgeries to get them down to a normal size. I think it was like 30-40 surgeries to just get them to a little quarter shape." So that could be why the rumors didn't quite die down... damn you, Joe Jonas.
Article continues below advertisement
To this day, people are shocked it was all a hoax.
Most of us remember exactly where we were when we "found out" about Nick's allegedly enlarged nipples. It was shocking, scarring, and even slightly game-changing. And even five years after the photo spread — and was debunked — in 2020, people are still tweeting about those allegedly huge nipples.
Article continues below advertisement
See what Twitter is still saying about that mind-blowing photograph, to this day. The responses will make you laugh, cry, and maybe blush a little bit.
Article continues below advertisement
Article continues below advertisement
The internet can be a truly wild place. We're glad Nick's nipples aren't quite that large, but if they were, we'd still love him all the same, XOXO.