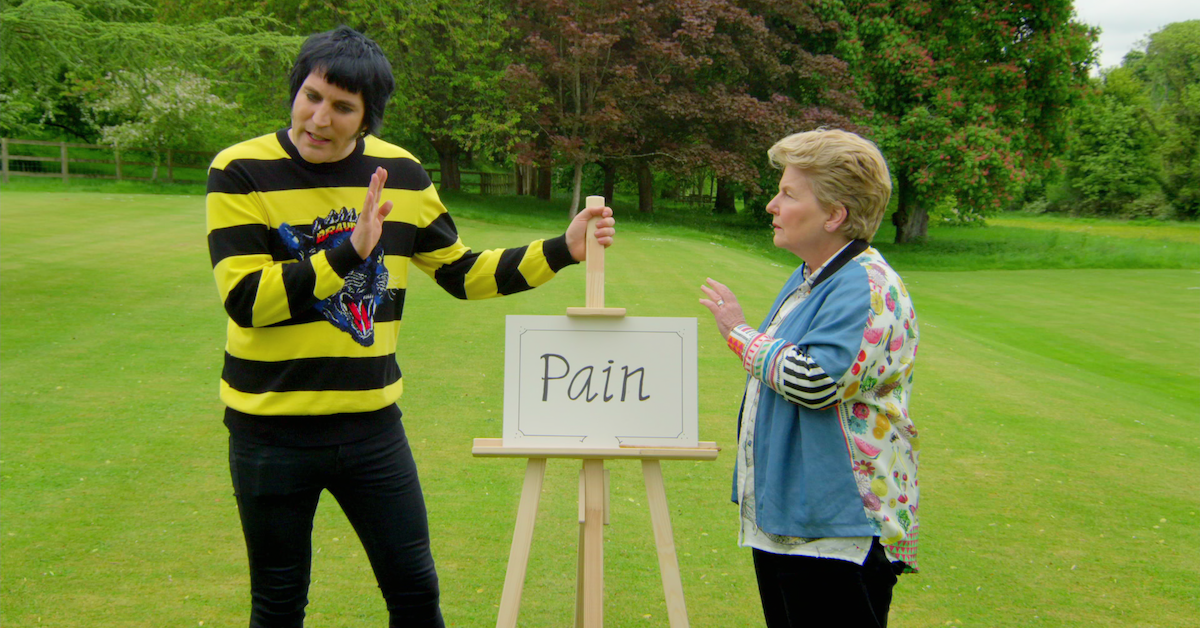 Noel Fielding Is Quickly Becoming the Best Thing About 'The Great British Baking Show'
Article continues below advertisement
Here's everything you need to know about Noel Fielding, the hilarious new host.
Article continues below advertisement
Noel Fielding is quickly becoming the heart and soul of The Great British Baking Show. 
"Off his f--king nut on LSD to write Mighty Boosh yet an incredibly witty and intelligent GBBO host," one fan wrote on Twitter. "Protect him at all cost."
While the host may be a new face to many American viewers, he has quite a long show CV when it comes to British entertainment.
Article continues below advertisement
Noel got his start as a stand-up comedian in the late '90s, where he gained recognition for his surreal stories, physical comedy, characters, and songs. He and his comedy partner, Julian Barratt, honed in on their skills to create The Mighty Boosh, a comedy series in which Noel and Julian play Vince Noir and Howard Moon, respectively, along with a host of other characters.
The Mighty Boosh gained a huge cult following since it was first developed from three stage shows and a six-episode radio series. It aired from 2004 to 2007 on BBC Three before Noel and Julian embarked on live tours across the U.S. and the U.K.
Article continues below advertisement
Since the success of The Mighty Boosh, the comedy duo went on to appear on U.K.'s Transmission series, Noel in his usual flamboyant attire, which viewers surely recognize from his appearances on The Great British Baking Show.
Noel is Britain's favorite Renaissance man.
Article continues below advertisement
We're not even doing total justice to Noel's impressive and extensive bio, which, in addition to his TV and comedy work, also boasts his musical skills — he's a DJ, has appeared in countless music videos, and occasionally plays bass for the band Robots in Disguise — and his art career.
He's had several exhibitions throughout England, including at the world-renowned Saatchi Gallery, where he showed a video installation entitled The Jelly Fox, and was the subject of a solo show at the Royal Albert Hall, He Wore Dreams Around Unkind Faces, in 2015. In 2011, he even received an honorary masters in art from his alma mater, Buckinghamshire New University, for his ongoing interest in the graphics area.
Article continues below advertisement
Noel is helping fans get over the departure of beloved hosts Sue and Mel.
Sue and Mel will always hold a special place in our hearts as the O.G. hosts of The Great British Baking Show, but as far as fans are concerned, Noel is the best thing that's happened to the series.
"Having Noel Fielding in a baking show was a genius move," writes on fan on Twitter. Another added, "Whoever thought to themselves, hey, let's put Noel Fielding on The Great British Baking Show is a genius and deserves a raise."
Watch Noel — and look out for his incredible outfits — on The Great British Baking Show, which airs week by week on Netflix.