Woman Refused Service at Restaurant Because Friend Didn't Tip — "Not Obligated to Tip"
A TikToker responded to a woman's post where she stated that "nobody is obligated to tip," and offered up a personal anecdote in response.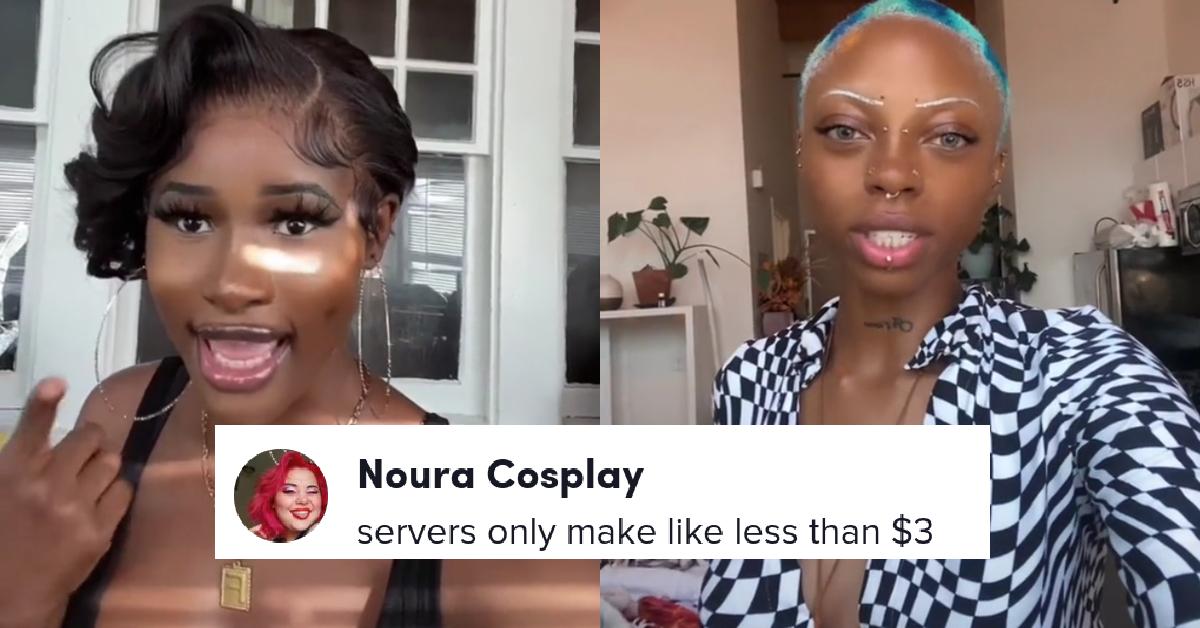 There are many parts of the world where leaving a gratuity for service is either considered the norm, or at the very least, is greatly appreciated. And then you have countries where it's considered downright rude to tip, like Japan and South Korea. And although tipping in the US has been around for a very long time, and was first "codified as part of The New Deal" in 1938, it still comes under heavy criticism, especially at cafes and other fast-casual restaurants where sit-down waiting service isn't the norm.
Article continues below advertisement
However, there are folks who contest that tips are "suggestions" at the end of the day and aren't required of customers whenever they frequent an establishment, and they aren't afraid to share this opinion in social media posts. Like TikToker @africanbarb who said in a video: "Nobody is obligated to tip no-f***ing body."
Another user on the popular social media platform, Bueli (who posts under the handle @buelistic) agreed with her, but shared a story time about gratuities while doing so.
Article continues below advertisement
Bueli says in her stitched video, "This girl is absolutely gorgeous and she's absolutely correct. Now I am a tattoo artist and I definitely encourage all of my clients to tip their tattoo artists. Especially since I'm a make a living offa that s**t but I definitely acknowledge that it is not a requirement and if I do get just my price then I should be fine with that as well."
Article continues below advertisement

She continued, "But I recognize that a lot of other people do not feel the same way. Let me give you a little story time. So yesterday I went to a restaurant with somebody that I love and we decided that this time we were gonna turn this duo into a trio and we invited one of our friends."
Article continues below advertisement

As it turns out, the person that they invited to the restaurant with them must've been known as a notorious "no tipper" so servers at the restaurant weren't inclined to come to their table.
Article continues below advertisement

"When we sat at the table none of the servers showed up and one of the managers came by and they told us that they would not like to serve us anymore and we asked them why and they told us that tipping was a big reason. Like I said before because of the field that I was in I do make sure that I tip everywhere I go."
Article continues below advertisement

Bueli went on, "But sometimes my peers may not always do that or have the finances to do so. But do you feel like this is a good enough reason to deny service to somebody for the rest of their life if it's based off of tips and the service isn't always up to par?"
Article continues below advertisement

TikTokers sounded off in the comments section of the post, with many of them stating that the nature of tipping has changed in the food service industry. Many believed that companies saw tipping culture as an opportunity to offset the costs of hiring employees by making the customer foot the bill for their expenses.
Article continues below advertisement

However, there were those who believed that if you can't afford to leave a decent enough tip, then you shouldn't be going out to eat at places that require servers to run your meals to and from the kitchen and wait on you throughout the duration of your meal.
Article continues below advertisement

"My mom always says don't go out to eat if you can't afford to tip"
"A lot of waiters and waitresses honestly need to just quit because they're not gonna fix this until they have no workers"
"I personally won't dine in if I'm not planning to tip my waiter that's just me I tip every where I go"
"I think we really should be looking to change wage for waiters. Tipping was supposed to just be extra for great service not the way people get paid"
Article continues below advertisement

What do you think? Do you believe that tips are always necessary because servers are nonetheless putting in their time at work and should be compensated as such? Or do you feel that gratuities are only acceptable when the service is exceptional?