People Are Texting Their "Number Neighbors" With Mixed Results
Have you ever wondered about the person with the phone number that's just one digit off from yours? These people did, and let's just say the results were mixed.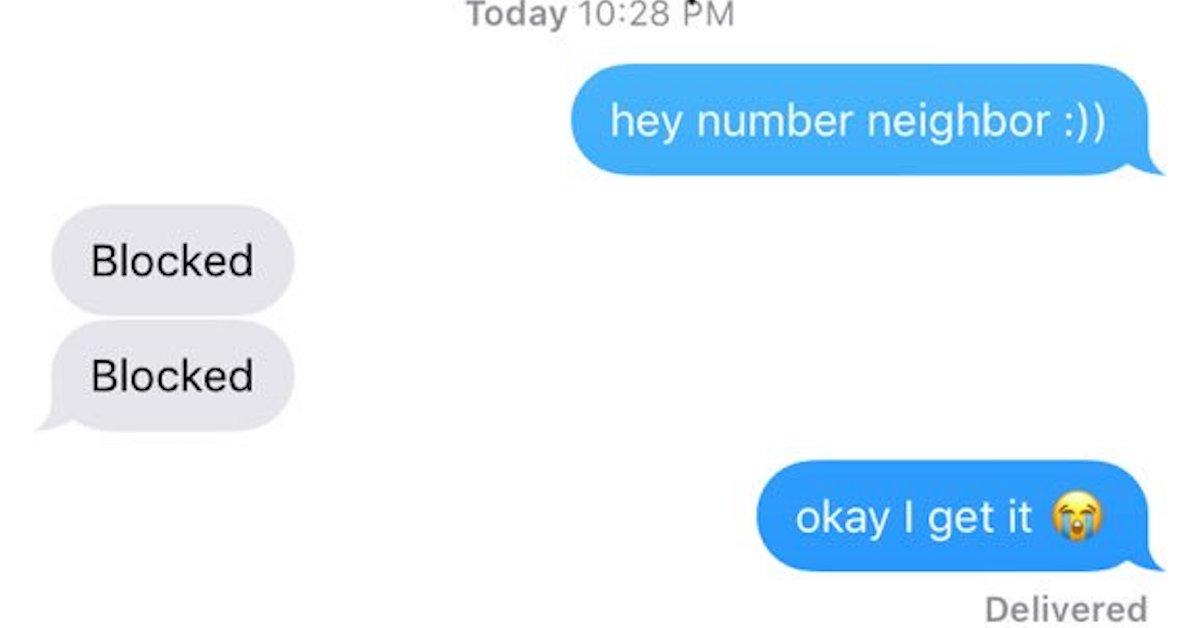 Have you ever wondered about the person with the phone number that's just one digit away from yours? If you view your ten-digit number as occurring in a sequence of 10-digit numbers, you have two "number neighbors" — the person with the integer before yours and the one after. However, despite having nearly the same phone number, they could just as easily turn out to have absolutely nothing in common with you as they could potentially be your soulmate. The point is, you'll probably never know — unless you reach out to them.
Article continues below advertisement
That's what some people on Twitter have been doing lately — dropping texts out of the blue to the person with the number immediately before or after theirs with a friendly greeting. Let's just call the results... mixed.
Article continues below advertisement
Josh here reach out to his number neighbor who clearly did not appreciate being texted on their "work phone." In fact, they disliked it so much they threatened to call the police over it, as if the cops don't have more pressing issues to deal with than a stranger texting you to say what's up. Even if Josh's number neighbor didn't enjoy this little experiment, plenty of other people did. More than 520K people have liked it as of this writing and nearly 100K have retweeted it.
And in addition to sharing his tweet, people have gone one step further by reaching out to their number neighbors. I have a feeling a lot of people are going to be getting some unexpected texts from people who share their area code and prefix.
Article continues below advertisement
Unfortunately, a lot of people hoping to find their next best buddy through this experiment were sorely disappointed, as they were met with confusion and derision from their number neighbors. There was once a time when you could expect to have a few things in common with your number neighbor. Before cellphones, it was likely you would live somewhat close to the person, but nowadays, people often take their phone number with them wherever they move in the country.
Article continues below advertisement
For example, I live in NYC, but my phone number is a holdover from when I went to college in the Pacific Northwest, which means my number neighbor is unlikely to even live in the same time zone as me. And if we don't even have geography in common, what else could we bond over aside from the fact that the first nine of ten digits in our phone numbers are identical.
Article continues below advertisement
Things even got a little intense with some of these attempts to connect. Here a guy texted his number neighbor and reached his wife instead, who was less than pleased to see her husband's phone blowing up with a strange number at 11 p.m. I can relate to that, but I do think she maybe took it to the extreme, saying she was about to attack her husband over the fact that someone was texting him. Calm down, ma'am.
On the other side of the spectrum, a few people found their number neighbors to be a bit overly familiar given they just met each other over text.
Article continues below advertisement
Alyssa here had a fun enough exchange at first, with her number neighbor kindly suggesting it's a bit old to be texting people you don't know, but then things took kind of a weird turn. I'm guessing she probably wanted to reach for the block button after these messages.
Article continues below advertisement
But every once in a while, someone would reach out into the darkness and find their number neighbor was actually pretty chill and funny, as was the case for Maria here, who found a good-natured person on the other end who was actually pretty funny.
Article continues below advertisement
And every so often, a true connection was born. @FreddiiiiCortes and his number neighbor bonded over being fellow iPhone users, whereas Fred's other number neighbor has an Android — I'm guessing he tried to text them and got the dreaded green "sent as text message" bubble.
And Mr. Smith here bonded with his number neighbor over code-switching. He sent a yellow wave emoji "in case you didn't like black people," but when the receiver waved back with a brown waving hand, it was on, and Number Neighbor commiserated by saying they use a "white voice" on the phone just in case.
Article continues below advertisement
Here's hoping if you reach out to your number neighbor you are received as warmly as this. Happy texting!