Relax, Ozzy Osbourne Isn't "on His Deathbed"
Rumors recently began swirling that Ozzy Osbourne is on his deathbed. However, they're just that: rumors. The Prince of Darkness is doing just fine.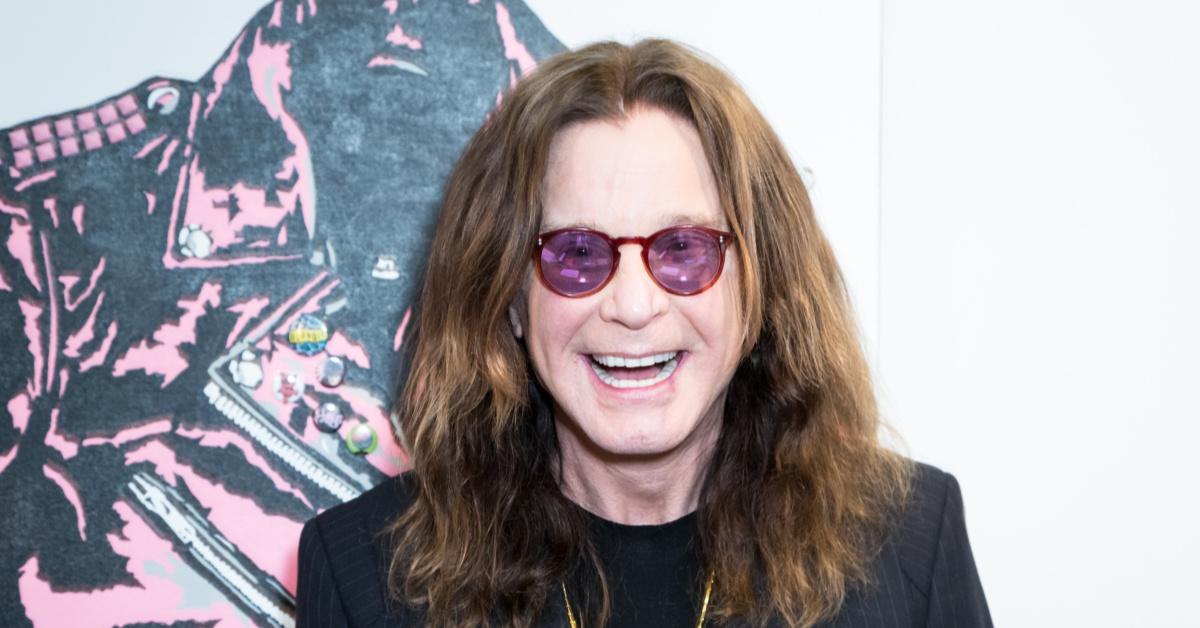 News flash: You can't believe everything you read on the internet. I know, I know. It's a shocking revelation. In the latest installment of Unfounded Internet Rumors, we heard that Ozzy Osbourne is on his deathbed. But — surprise, surprise — he's actually not. Here's the info we have about Ozzy's health (which, again, is not failing).
Article continues below advertisement
Rumors that Ozzy Osbourne is on his deathbed recently began swirling online.
Celebrity death rumors are certainly not a new phenomenon — we've all seen the panicky posts on various social media networks saying that some celebrity has shockingly passed away or is facing some other tragedy. And because some people don't do enough research before sharing shocking stuff online, the rumors spread like wildfire. Such was the case regarding Ozzy.
Article continues below advertisement
Many of his fans took to social media to share the shocking "news" that Ozzy was on his deathbed. A quick scroll through Twitter shows that thousands of people were shocked to hear Ozzy was not doing well.
Ozzy's daughter Kelly Osbourne set the record straight in an Instagram Story.
Kelly Osbourne posted an Instagram Story on New Year's Day in reaction to the rumors about her father's health. "Today I had a wonderful start to 2020," she wrote. "I went out to lunch with my family. Then spent the rest of the day laughing and hanging out with my dad."
Article continues below advertisement
"I come home to read sickening articles about my dad supposedly being on his "death bed" sometimes the media makes sick!!! It's no secret that my dad has had a rough year when it comes to his health but come the F--K on this is utter bulls--t."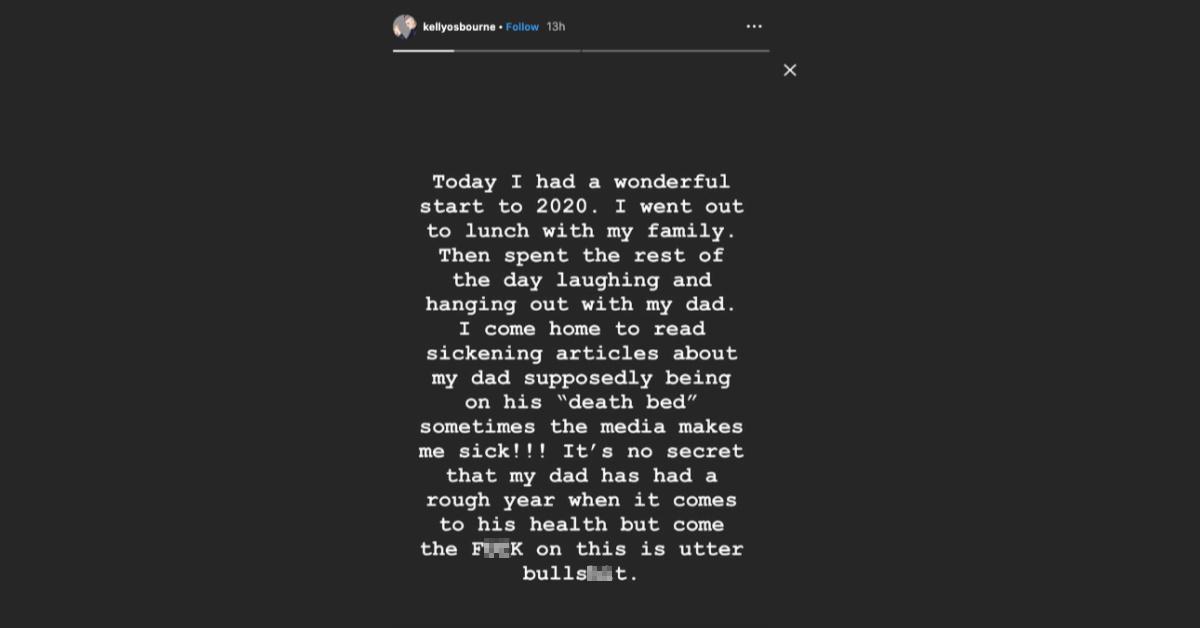 Article continues below advertisement
Kelly's Instagram Story should be enough to set the record straight — Ozzy Osbourne is not on his deathbed. The people who were sharing that information were misinformed and were also misinforming others in their haste to spread the news.
In fact, Ozzy Osbourne was seen out and about on New Year's Day.
TMZ caught some video of Ozzy and Sharon filling up their Rolls Royce at a gas station on New Year's Day — not exactly something someone on their deathbed would do, wouldn't you agree? Something tells us that if Ozzy were actually on his deathbed, he'd have some other priorities.
Article continues below advertisement
Ozzy has had a difficult year, health-wise.
Back in October, Ozzy took to Twitter with an update regarding his health and the postponement of his tour. "As you probably know or you may not know, at the beginning of this year I had a bad fall," he said. "I just screwed all the vertebrae in my neck and I had to have surgery. So I've got more nuts and bolts in my neck now than my car."
Article continues below advertisement
He went on to say: "I'm not dying. I am recovering. It's just taking a little bit longer than everyone thought it would [...] I postponed my European tour because I'm not ready. I'm not retiring. Still got gigs to do. When I do come back on the American tour I want to be 100 percent ready to come out and knock your f–king socks off."
Ozzy had previously postponed his tour due to contracting a potentially deadly staph infection in his hand. Before that, he had the flu and then pneumonia which landed him in the ICU. Needless to say, Ozzy's had a rough time — but he really does seem to be doing all right for now!
In fact, he cheekily posted a link to his song "Alive" on Twitter, presumably in response to those deathbed rumors. That's just Ozzy being Ozzy and telling his fans there's no need to freak out. He's not going anywhere.