Parents Share Hilarious Stories of Being Outsmarted by Their Own Kids
Kids are sneaky, and if they need your PIN to watch a TV show, they'll figure out a way to get it.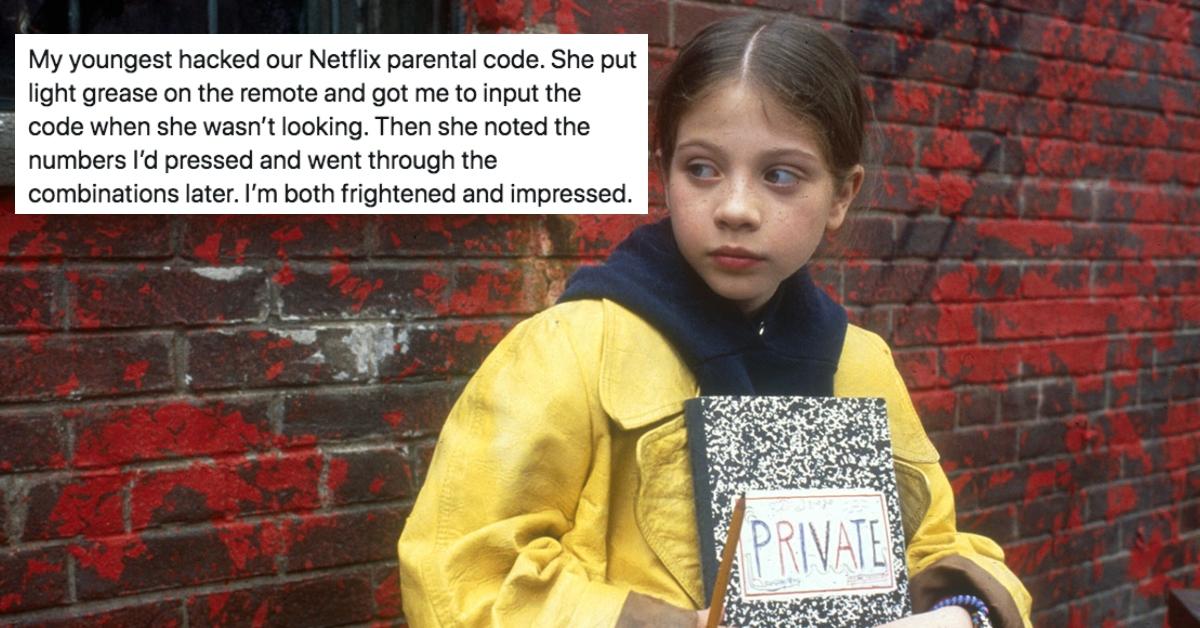 It's never a good feeling to get outsmarted by a child, especially one that you created. But evidently, it's not all that uncommon of an experience. Ed O'Loughlin shared how his 12-year-old daughter sneakily stole his Netflix parental code and went viral. Soon, thousands of other parents chimed in with similarly disturbing stories of their young children outwitting them to get what they want. These are some of our favorites.
Article continues below advertisement
She put grease on the remote and then recorded his fingerprints! That's elaborate! Ed explains that she's 12 years old and wanted to watch The Umbrella Academy, which she was allowed to watch anyway, so it wasn't a huge deal. Still, it is a little terrifying that she has the capacity to be so sneaky.
This is incredible! This 6-year-old's parents now have to change the passwords weekly because he's too smart and finds them out. Imagine having to sneak around like that around your own, too-smart child.
Article continues below advertisement
TWO! She's 2 years old! And she can already pick a lock with a hair pin. Not only is that frightening, but it's also impressive and a really good life skill. But yes, this mom is definitely doomed.
Oooh, this is a sneaky one, and risky too! But if you know your parent has a penchant for talking in their sleep without remembering what they say the next morning, it's worth a shot.
Article continues below advertisement
OK, I'm going to go ahead and say this one's on dad. What 15-year-old is "fixing" the wifi on his dad's phone if they've been complaining about the restrictions? Obviously, he just wanted more wifi access. Obviously.
This kid built an entire computer in the basement in the age before internet access without his parents noticing. Did they...never go down into the basement? How?! How?! I mean, good for him, but how?!
Article continues below advertisement
I absolutely love that they drew their parents' ATM PINs on the window with their breath. Hilarious. Perfect. Wonderful. I mean, not great for privacy reasons, but definitely great in every other way.
Look, no matter where you put chocolate, your kid is going to try their darnedest to get to it. Might as well put it where they can reach it without having to risk getting hurt. Though the teamwork thing is pretty heartwarming. You do gotta hand it to them. They really nailed the cuteness factor in this chocolate heist.
Article continues below advertisement
At 4 years old this kid knew what number they had to get to access more Peppa Pig episodes and then was sneaky enough to steal it and plug it in. At that point, you have to enroll the kid in spy school, I think. That's a lot of steps to be able to conceive of and execute at the age of 4.
This magician literally stole the SIM card out of her own phone as it was being taken from her. That's genius! Not to mention, she's probably got the fastest hands in town. I think it's time she start her sleight of hand magic career.