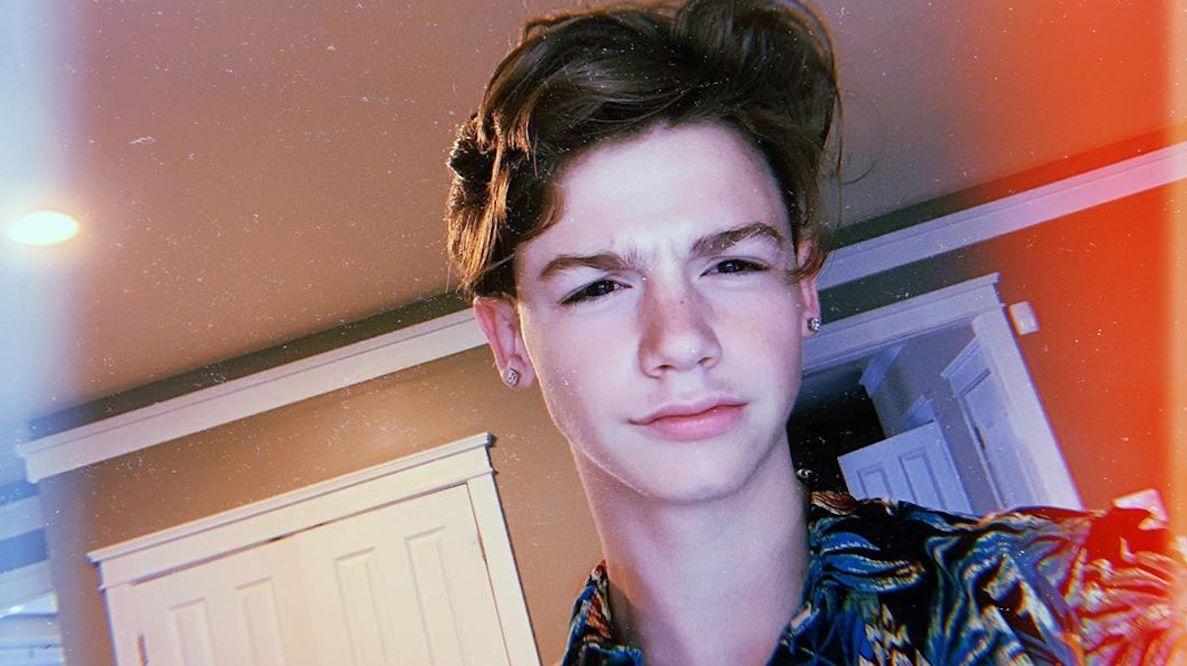 TikTok Star Payton Moormeier Is Not Dead, Victim of Death Hoax
The latest victim of a death hoax is TikTok star Payton Moormeier. Fans of the viral celebrity took to social media after headlines surfaced online that the 16-year-old was found dead in a car accident.
Article continues below advertisement
"Are u dead? There's rumors going around and i'm not sure so likeee... plz respond," one follower tweeted. Another fan suspected it was a prank right away, writing, "This made me laugh my f--king a-- off @yourpayton... ur alive right."
Payton Moormeier quickly responded to the death rumors. 
Payton took to Instagram to dispute the bogus news story that he was killed in a car crash, writing, "Yo wtf is this." Just hours earlier, Payton was documenting a road trip to Venice Beach and TikTok headquarters with his friends that may have inspired the troll behind the hoax.
Article continues below advertisement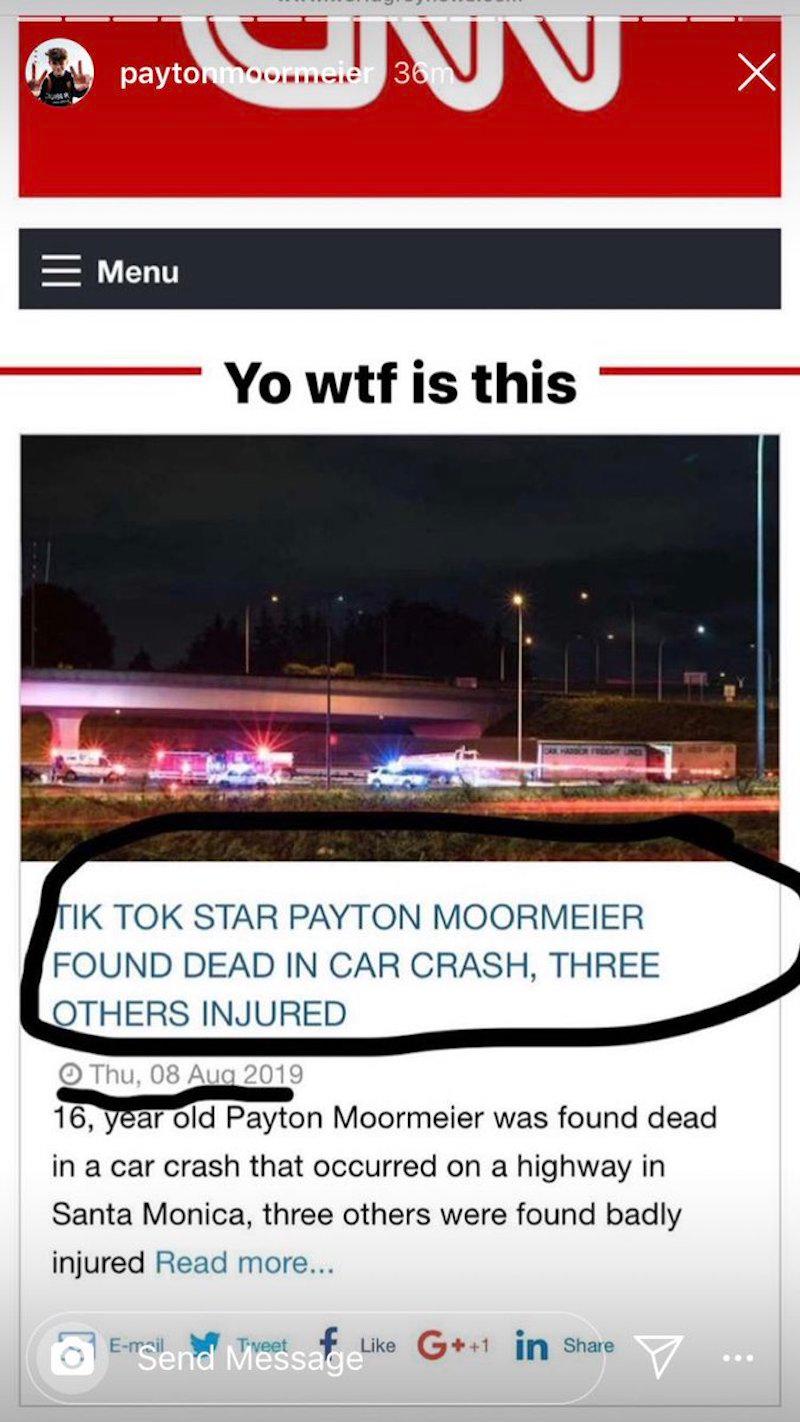 He also uploaded a series of photos to the social media platform around the same time, which he captioned, "Hella heart eyes 4 U."
We're just glad Payton is OK.
Article continues below advertisement
Payton is one of the hottest content creators on TikTok. 
Payton has over 4 million fans on TikTok and has amassed over 135 million hearts on the musical platform. He also has over 1 million followers on Instagram and 300K subscribers on YouTube.
Not bad for a kid who has yet to graduate from high school.
And at this year's VidCon, Payton was clearly one of the most popular names in the lineup.
"Yesterday evening, an ever-replenishing stream of teenage girls inundated Joe Waud, a 16-year-old with 1.1 million followers on the platform, and Payton Moormeier (15; 3.3 million followers) with requests, and Waud and Moormeier happily obliged," The Atlantic described of the event.
Article continues below advertisement
"They talked to fans' mothers, took selfies, signed notebooks, posed for videos, and recorded skits for fans' personal Instagram and Snapchat accounts."
According to one fan, "I ran and jumped into Payton's arms… We took TikToks with some big people."
Article continues below advertisement
Is Payton single? 
Girls, listen up. It looks like Payton is very much single — and he's revealed a few things about himself that might help you land Payton as a prom date.
First, he loves strawberry banana smoothies. Next, his favorite animal is a dog, and lastly, he just wants to spread some happiness in the world.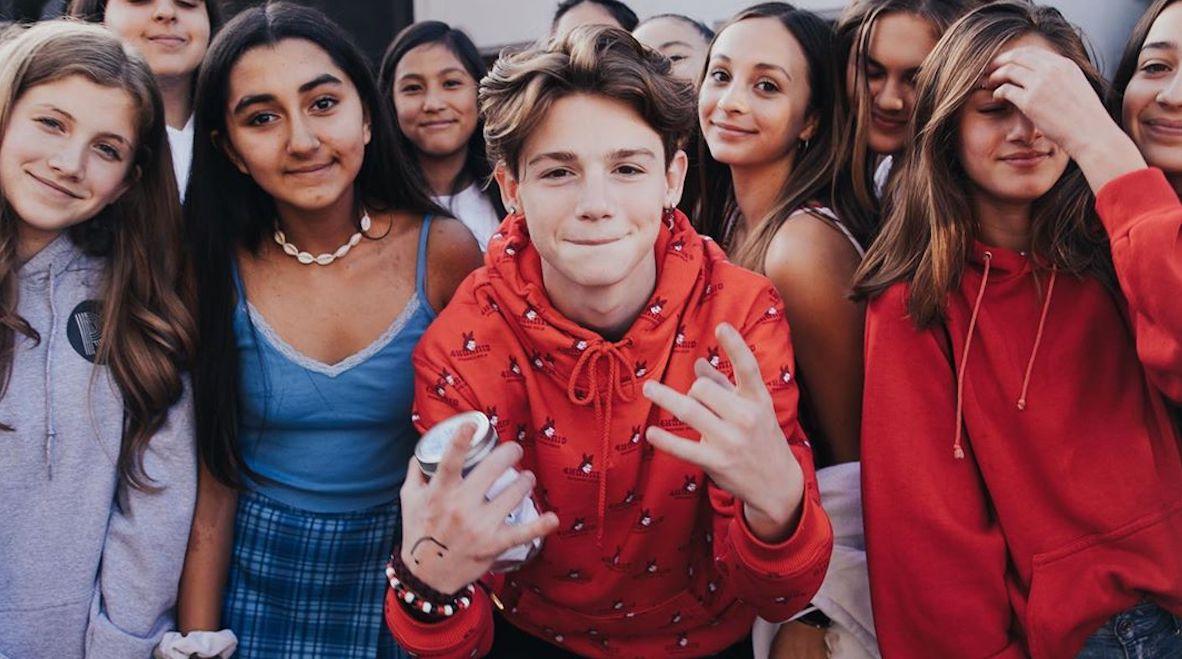 Article continues below advertisement
"I told my mom I wanted to make people smile, thanks for changing my life," he gushed to his fans on Instagram. And as expected, his followers shared their love for the Tik Tok star.
'You never fail to make me smile, so I'd say you're definitely succeeding," one fan commented before another agreed adding, "So Proud Of You Bb."
A third chimed in, "I'm not smiling I'm crying cuz u too cute."