People Caught Sneaking Into Beyonce Concert, Steal Seats and Refuse to Get Up
A woman uploaded footage of Beyonce concert crashers arguing with security after they were caught stealing seats, folks say it's a widespread problem.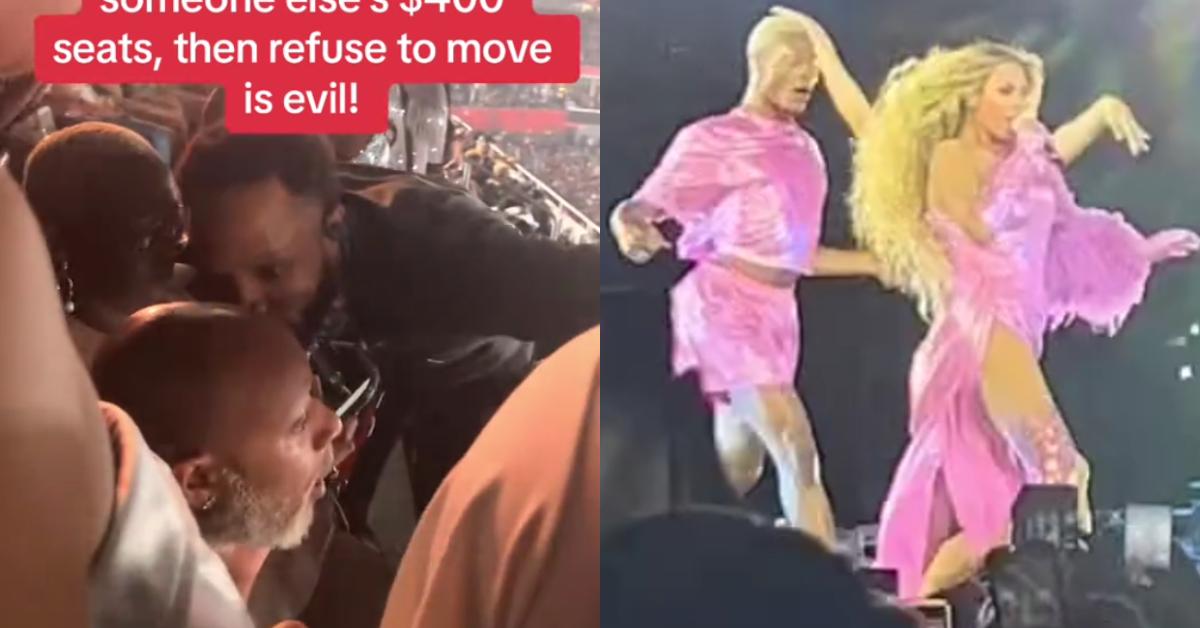 A Beyonce fan was left frustrated and gobsmacked after a couple of concert crashers tried stealing her seats. TikToker @micolefoster posted about her experience in a viral clip that's accrued over 1.1 million views on the app, along with a flood of comments from other folks who said they too had the same experience while going to see Beyonce.
Article continues below advertisement
In a text overlay of the clip, she writes: "Ruining everyone's experience because you decided to finesse your way into Beyonce concert in ATL and steal someone else's $400 seats, then refuse to move is evil!"
In the video, a man rocking an earpiece, decked out like he's working security for the concert, is speaking to the individuals in question who are refusing to get out of the seats.
Article continues below advertisement
@micolefoster gives further context in a caption for the video, delineating how these two folks sneaking into the concert ended up causing a chain reaction of awkwardness and just overall bad times.
Article continues below advertisement
"These two people wouldnt get out of these girls seats, which caused them to sit in our 2 seats. Nah baby, yall got up them seats!! It was terrible" she added.
The big question on everyone's mind, which they made known in the comments section of the video, was just how in the world did someone manage to break into one of the hottest tours going on right now?
Article continues below advertisement

Judging from the responses that several other TikTokers had, it seems like this wasn't an isolated incident: "But how where they just letting people in with no tickets? I keep seeing this on my timeline," one person wrote.
Article continues below advertisement
Someone else said: "I got to my seat and someone was sitting in it but it was quickly rectified"
"Somebody was in mine too and I had to get security to get him OUT," another person wrote.
And it doesn't appear to be an issue that was specific to just the Atlanta concert, either, as another TikToker penned: "Happened to me 2 nights in a row at her Vegas show. Then they look at you all crazy when you ask them to move"
Article continues below advertisement

In some cases, it did seem like someone sitting in someone else's chairs was legitimately an honest mistake: "I accidentally sat in someone's seats at my show and was mortified when they came up to me I felt so bad"
Article continues below advertisement
@micolefoster replied to the aforementioned TikToker that she wishes the people who tried stealing her seats were as polite: "At least you got up. These people were awful and wanted to fight us."
So how were folks able to sneak into the Beyonce concert? According to TikTok users in the comments section of the post, it's because security purportedly wasn't doing its job.
Article continues below advertisement

"bro the employees were not doing their jobs! I had to tell somebody to get out of my seats!!" one TikToker wrote in response to the video.
Article continues below advertisement
@micolefoster agreed with their assessment, writing that it took her a long time to get these people out of her seats: "They were not!!! It was as if they requested volunteers or something. It took forever to get someone to have them move.
There are several TikToks posted from users on the platform bragging about how they purchased cheaper tickets and then managed to get themselves closer to the stage. This one person bought himself a $100 ticket and then wore a fake wristband and showed it to a security guard who then allowed him to get on the floor.
Article continues below advertisement

All he did was then find an empty floor seat and he enjoyed the concert.
Have you ever dished out money for a live event only to show up and find someone nestled up in the seats that you paid good money for? How was the situation handled?