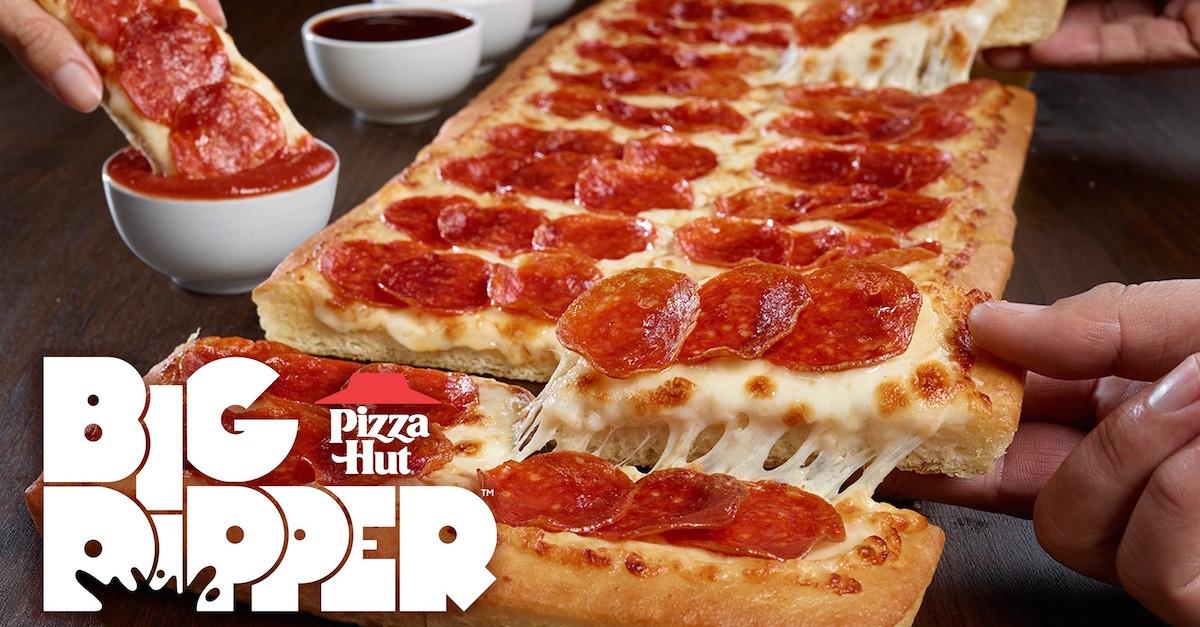 This Classic Menu Item Is Finally Returning to Pizza Hut, but Why Did It Ever Leave?
Longtime Pizza Hut fans, cheese lovers, and dipping enthusiasts alike are literally dying right now — the fast food pizza chain is bringing back one of its all-time fan-favorite classics, the Big Dipper Pizza, to locations nationwide. Needless to say, this is the delectable piece of good news all of us needed to hear at this moment in time.
Article continues below advertisement
So, what can Big Dipper newbies expect from Pizza Hut's new (old) creation, and why was it discontinued in the first place? If you're determined to snag a slice for yourself, here is absolutely everything you need to know regarding the timeless menu item.
Article continues below advertisement
What is Pizza Hut's Big Dipper Pizza?
If you didn't get a chance to try Pizza Hut's Big Dipper before it was discontinued several years back, let me give you the rundown: according to a press release, it's a giant rectangular pie, (either cheese, pepperoni, or half-and-half), and is accompanied by a glorious trio of dipping sauces, including: marinara, ranch, and finally, honey BBQ. Is your mouth watering yet?
While Pizza Hut's Big Dipper Pie provides guaranteed satisfaction for hungry pizza lovers, it's also a total win in terms of cost efficiency. According to the press release, it contains 24 slices of pizza, amounting to almost 2 feet of 'za, and will only cost you $12.99. It pretty much goes without saying it's a super solid deal.
Article continues below advertisement
Why was Pizza Hut's Big Dipper discontinued in the first place?
When Pizza Hut discontinued their Big Dipper Pizza all those years ago, fans were completely shook. Reddit user u/plazmamuffin, for example, wrote in a Reddit post, "Years ago when [the Big Dipper] was a seasonal item my wife and I would get it every week we loved it so much. Why did they decide to never bring it back?"
Article continues below advertisement
Twitter user @ToniAnnPierce took to Twitter, saying: "The Big Dipper from Pizza Hut used to be my favorite until they discontinued it," and Twitter user @goldsbylockz said: "So mad they discontinued big dipper pizzas."
Clearly fans weren't happy, and honestly, nobody knows why it was taken off the menu. Maybe Pizza Hut was looking to try something new, or to introduce new menu items. All we know is that its absence was seriously devastating.
Article continues below advertisement
Here's what fans have to say about the return of Pizza Hut's Big Dipper.
Obviously, Pizza Hut stans are going wild over the return of the Big Dipper. @KattZombiee, for example, celebrated its return on Twitter, saying: "The big dipper is back, someone send me a pizza hut gift card asap." Meanwhile, @DryK00ch responded to Pizza Hut's announcement, saying: "I luv u pizza hut."
If you're one of many who are dying to try a slice of the Big Dipper, however, keep in mind that it's only available for dine-in and carry-out for a limited time. We don't know when it will disappear from the menu or why they'll be taking it out of our lives again, but as Robert Frost once said, "nothing gold can stay."
Article continues below advertisement
Regardless of the distress Pizza Hut caused several years ago by taking away the Big Dipper, fans are warmly welcoming its return. Fingers crossed they bring the Sicilian Lasagna Pizza back next — it would literally transport us back to middle school.