Viral TikTok Showing How Workers Package Plastic Cups Sparks Huge Debate
A now viral clip that's making the rounds on TikTok shows workers packaging plastic cups in a way that many users found unsanitary.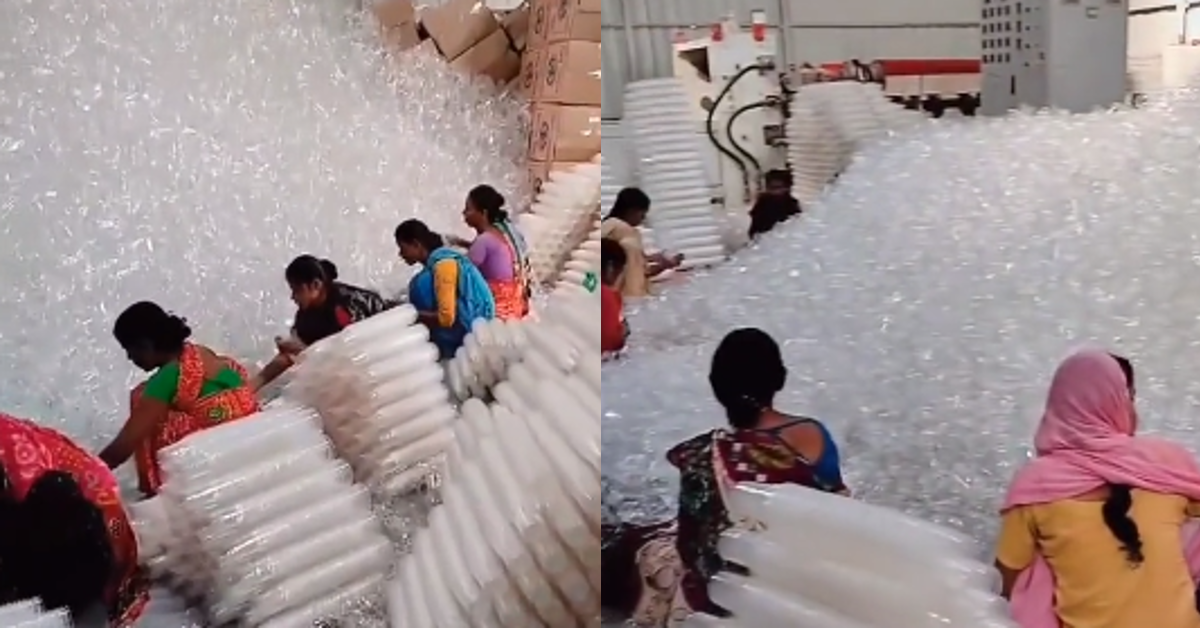 While there's a lot of debate surrounding the sustainability of plastic utensils, there really isn't much thought as to what would be considered the "cleaner" option when it comes to eating. If someone's a germaphobe, then there's a good chance they'll probably opt to eat their meal with a pre-sealed set of cutlery as opposed to whatever stainless steel spoons, forks, and knives they're being served at a restaurant.
Article continues below advertisement
The same goes for glasses and cups. Have you ever thought about how plastic cups are created and packaged? Do you imagine that there is massive cold, calculating machines working with unstoppable efficiency to mold and then dispense the cups into separate containers, and then other machines then take these racks of cups to a truck that's then delivered to your local retailer?
While that may be the case (for the most part, minus the robot overlords transporting the cups to a robot-operated truck) one TikTok shows a plastic cups manufacturing plant operating a bit differently than that. In a clip uploaded by TikTok user @ericmagicmina several women are shown working near a massive stack of plastic cups, putting them away with what looks like their bare hands.
Article continues below advertisement
Throngs of TikTok-ers seemed to take issue with the fact with what they presumed was an issue of "sanitation" when it came to packing the plastic cups.
"I buy plastics to avoid washing dishes, so now your telling me I got to wash my plastics too?" @rosebabiieeee wrote.
"Yeah this just isn't sanitary, that garbage company should provide a mask, hairnet and gloves at MINIMUM…. That's a fact," @manwith2dogs penned.
Article continues below advertisement

While others thought all of the commenters who were worried about how sanitized the cups were a bit ignorant on how packing equipment works, "These comments. Like automated packing equipment instantly sanitizes things. 😂 Some of y'all have never stepped foot in a factory."
Article continues below advertisement

There were other TikTok users who pointed out the silliness of worrying about how the cups are packaged: "We've all been drinking from these cups forever and we're still here, all healthy 😁"
But the biggest concern from those in the comments section seemed to be more about the working conditions of the cup packing employees than whether or not they were wearing any hairnets or gloves.
Article continues below advertisement
@nobro680 wrote, "Somethings wrong with you if you think about yourself during this video."
@oiodion commented, "everyone complaining abt hygiene should recognize they're looking at the people who make their way of life possible."
While @toyasodulce remarked that the individuals who are working in the clip probably didn't earn a livable wage: "Ya worried bout the cups not being sanitized… ya don't see the condition they working in… you kno they get paid less then 1$ to do this all day."
Article continues below advertisement

There still seemed to be those who doubled down on the idea that the real problem with the clip was an issue of sanitation, not human rights: "Yeah but the point is they're putting bare feet and hands on the cups people drink straight out [of] the package from."
Another wrote that they didn't think bacteria would be a problem as it would be dead by the time it reached wherever the cups were being shipped off to.
Article continues below advertisement

According to Live Healthy, most viruses and germs lose their ability to infect individuals after 24 hours. So keep sipping away on those plastic cups. Or you know, just wash your own dishes and re-use them.