Popeyes' Uniforms and Beyoncé's New Clothing Line Look Exactly the Same
Many compared Beyoncé's new Ivy Park for Adidas line to Popeyes' uniform, so the chain has decided to sell uniforms to all who missed out. Details.
Fellow members of the Beyhive like myself were eagerly waiting for Queen Bey to release her new Ivy Park for Adidas Line for quite a few months but the line sold out within a few hours online and in-stores. But when the Twitterverse began noticing that several pieces from the line closely resembled Popeyes' uniforms, the fried chicken company had a rather genius idea.
Article continues below advertisement
Since many have noted that Popeyes' uniforms and Beyoncé's new clothing line look nearly identical, the fast-food brand decided to sell a limited number of their uniforms to Beyhive members and fried chicken fans alike.
So if you're looking to dress like your favorite chain's employees, here's everything you need to know about purchasing merch.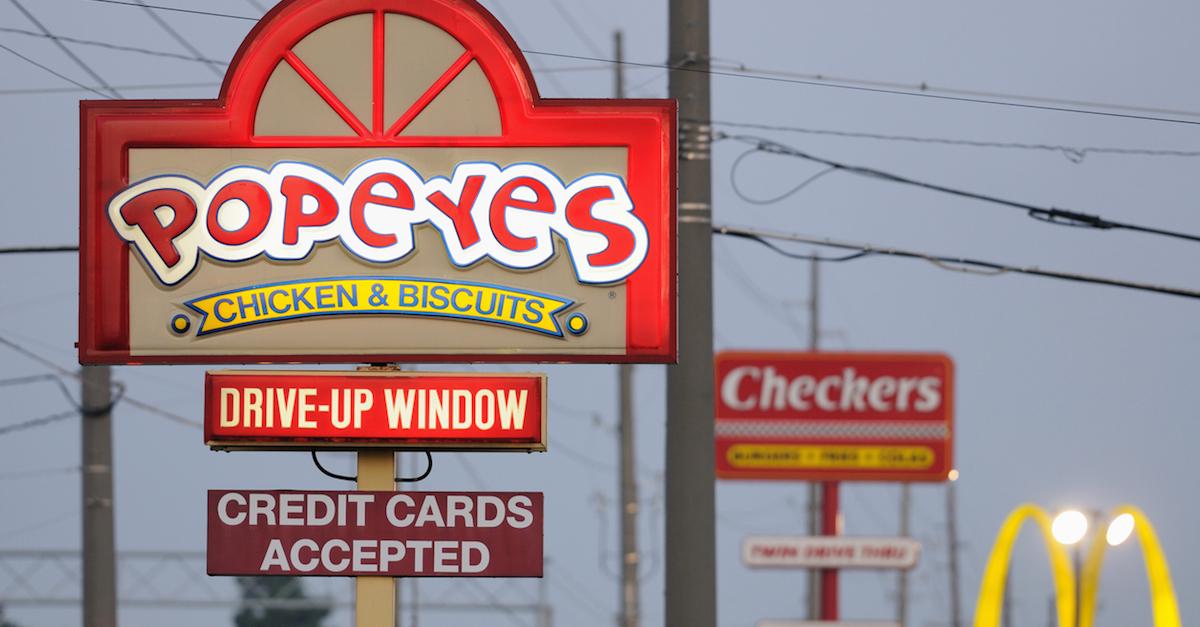 Article continues below advertisement
Popeyes' uniforms are limited, so get them while you can.
While missing out on Yoncé's new offerings stung like no other, Popeyes' new clothing line is now officially available, and like, I guess that's almost close enough? The uniforms feature the chain's iconic maroon and orange colors, and according to the brand, they are using real Popeyes team members to model the ~lewks~ in the official Popeyes lookbook.
Per the press release, the collection features a total of 10 different items, including a hooded jacket, a crewneck tee, a crew neck sweatshirt, a tunic, a half zip, a short sleeve polo, a button down, an orange cap, a khaki visor, and a khaki cap. Everything is under $40, and all of the proceeds will go to the Popeyes Foundation, which sends food to families in need.
Article continues below advertisement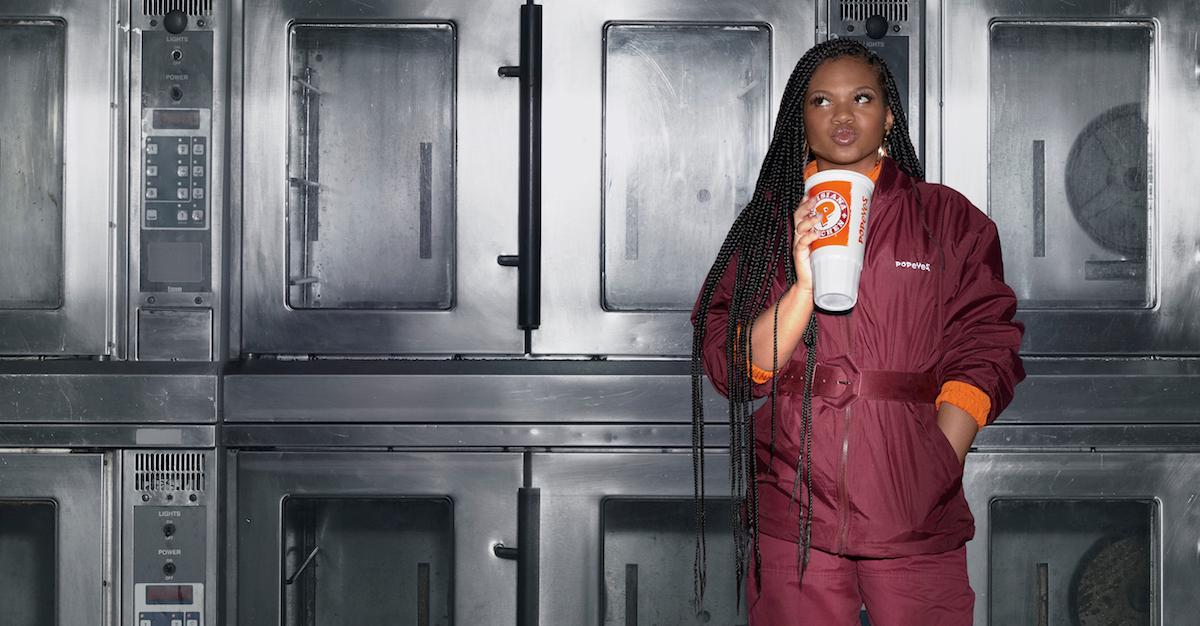 So, how can I get my hands on one?
Popeyes' new fashion line is officially available for purchase as of Wednesday, Jan. 29, so you can rep your favorite restaurant all the time. So if you'd like to spice up your closet and get some merch for yourself, make sure to head to the chain's lookbook as soon as you possibly can.
Article continues below advertisement
However, fans will definitely want to get their hands on the Popeyes fashion line before it's all gone — according to the press release, the brand is only going to be selling a limited supply. And missing out on these gorgeous pieces — in addition to Ivy Park for Adidas — would be a real shame, if you ask me.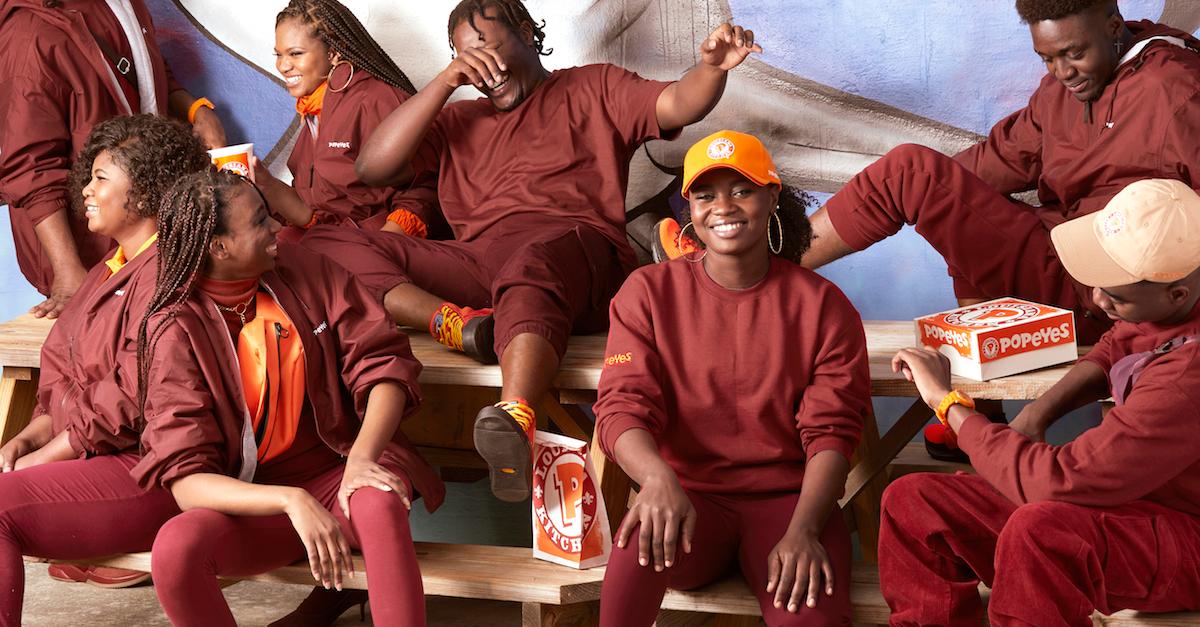 Article continues below advertisement
Was Beyoncé's line intended to look like Popeyes' uniforms?
The "Love On Top" singer has not revealed if her line was meant to look like Popeyes' uniforms, but just like you and me, Beyoncé is — in fact — a confirmed fan of the fried chicken chain. According to AL, Beyoncé is a longtime fan and owns a free-Popeyes-for-life card. She's truly living out all of our wildest dreams.
But seeing as Yoncé is now vegan, she most likely doesn't use it anymore... oh well.
Whether you're snagging Popeyes' fashion collection because you love fried chicken or if "Drunk In Love" is your all-time favorite song, each of these glorious pieces are mouth-watering must-haves. Needless to say, I'm ordering myself a hat as we speak.