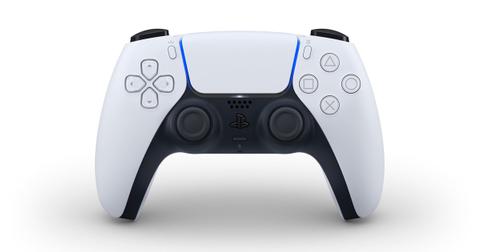 People Can't Stop Roasting the New PlayStation 5 DualSense Controller
By Brittany Vincent

Apr. 16 2020, Updated 12:48 p.m. ET
On April 7, Sony finally debuted the new PlayStation 5 controller and nearly broke the internet. Given that we still haven't seen a glimpse of the upcoming PlayStation 5 system, this is our first real taste of next-gen from the manufacturer. And we have to say it looks totally different from its predecessor. 
Gamers, meet the DualSense controller – no, not the DualShock, the DualSense. It's a pretty far departure from the last controller, which definitely explains all the memes. 
Article continues below advertisement
Oh, you hadn't heard? The controller has been kicking up an awful stink on social media, with plenty of people piping up to offer their thoughts on it, for better or for worse. It's one of the hottest memes going right now, and for good reason. It looks like a robot. It looks like an Xbox controller. It was wholly unexpected by gamers. And thus, a meme was born, because the internet will always jump on anything it can roast within half an inch of its life. Here are some of the funniest memes. 
Article continues below advertisement
The best PlayStation 5 controller memes