Twitch Suspended Streamer Quqco For Her "Sexually Suggestive" Cosplay
On September 15, Twitch user Quqco was suspended for wearing a Chun-Li costume on the platform. She most recently was banned for cosplaying as Mai Shiranui. Did she really violate Twitch's guidelines?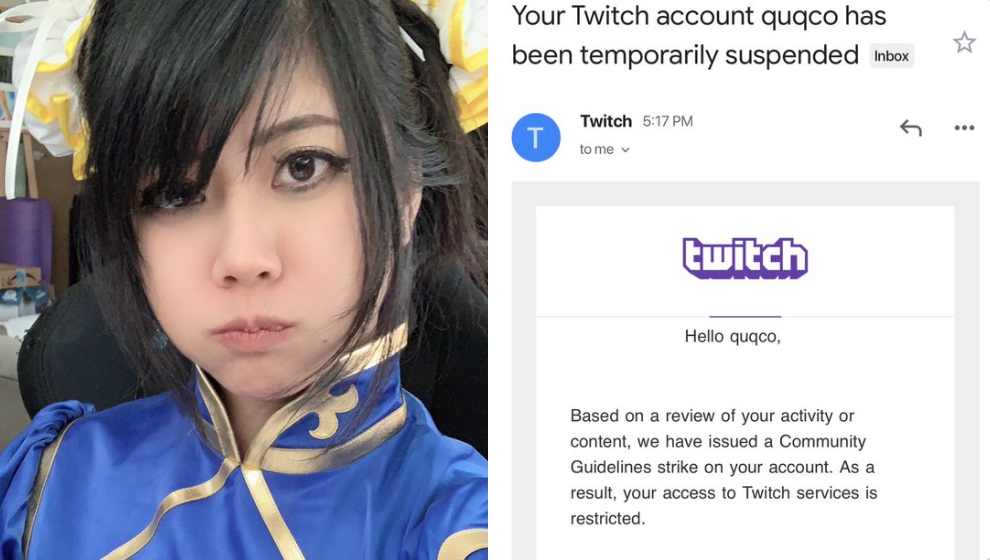 On September 15, Twitch user Quqco posted to Twitter that she got banned from the live streaming platform for wearing...a Chun-Li (from Streetfighter) costume? Seems a little extreme, right? She tweeted, "I just got banned again for wearing a Chun Li cosplay. I am fully covered. I don't understand @TwitchSupport @twitch how this is sexually suggestive content?" Quqco was wearing blue qipao and bun covers, and thigh-high slits that Twitch apparently thought was sexually suggestive.
Article continues below advertisement
Quqco tells Kotaku, "I actually bought one size up to ensure that the slit wasn't too high. The slit of this dress is cut lower than some runner shorts I own."
Article continues below advertisement
Quqco also tweeted, "I've reached out to @TwitchSupport to understand the cause of my @Twitch ban. I haven't received any clarifications yet. I don't believe my ban was justified, as there was no sexual intent nor content."
Article continues below advertisement
However, some people think that Quqco did violate Twitch's community policies with her outfit.
Twitter user Kristi [PTO] in Japan responded to Quqco's tweet, saying "Here's the clip that's not going viral. Purposely angling the camera at your crotch is sexually suggestive behavior. Are there worse things happening that should be banned? Absolutely. But being dishonest for sympathy is for the birds. Thanks for coming to my TED talk." Another responded, "...She repeatedly angles the camera and scoots to get her crotch back in frame, then keeps moving her clothes to expose as much as possible and drawing attention to it."
Article continues below advertisement
While others are defending Quqco, saying Twitch's reasoning is misogynistic.
Twitter user etchi wrote, "These are the same type of people that see sexualisation in innocent anime, twitch owes you a public apology," while a Rimmer tweeted, "It sounds like Twitch banned you for being a woman. I've never heard of any men being banned for adjusting their camera angle. @Twitch is an awful sexist hellsite."
Article continues below advertisement
Quqco even defended herself against Kristi [PTO] in Japan and tweeted, "In this very clip, you can see that I'm fumbling with the camera and at the very end trying to pull the camera up. I'm not trying to direct the camera at my crotch- that is such a frightening narrative to paint me with."
Article continues below advertisement
So, what are Twitch's rules exactly?
Twitch has a long list of restrictions when it comes to sexuality and nudity, but none of it is specific (i.e., none of it says "you can't wear a thigh-high dress that doesn't show your vagina.") Part of Twitch's guidelines read:
Streaming is a public activity, therefore we recommend creators wear attire that is appropriate public attire for a given context, intent, or activity. For game streams, most at home streams, and profile/channel imagery, we recommend attire appropriate for public settings, such as what you would wear on a public street, or to a mall or restaurant. For example, for a fitness stream, or an IRL stream from a location such as a public beach, attire appropriate to those public contexts is recommended, such as workout clothes or a swimsuit, respectively. As noted in the section above, attire is just one factor of many that we consider when evaluating reports for potential sexual conduct.
Attire intended to be sexually suggestive and nudity are prohibited. Attire (or lack of attire) intended to be sexually suggestive includes undergarments, intimate apparel, or exposing/focusing on male or female genitals, buttocks, or nipples.
Quqco was banned by Twitch once before — for cosplaying as Mai Shiranui from The King of Fighters. 
Quqco believes that Twitch suspended her for this because she was "report brigaded" (which is when a group of people report others en masse) by subreddit Livestreamfail. In a deleted tweet, Quqco wrote, "I was sexually harassed. All I wore was a Mai cosplay while I was drawing." You can head over to Dextero to find what the Twitch user was wearing, but the outfit was very similar — thigh-high slits and a low-cut top. According to Dextero, Quqco was allegedly banned for revealing her underwear when she bent over to pick something up.
Article continues below advertisement
The Twitch user thinks trolls have been targeting her for awhile now.
According to Kotaku, Quqco thinks her suspension over her Chun-Li outfit is a result of "a group of trolls who have been targeting me for mass reporting for a while...I am immediately reported because I've been branded a thot." Kotaku was able to confirm that they saw a (now deleted) comment on Livestreamfail that read, "Lmao saw her streaming again today and instantly reported the thot."
The idea that there's rampant sexism on Twitch is an understatement. It's been shown again and again what a hostile space Twitch can be for female streamers. A reported showed that "Female channels are characterized by words about physical appearance, the body, relationships, and greetings while male channels are characterized by game-related words. The content in female channels share common words that signal objectification."
In fact, Kotaku found a "Boob Police" who literally go through Twitch and look for women they think are "violating" Twitch's guidelines and troll them.
Would Quqco be treated the same way if she were a man? Sadly, probably not. In fact, just a month ago, male gamer xQx literally streamed pornographic content during a live broadcast (he showed a man's penis). And he was only suspended for 24 hours, versus Quqco, who is suspended for three days for "too short" of a dress. It's undeniable that Twitch's guidelines are very much slanted against women streamers.
Regardless, Twitch has been cracking down on "NSFW" content, and it seems like women are unfairly getting the worst of it.