Jennifer Aniston's character on Friends, Rachel Green, was best known for her iconic layered haircut, many painful teachable moments, and (maybe) being "on a break." But most importantly, Rachel was a '90s style kween — as an aspiring fashion merchandiser (until she was able to land a job at Bloomies) — she was always serving up some serious ~lewks.~
And in honor of the actress' 51st birthday on Tuesday, Feb. 11, we've compiled Rachel Green's most iconic fashion moments. Prepare for a blast from the past, and definitely consider taking a few notes down — TBH, we could all learn a thing or two from Rachel Green's look book.
The Denim Vest — Season 1, Episode 2: "The One with the Sonogram at the End"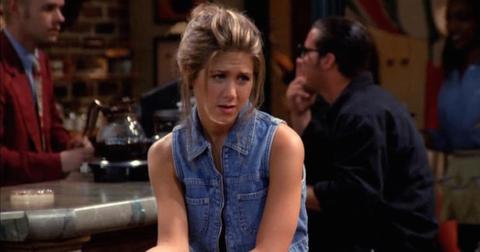 Surviving a shift at Central Perk was no easy task, but at least Rachel tackled it in style. Rocking a cropped denim vest in the series' second episode, Rachel dressed like the pre-Y2K New York babe we all aspired to be. And with that messy top bun, she totally nailed the look.
The Striped Bardot Top — Season 9, Episode 12: "The One with Phoebe's Rats"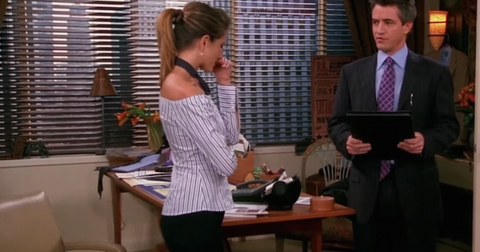 Whether it's 2003 or 2020, everyone knows the off-the-shoulder look is totally timeless. The striped Bardot top — mixed with the textured, voluminous pony — is a put-together (yet seriously fun) combination. Despite striking out with Gavin, this look is 10 / 10.
Denim Overalls — Season 2, Episode 2: "The One with the Breast Milk"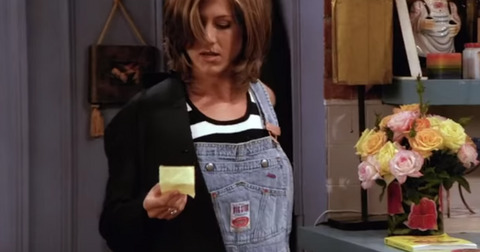 Clearly, Rachel was no stranger to denim, and one of her favorite ways to rock it was in the form of overalls. One of Rachel's most iconic denim overall styles was featured in the episode titled, "The One with the Breast Milk," when Monica betrays her by going shopping with Julie. And although Julie may have started Ross first, let's face it: Rachel definitely has far better taste.
Sheer Top — Season 8, Episode 9: "The One With The Rumor"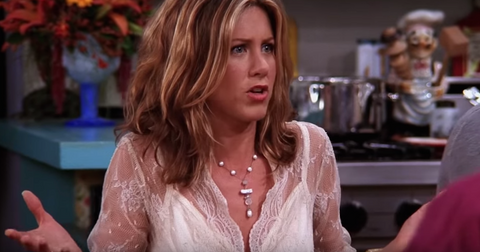 While Rachel definitely did not impress Will (played by Brad Pitt) during this cringe-worthy Thanksgiving episode, her outfit was beyond timeless — the sheer lace top layered with a white camisole and a statement necklace looked simultaneously elegant and adorable.
Plaid Skirt – Season 1, Episode 19: "The One Where the Monkey Gets Away"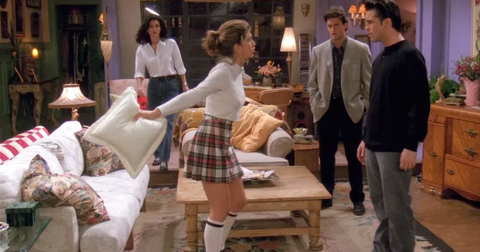 In "The One Where the Monkey Gets Away," Rachel babysits Marcell in a white turtleneck, high-cut white socks, and a plaid skirt. Why does she look so incredible while looking after a rambunctious monkey? We have no idea. Regardless of being overdressed, though, Rachel's ability to mix preppy and ~artsy~ elements in one compact outfit is crystal clear.
Tan Leather Jacket — Season 5, Episode 21: "The One With The Ball"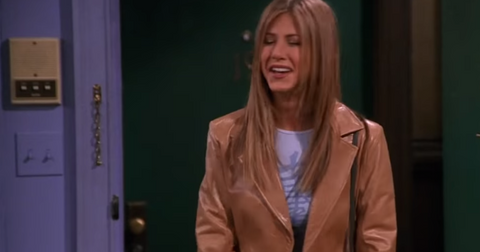 While Rachel maybe didn't luck out with Mrs. Whiskerson, she certainly rocked that tan leather jacket. Layering it atop a graphic tee, Rachel looks absolutely stunning... even when holding that heinous naked cat from h*ll.
Plaid Pants: Season 1, Episode 21: "The One with the Fake Monica"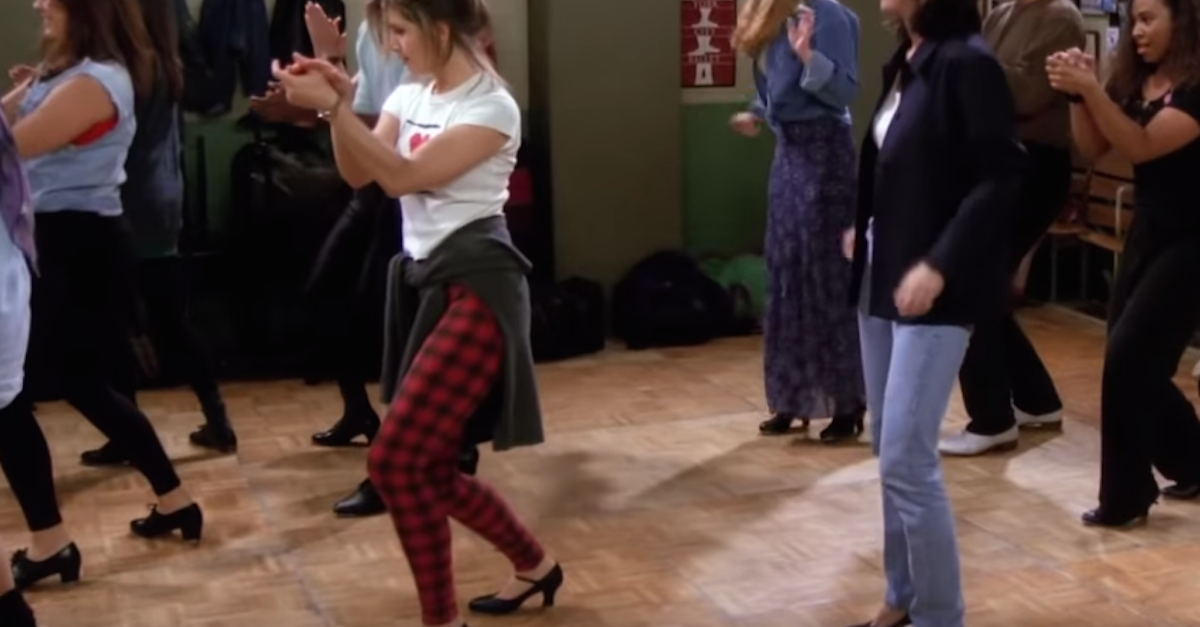 Did Rachel Green predict the plaid pants trend of 2019-2020? When our beloved blonde fashionista sported plaid pants and a white graphic tee during her dance class with Monica in "The One With The Fake Monica," she was a full decade ahead of the trends... and honestly, I'm jealous beyond belief.
Seriously, could Rachel BE anymore stylish? We don't think so.
Happy birthday, Jen — we love you!