Guy Refuses to Pay for Entire Dinner Bill for Friend Who Invited Work Acquaintances to Eat With Them
In a viral post, a man revealed that he refused to pay for an entire dinner bill after his friend invited several of his co-workers to join them.
When you're out to dinner with a group of friends, it seems like nothing can ruin the night — until the bill arrives. An awkward silence usually falls over the table, but more often than not, everyone is willing to split it evenly or pay their share. However, some people don't expect to pay at all, like these people in the "Am I the A------" (AITA) subreddit.
Article continues below advertisement
The original poster, who goes by the handle u/SEO403, said he refused to pay for an entire dinner bill because his friend invited several other people (who didn't expect to have to cover the cost of their meals, by the way).
Read on for the whole story. Plus, stick around to hear what the internet has to say.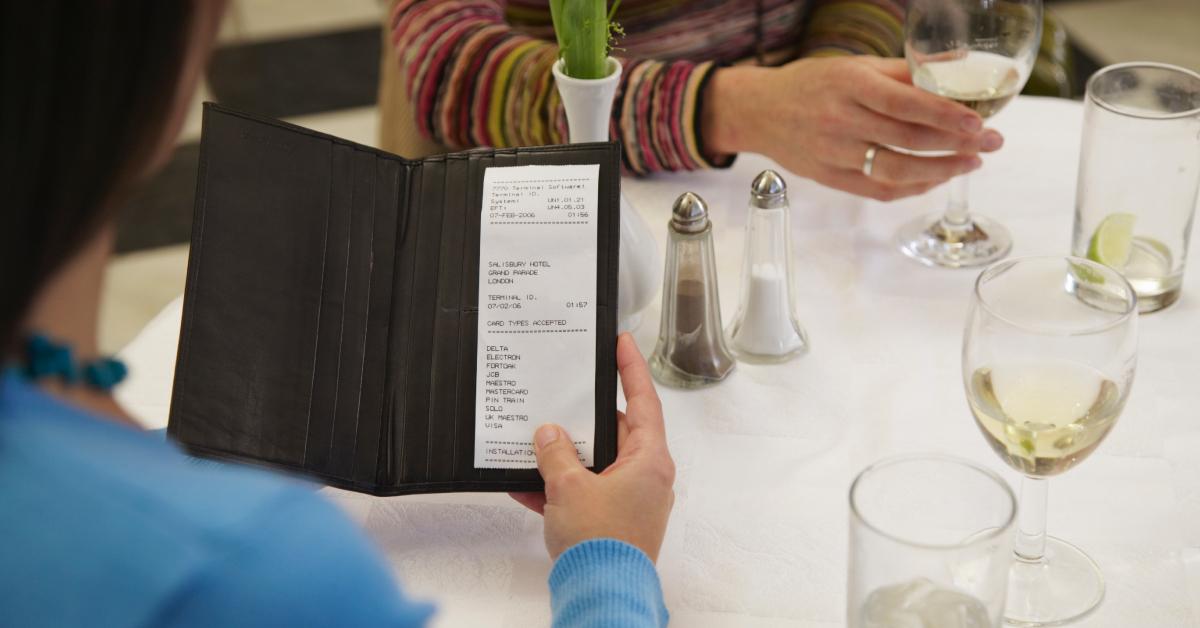 Article continues below advertisement
A man didn't pay an entire dinner bill because his friend invited more people.
The OP revealed that he returned to his birthplace for a vacation; while there, he asked an old friend to join him for dinner one night. The friend agreed before asking if he could bring four of his co-workers, which the OP allowed.
When the group arrived and was seated, everyone started ordering the most expensive things on the menu, such as cocktails, lobster, and sushi. Nevertheless, everyone was having a good time — but the mood changed once the bill came. It was 770€ ($823.89), so the OP told his friend they should all split it evenly.
Article continues below advertisement
However, the friend's male co-worker said he was "kind of broke" at the moment and could only spare 25€ (despite eating nearly 100€ worth of food). Now, this is when things started going south.
Article continues below advertisement
Two of the friend's female co-workers were on their phones, completely silent and disengaged. On the other hand, a third woman "had the audacity" to tell the OP he should just be a gentleman and take care of the whole bill, as he is "clearly doing better" than any of them. The OP asked her why she assumed that, and she referred to his Instagram page (which is full of vacation and business-related photos).
The OP pointed out that he didn't know them, noting that it wasn't a date. The same lady claimed she and the others didn't expect to pay, which completely set off the OP. He asked his friend if he told the foursome they wouldn't have to pay, but he denied it and said they always pay for their own things. If that's the case, what's so different this time?!
Article continues below advertisement
The OP told his friend to deal with it, as he's the one who invited them to their dinner. It quickly developed into a back-and-forth, with all of them saying it wasn't fair and it was "too expensive." Eventually, the OP grew annoyed, so much so that he decided to just pay for his portion.
Article continues below advertisement
When he returned to the table, the OP discovered that, aside from his friend, no one else had enough for the bill (or so they said). The OP felt "a little bad," but he didn't offer to help out. Instead, he became petty and gave the waiter a big tip in front of everyone. OK, go off king!
Reddit agrees that the OP didn't do anything wrong.
The now-viral post, which was shared on Sept. 6, 2023, amassed over 700 comments — and many fellow Reddit users rallied in support of the OP and his decision to not pay the entire bill.
"NTA. You asked your friend to JOIN you for dinner, and he asked to bring multiple friends, and you agreed. You never said you were taking them all out or treating anyone to dinner," reads the top comment.
Article continues below advertisement
The same Reddit user continued, "You're all adults, and if they were short on cash, they shouldn't have agreed to the restaurant or ordered so much food. They could have asked before ordering like you mentioned, as well. If your friend told them you were treating them all to dinner, then he's the AH."
Article continues below advertisement
A second person said, "Few people are more entitled than those who assume they're going to eat on someone else's dime." That couldn't be any more true!
"That's wild to me," another user wrote. "If I'm not paying, I'll usually look for the cheapest thing on the menu."
Someone else responsed, "They're relying on you feeling awkward and hoping you'd pay to end the awkwardness. In reality, the only people who deserve to feel awkward here are them. Let them own it. Pay for yourself, tip the waiter and leave. That's all you can do in this situation. Let them deal with the situation they created."
What do you think? Should the OP have split the bill? Let us know!